Purnell watches is a relatively young brand with a clear vision. Jonathan Purnell founded Purnell in 2006. Jonathan was inspired by his grand-father Cecil, a watchmaker with a strong fascination for tourbillon. From the beginning, Purnell produces nothing but tourbillons. Of course that sets the bar high. The Tourbillon is probably the best-known horological complication and the combination of complexity and visibility fascinates all of us. We will discuss the Purnell Escape II Triple Axis Tourbillon
13 Exclusive manufacture tourbillon calibers
Purnell Watches took the challenge seriously. Therefore Purnell developed 13 exclusive manufacture tourbillon calibers before they even started working with watchmaker Eric Coudray. Together they developed the foundation of the Escape I collection in 2017 and the Escape II in 2019. The Escape series have become the hallmark of Purnell and is really pushing the boundaries in tourbillon technology.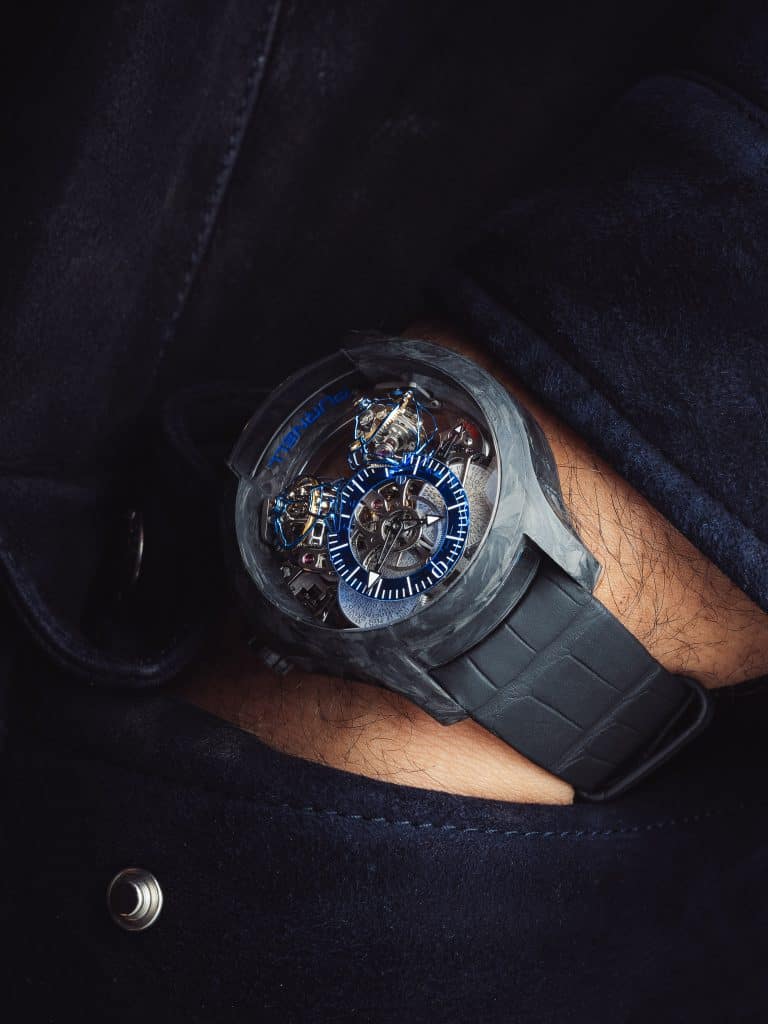 Spherion, world's fastest triple axis tourbillon
The essence and ultimate achievement on the Purnell Escape II here is the "Spherion", the worlds fastest triple axis tourbillon. You can hardly over-estimate the technical marvel and complexity made by Purnell.
First of all, a traditional tourbillon is consuming a lot of energy. Let alone a watch that has two triple Axis Spherion tourbillons. Each watch contains 3 cages that rotate in different speeds (8, 16 and 30 seconds). Six mainsprings, mounted in four barrels aligned in parallel, are needed to keep the movement work. These provide 32 hours of power reserve, indicated via an Ingenious Suspended Mobile Cone Mainspring sensor. 
Only 15.7 movement weight on the Purnell Escape II
On top of that, the differential linking the two tourbillons improves the watch performance. Purnell managed to reduce weight of the Spherion "to the max". The total weight of the 3-cage titanium construction is 0.79562 grams. This is less that the weight of a standard paperclip. The total movement weight is only 15.7 grams. How about that?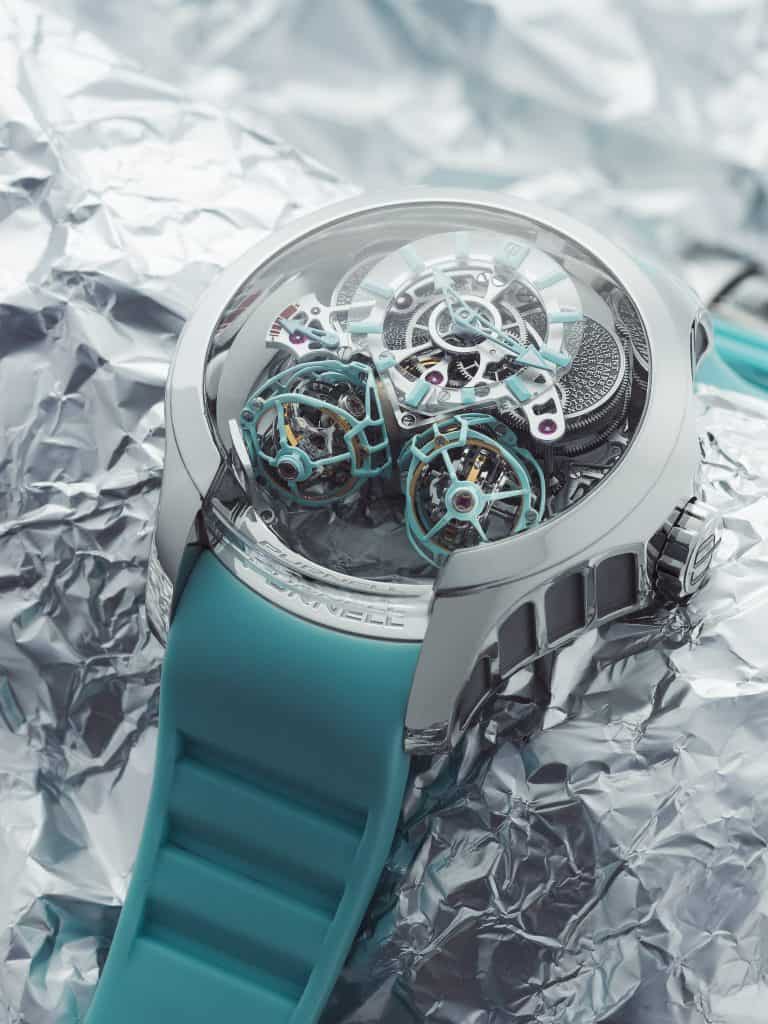 Horological tour de force
It will be no surprise that the Escape II is not a small watch. The case in forged carbon or black DLC grade 5 titanium, is 48x19mm and is open-worked at 6. Through this design you have an optimal view on the ingenious masterwork subtly from every different angle. Just like specific drivers watches.
A smart and creative move that emphasizes what this watch is all about: a horological tour de force that has firmly established the Spherion as the worlds fastest triple-axis tourbillon, and Purnell Watches as the explorer of new boundaries where the tourbillon as we know it is only a starting point.
Purnell launches the Purnell Escape II in editions of 20 per reference. You can add this timepiece to your collection for CHF 425,000.