This spirit has resulted in some spectular pieces, and it is worth mentioning that the brand managed to develop the "big four" complications in just 10 years, totaling 23 different calibers. The tourbillon has become the signature complication of Roger Dubuis over the years but knowing the brand, they wouldn't settle for a regular tourbillon. We already have seen the horizontally placed (Excalibur Monotourbillon) and the one tilted at 90 degrees. (Excalibur Spider Countach)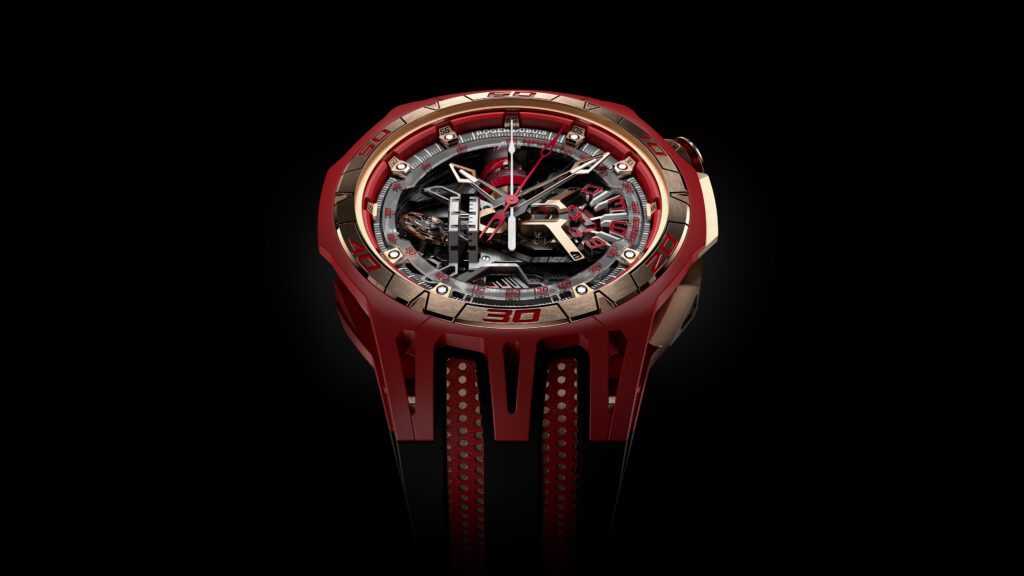 Now the boundaries are pushed further with the Monovortex, housing a Conical Tourbillon, a patent-pending invention that compensates the effects of gravity on any axes. Additionally, a new micro-rotor called the Turborotor Cylindrical Oscillating Weight better matches the natural movement of the wearers wrist to control the gravity. The red coloured case is made of Mineral Composite Fiber (MCF), sturdy and 13 percent lighter than SMC Carbon. The addition of colour is new and gives the 47mm watch an expressive look.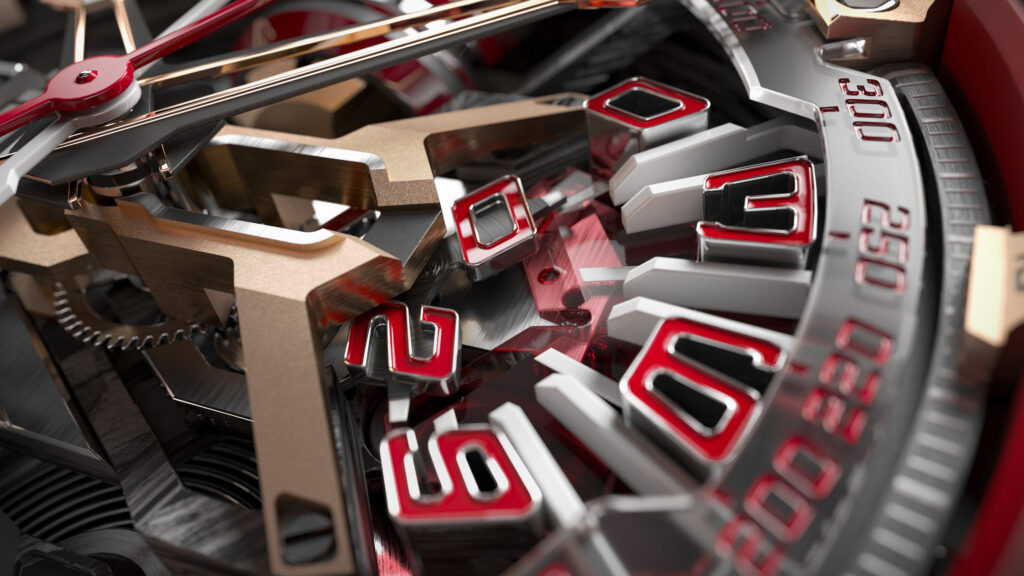 We're not done yet ;-) Roger Dubuis has added a Split-second chronograph to the RD114 calibre and here the minute counter is interesting to look at: it has a unique isotoxal shape. Many great stories in this watch make it a top-notch conversation piece: The unusual highlighting of the number "88" on the tachymeter will not probably not surprise insiders, at it was mr. Dubuis' lucky number.
Hyper Horology at its best, aimed for clients living the Hyper Life. "Make every second of your life epic" is a habit which inspires Roger Dubuis and I must admit that every second you look at the wonderful machinery called Monovortex Split-Second Chronograph on your wrist will certainly contribute to that goal. For now the watch will be a prototype, but expect elements of this Hyper watch to be implemented in other models soon.