I must admit that I am an Alpine Eagle fan since its launch. In the highly competitive segment of luxury sports watches it totally makes sense that a brand like Chopard is represented. The brand is almost synonymous with luxury, while the sporty angle is also very much covered with the Mille Miglia line, one of the most successful car-related watch collaborations in history.
This, combined with the superb (and still underestimated) in-house watchmaking qualities of La Maison, made it obvious that Chopard should have some alternative to the Royal Oak and Nautilus buyers out there. And so the Alpine Eagle was created. And the execution is simply spot-on. Enough personality to not come to close to named icons, and full focus on the Chopard USP's from day 1: Beautiful looks combined with high-end horology and a growing number of complications.
Last month, both angles were highlighted with new versions. The Alpine Eagle 41 XPS has the most gorgeous of dials. It's salmon coloured and stamped with a radiating pattern, and the brand calls it "Monte Rosa Pink". the pattern subtly contrasts with the flat surface of the seconds sub-dial in the same colour. The 41mm case is made of Lucent Steel, an alloy that consists for 85% of recycled materials. Unique in the industry and very sustainable. In fact, at Watches and Wonders Chopard announced that by the end of 2023 all of its steel watches (including bracelets) will be made of at least 80% recycled materials, with the ambition to move to 90% in 2025.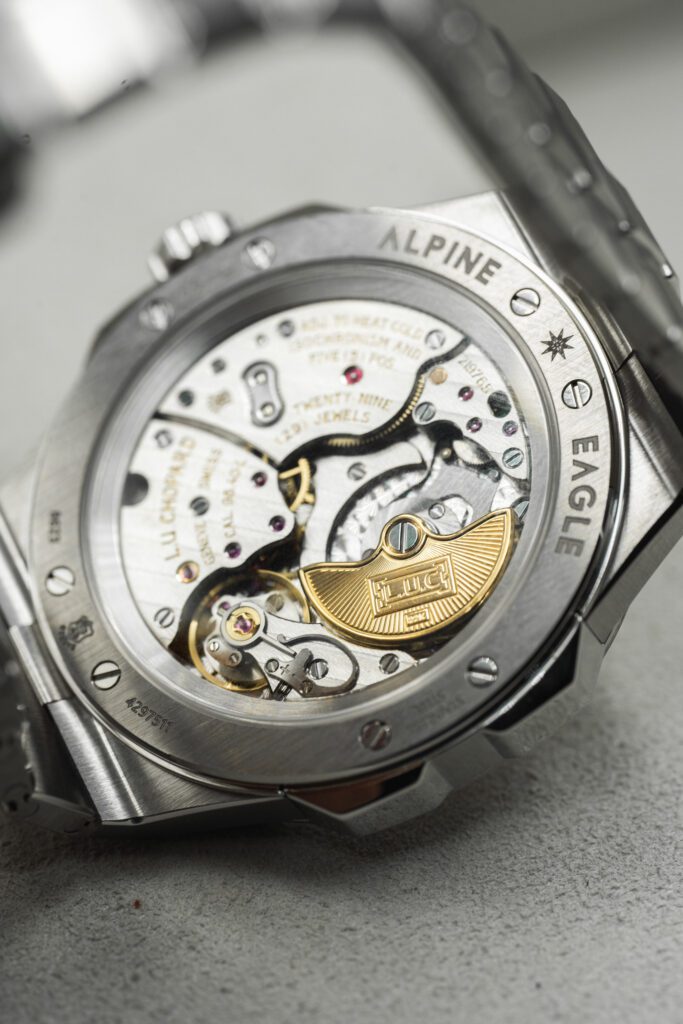 in 2021 Chopard launched a limited edition of a high-frequency watch to the Alpine Eagle range. The "Cadence 8HF" has a Calibre 01.12C movement that beats at a frequency of 8HZ, twice as fast as a standard automatic movement. This year the Cadence 8HF is presented in a Grade 5 Titanium case, again in 41mm. The black dial with orange accents makes the watch understated and a statement at the same time and it balances more towards Sport than Chic. While the 2021 was limited to 250 pieces, the new high-frequency model is available in unlimited production.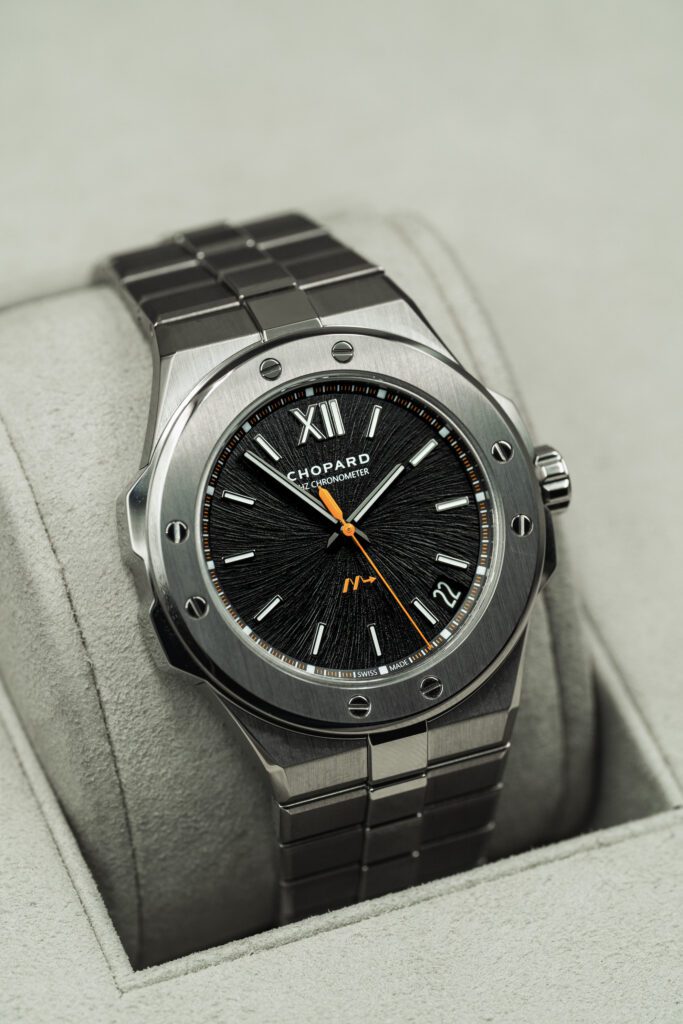 The Alpine Eagle has marked its position firmly as a great alternative to the ruling class of luxury sports watches. A premium brand name, known and admired for both its luxurious appeal and its high-end watchmaking skills, has combined both in a model range that has come to maturity and is here to stay.