The watch brand Ferdinand Berthoud has been resurrected by the Scheufele family a few years ago. The brand is focussing on producing the horological most exquisite watches, that can often be specified by the customers wishes. As a basis for their watches, the brand uses a self-developed and produced hand wound tourbillon movement with a fusée-and-chain transmission. This provides a constant force over the whole power reserve. There is however nothing basic about this timepiece. As fusée-and-chain transmissions are among the rarest complications in the world of haute horlogerie and only the very best can produce them.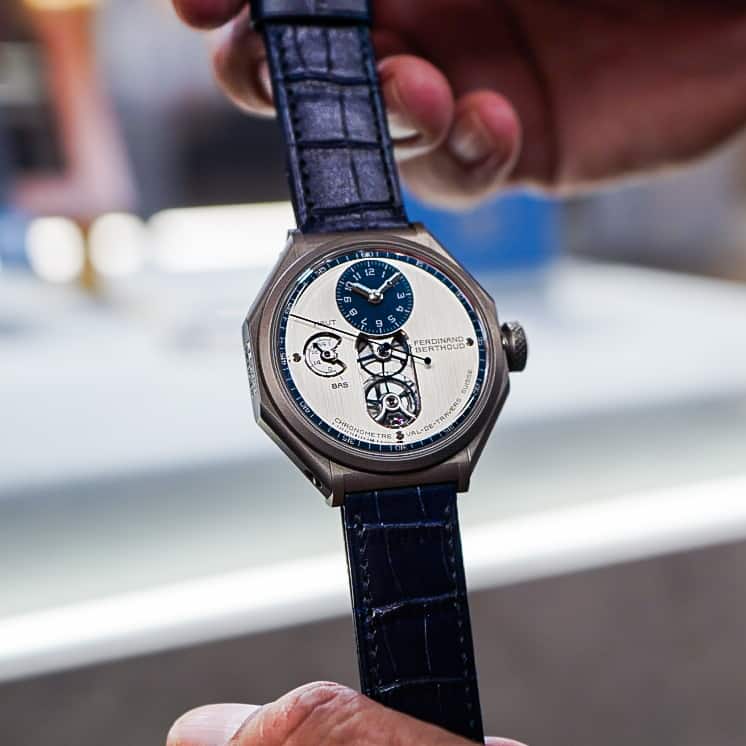 Ferdinand Berthoud FB 1.4-3
For the Ferdinand Berthoud FB 1.4-3 the brand combined state-of-the-art watchmaking with inspiration from an 18th century armillary sphere, which featured a movement that indicated time on a glass dial. Similar to its inspiration, the FB 1.4-3 indicates the central second on a matt sapphire inner bezel. This contrasts beautifully with the silver coloured dial with straight-grain finish and the matte grey titanium case. Minutes and hours are indicated on a small blue coloured dial at 12 o'clock. It fits perfectly into the overall colour scheme. Furthermore, the dial features a power reserve indicator with 'HAUT' (high) and 'BAS' (low) indication. This is similar to the ones found on historic pocket watches. At six o'clock you will find an opening that allows you to observe one side of the tourbillon carriage. This carriage makes a full rotation each minute and is directly coupled to the central seconds hand.
The opening of the Ferdinand Berthoud FB 1.4-3 at six o'clock can only be considered a teaser. The hidden wonders of this watch get revealed when you turn the watch around. Doing so, reveals the hand winding calibre FB-T.FC-2, which is further accentuated with blue accents. The movement, as well as all other parts of the watch are hand made. And such as the case features two sapphire portholes to view the movement sides, three plates of the movement have been made of sapphire to allow an even better view on the delicate mechanics inside. And even though you still can't see all its 1120 components (including the chain), it offers an incredible view into the depths of the chronometer certified movement.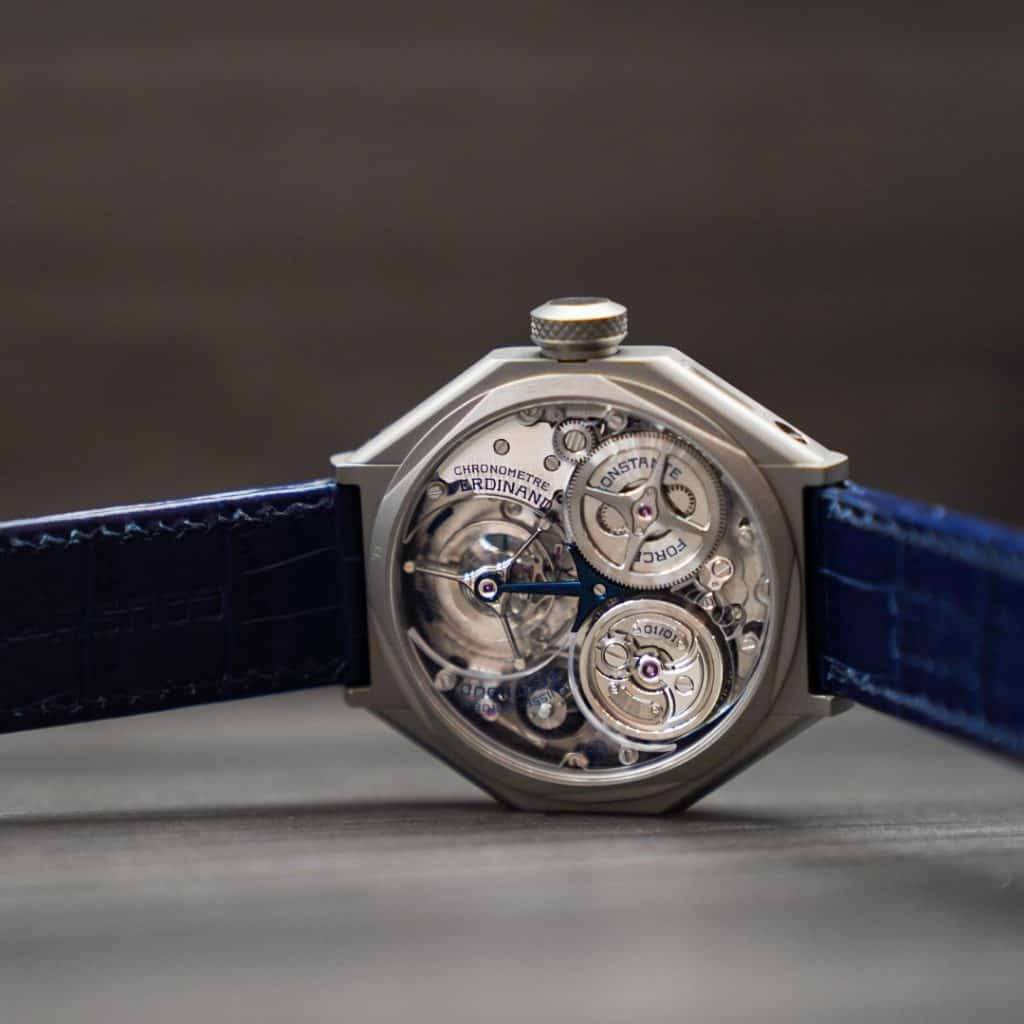 Incredible watchmaking
When the brand first re-appeared a few years ago, it took me by surprise, but I immediately fell in love with their watches. The incredible watchmaking that is to be found with the brand. The passion of the people involved. Finally the now iconic end product have promoted my love for independent haute horlogerie even further. But such as its prominent size of 44mm in diameter with 13mm thickness, this 80g 'heavy' piece comes with a rather hefty price tag and being a unique piece will make it even harder to get.