Emile Chouriet is a watch brand that is certainly not a mass market brand, even though they offer great looking and outstanding affordable timepieces. One of these is the new Héritier à Guichet, which has a rather unique design.
Coming in a 40mm polished titanium case (yes, titanium) the watch indicates minutes, hours, day and date using separate discs that contrast nicely against the grey sun ray brushed dial.
Art Deco
This art deco design is further exemplified by the use of rather prominent lugs and a fitting crown. And while the main part of the dial is very plain due to the absence of hands and hour and minute markers, its great finish makes it look highly interesting.
Additionally the dial is extremely well balanced. The indicator discs are all positioned underneath each other and not spread randomly across the dial.

An Emile Chouriet timepiece for an affordable price
The movement powering the watch is the ETA 2834. This movement is based on the 2824, but with an additional date and day indication. At 11mm in height this watch will wear very comfortable and easily slip under your shirt. 
A water resistance of 30m is perfectly proper for a dressy timepiece like this. The watch comes with a sapphire crystal glass, which is another big benefit in my opinion.
As you can see with the Héritier à Guichet, you'll get a watch that offers a lot of quality at a very affordable price of just $2070. I am honestly considering of adding this on to my collection, as I am a big fan of outstanding timepieces.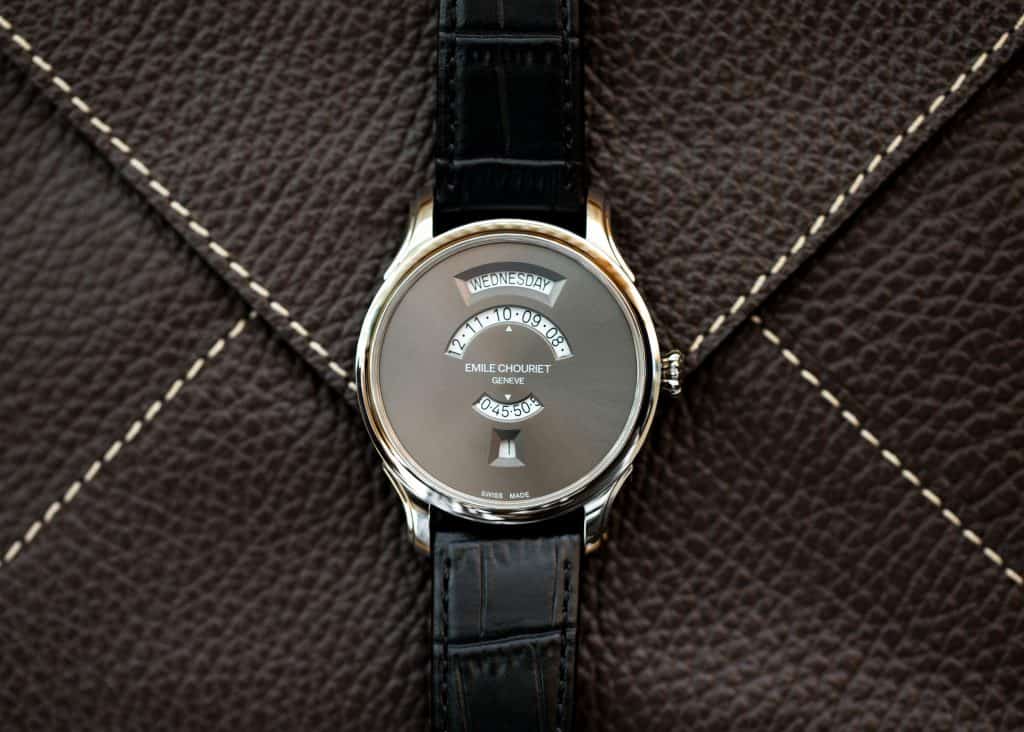 About Emile Chouriet
François Dagobert Depéry supplied Emile Chouriet with watch components. Emile Chouriet opened his workshop in Geneva where he developed his exceptional watchmaking skills.
He excelled in watch decoration. Since 1998, the brand represents a successful family company established in Geneva, the cradle of prestigious watchmaking.