The LVMH Watch Week 2023 has opened its doors in Singapore, meaning a bold mix of novelties from the four participating brands will cross your timeline in the next few days. Let's pick one brand, Hublot, and have a look at the variety of watches it presents today. It's a cool variety, moving from a new iteration of their 1980-origins to a Full Rainbow Big Bang, celebrating Life and Horology the way only Hublot can.
1) Big Bang Tourbillon Automatic SAXEM Yellow Neon
A mouthful, and the innovation is in the last part. The translucent case is made in a bright, fluorescent shade of yellow neon. The case seems to glow from the inside, and to achieve this Hublot used SAXEM, a material developed in sattelite technology. in 2019 a emerald green version using the same material was already launched, and Hublot took three years of development to create the yellow neon and improve both visual transparency and optimal resistance. It's powered by the HUB6035 self-winding caliber, and only 50 pieces will be made.
2) Big Bang Unico Sorai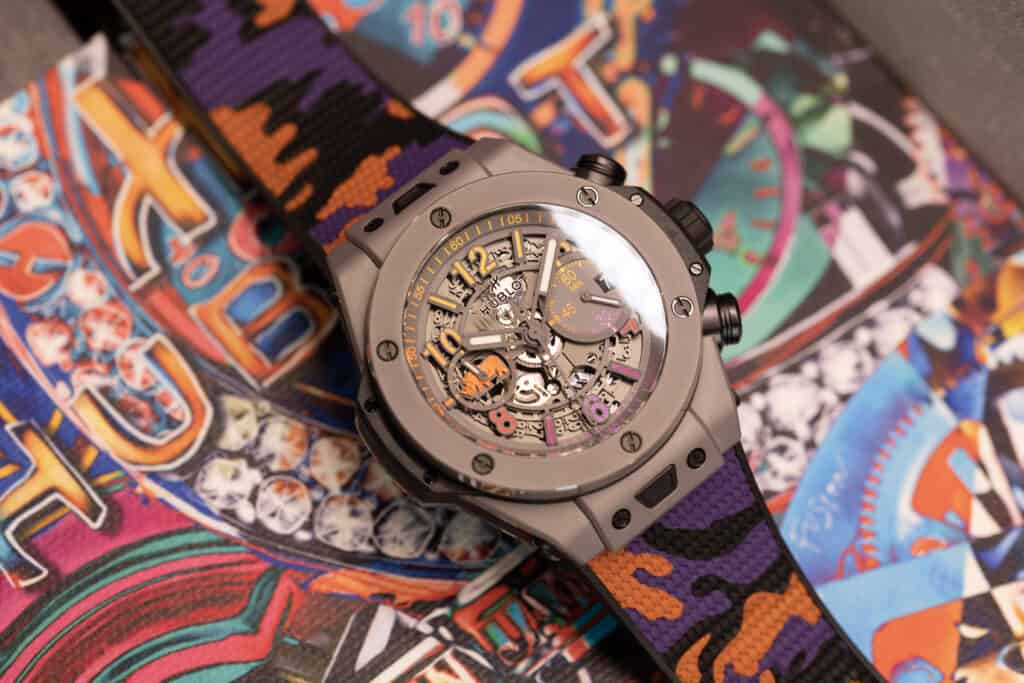 Sorai stands for Save Our Rhinos Africa India and Hublot has been a supporter of this noble cause since 2019. And the support is essential, because in the past 10 years the rhino has seen its numbers drop by 90%. This third collaboration watch comes in rhino-grey ceramic and the openworked dial shows a plethora of colors resembling the sunset, when the sky catches fire. The black, purple and orange camouflage strap fits nicely. 100 will be produced and as a buyer you'll support the rhinos, as the proceeds will go to the SORAI organization.
3) Classic Fusion Original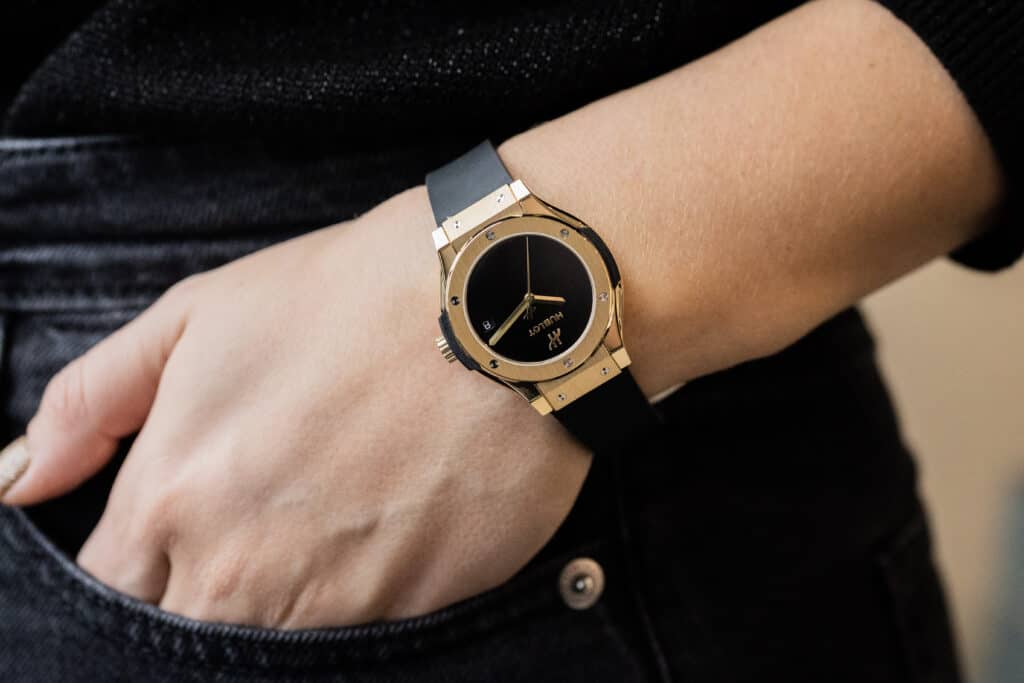 It's already 42 years ago that Hublot shook up horological conventions with their "Art of Fusion" motto. "a luxury gold watch on a rubber strap, what is that?…" must have been the reaction when Carlo Crocco introduced his brainchild. The rest is history and Hublot is where it is today, as a vibrant brand with a unique position in horology. The new Classic Fusion Original pays tribute to these origins of the brand, and with the option of three materials (yellow gold, titanium and ceramic) and three sizes (42, 38 and 33mm) there is a choice for almost everyone. Timeless design and a true classic that will survive another 42 years..
4) Spirit of Big Bang 5-DAY Power Reserve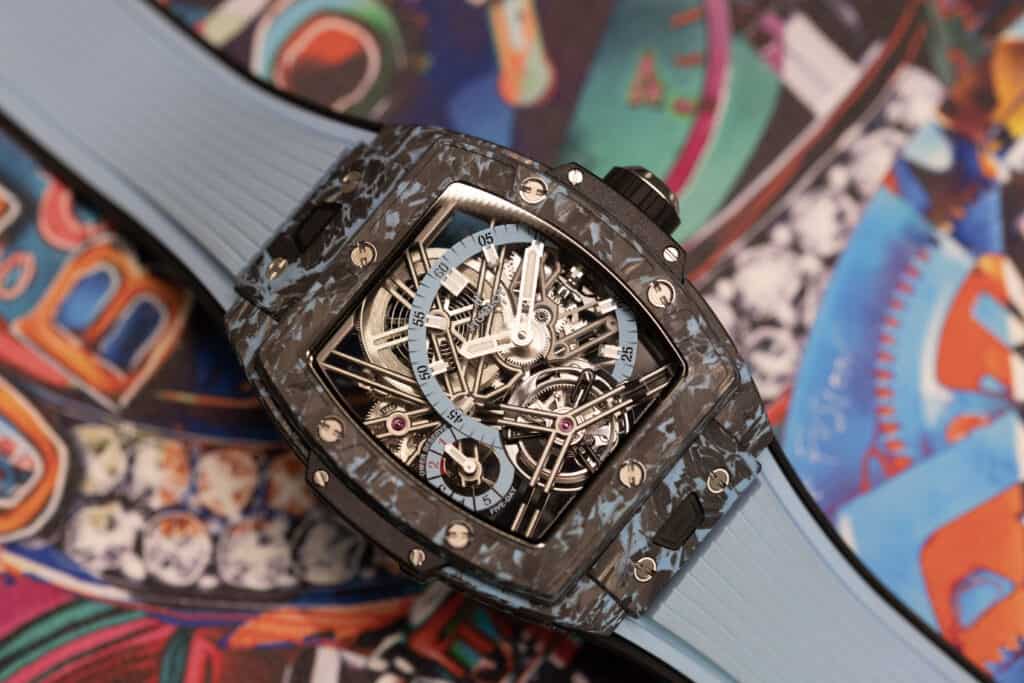 The tonneau-shaped Spirit of Big Bang line has two new models to add to its collection. The Spirit of Big Bang 5-Day Power Reserve comes in two new version, one with a carbon case with blue fibres (shown here) and another in purple sapphire. Both editions are powered with the HUB1620 one-minute tourbillon with 5-day power reserve. Priced at CHF 95,000 for the carbon and CHF 195,000 for the sapphire version.
5) Big Bang Integrated King Gold Rainbow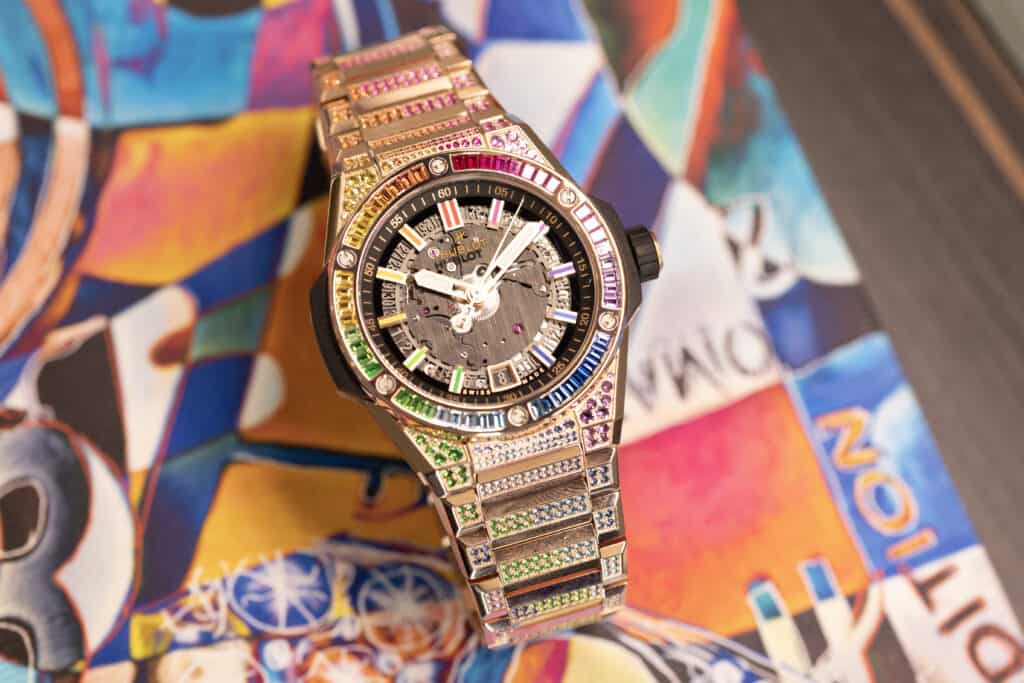 Saving the best for last, this Rainbow is my absolute favorite novelty. It underlines the "You Only Live Once, Let's Party" mentality that makes Hublot so attractive. Two new versions of the Big Bang Unico with integrated bracelet (Time-Only and Chrono) where case, bezel and bracelet are litterally paved with diamonds. 176 (and 174 for chrono) precious stones are set on case and bezel and 768 and 748 respectively on the bracelets are impressive to mention, the combination of pink, orange, blue and yellow sapphires make these watches a true party on every wrist. Not for the faint hearted, but these watches will put a smile on everyone's face.
The Hublot novelties at LVMH Watch Week 2023 demonstrate the power of Hublot to its full extent. From a classic, almost nihilistic new take on its origins to new levels in their ability to use new materials and the colourful blingy-side, every aspect of the brand is shown and shows that Hublot is Alive and Kicking..