When Hublot was founded in 1980 the brand brought something new to the conservative watch industry. It mixed materials and styles that weren't mixed before, and the Art of Fusion became their hallmark. 42 Years later we applaud Hublot as the luxury brand that lives up to the credo "Be First, Different and Unique".
Gold with rubber
Hublot goes back to the origins and launches six of their famous model in the fusion that started it all. Combining yellow gold with rubber. The second novelty also applies to fusion but in a different way, as the Big Bang One Click allows you to quickly change your rubber strap to your attire.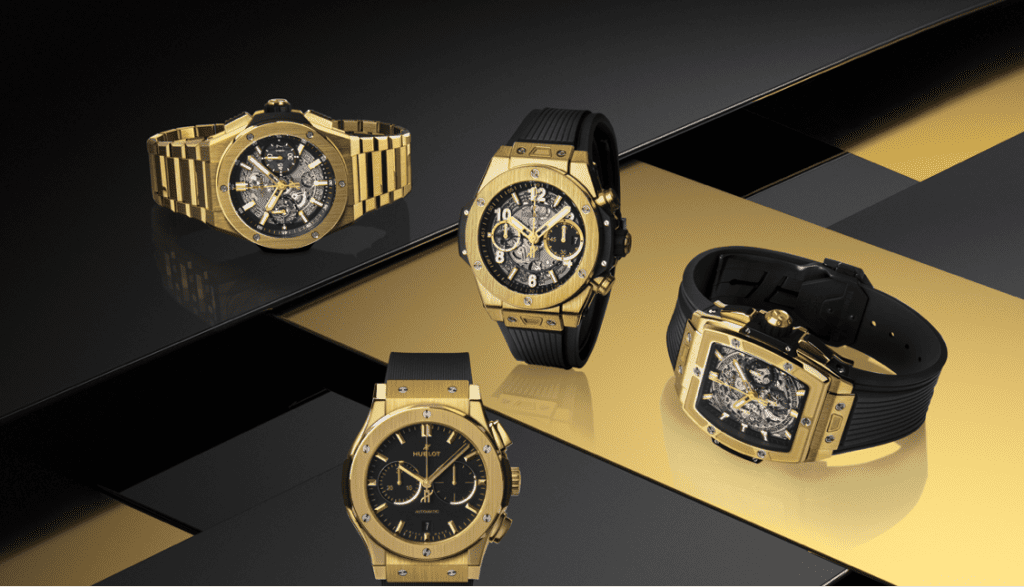 Strong configuration
First we go back to the origins. Hublot is presenting no less than six pieces in yellow gold with a rubber strap, the brands preferred material. The Classic Fusion, Big Bang and the Spirit of Big Bang all come in the same configuration. Seeing the press photos with all the pieces lined up I realize how strong this configuration is connected in my mind to Hublot. There is no doubt, without seeing any logos and specific details, what brand we are looking at.
Hublot Big Bang Classic Fusion Chronograph
The Classic Fusion Chronograph comes in a 42 mm case, the first time in this size in yellow gold. The Big Bang Integral is the glamour rock star of the pack and comes in two versions, both made entirely out of yellow gold and the Haute Joaillerie version adds a full set of diamonds to the presence.
This iconic trio is completed by the last generation of Hublot's contemporary collection: the Big Bang Unico and the Spirit of Big Bang. The Unico movement is for the first time combined with yellow gold and rubber in a 42mm case, and the skeleton work makes it every inch a Hublot.
Last but not least we welcome the tonneau-shaped Spirit of Big Bang. Masculine, straight lines and a skeletonized dial also makes us realize how this shape has settled in our minds as "typical" Hublot.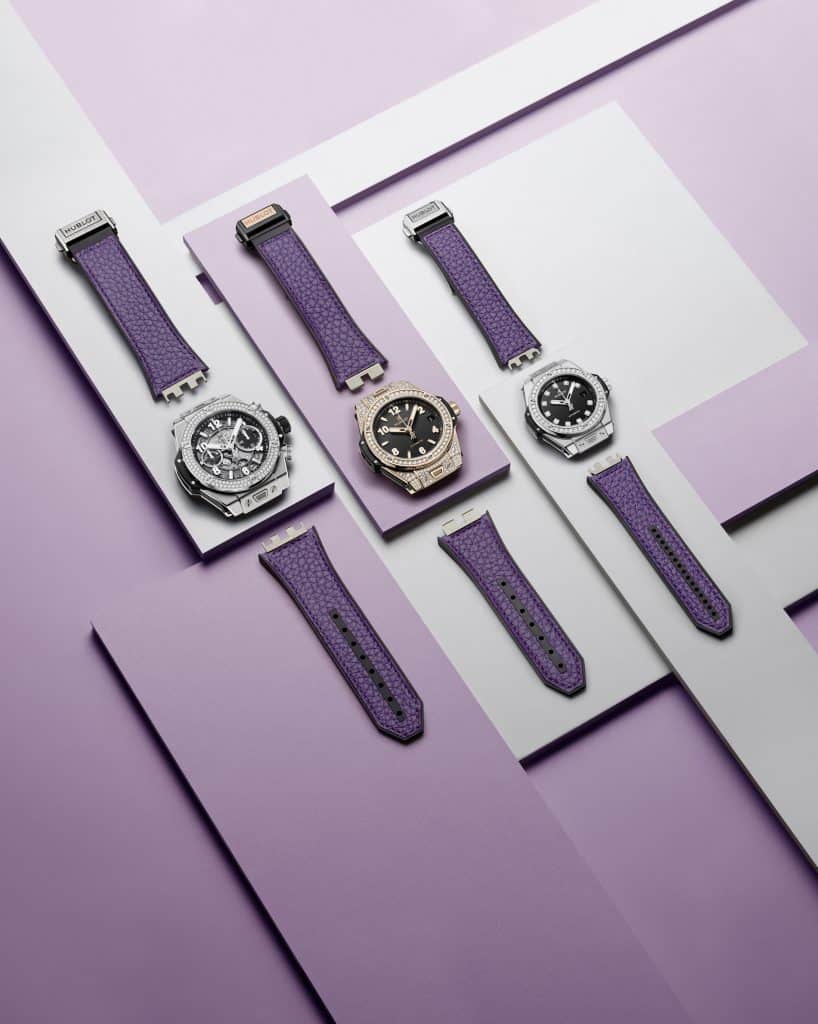 Spirit of Big Bang
Both the Big Bang and Spirit of Big Bang share the One Click interchangeable strap system. That is a nice bridge to Hublot's second release today. The Art of Fusion is not only about mixing gold with rubber but also about bridging horology and jewelry. The One Click system that is revealed today works on 3 different sizes: 33, 39 and 42 mm. This allows its wearer to change between a multitude of styles as no less that twelve silky bracelets are available.
Hublot is emphasizing its core, which is about fusion, luxury and freedom. Seeing the results today with the yellow gold and rubber collection makes us realize how strong that core has been established in the past decades. The yellow Gold and rubber combination is basically "owned" by Hublot..