The Frederique Constant Highlife collection, as featured in our shop, is representing a long heritage within the brands' past. In 1994, Frederique Constant launched the Heart Beat and the Highlife added a few years later. As I am a watch aficionado of a certain age, I am heavily influenced by the 80's and 90's. That is why I still remember the early generation 38 mm Heart Beats. These featured art-deco like (and never repeated) arabic numerals, the retrograde functions, the moon phases and much more. Back then, Frederique Constant created amazing value for money and luxury was made available to a large audience.
Vintage Frederique Constant Heart Beats and Highlife
During my usual sunday morning routine, scrolling watches on the internet and in auction catalogues, I stumbled upon a 2006 Sotheby's auction in New York. The auction house put our of these wonderful now-vintage Heart Beats and Highlife for sale to collectors.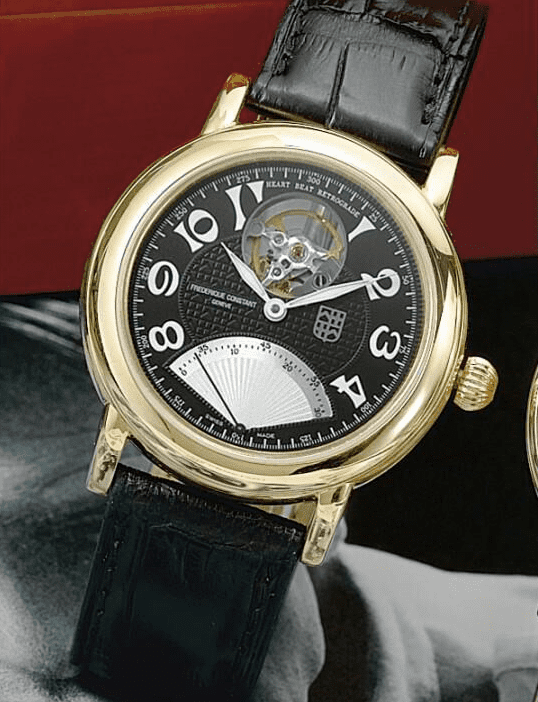 Frederique Constant Heat Beat Retrograde in 18k Gold
The auction house sold three 18K gold 38mm Heart Beat Retrogrades, including a unique piece. The ex-Baselworld 2005 gold with black dial was a one-off, as this dial color only made it into production combined with a steel case. It sold for $3600, similar to the other two retrogrades. Masterpiece of that sale was a stainless steel tourbillon Highlife, number 61 out of 99, which sold for $8400. 
Affordable Collectability
In retrospect we can not underestimate the impact that the Heart Beat, with it's open worked "tourbillon-like" balance wheel, that the first generation Highlife tourbillon had to Frederique Constants reputation for affordable luxury. These watches really did their job well. I think it's only a matter of time before these will gain collectors' recognition. I will not claim we're talking high-grade investment pieces here , but something we could call "affordable collectability". This allows many watch fans of my age to dive into vintage 90's at an attractive price.