For a watch fan the bi-annual Only Watch auction is one of the regular highlights. Founded in 2005 and up for its 10th edition on November 5, this charity auction combines the good cause, support for the research of the Duchene Muscular Dystrophy disease, with a blast of horological creativity from all the big (and smaller) brands. "Create Beauty to do Good" is the motto that initiator and organizer Luc Pettavino inspired the industry with from day 1, and so far it has resulted in close to CHF 100 million in fund raising and many, many beautiful unique pieces, developed by the brands and sold to the highest bidders in the watch community.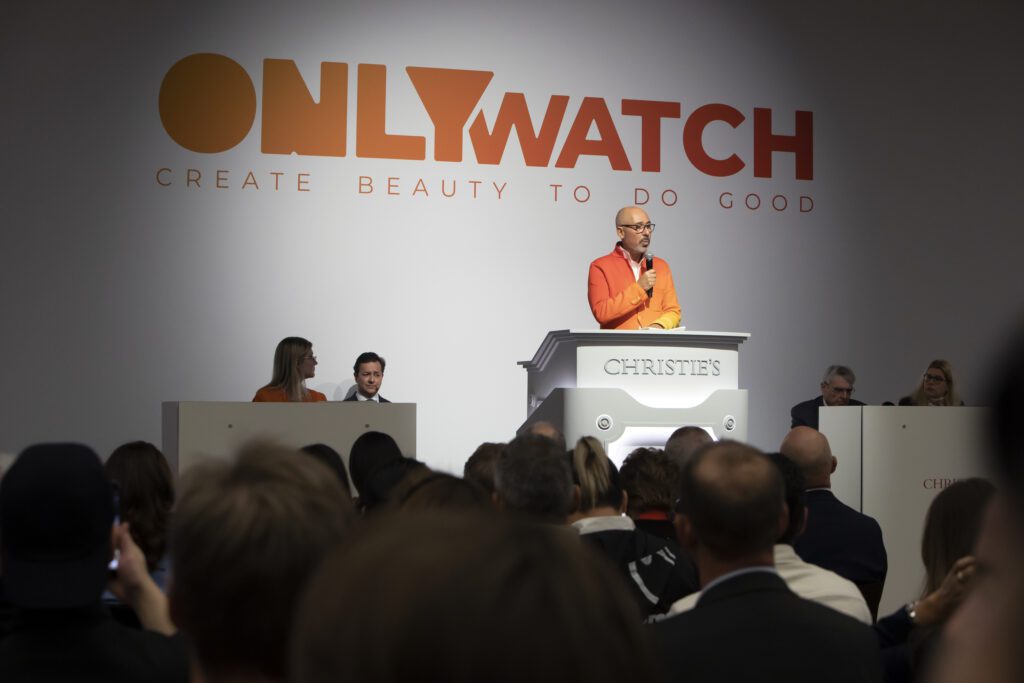 This years' edition will take place on November 5 in Geneva, and 62 unique pieces will be sold. Ranging from potential record-breaking pieces by Patek Philippe, F.P. Journe and Akrivia to surprising entries from challengers such as Furlan Marri, Baltic and Biver. Do not expect to grab bargains here though: estimates start at around CHF 20,000 for the most affordable offerings but will most likely end higher.
A browse through the catalog shows a lot of color: many brands took the opportunity to come up with a surprising color palette and I pick 5 outreagously colored pieces for your consideration:
1) Bell & Ross BR03 Cyber Rainbow- est. CHF 45-55,000
Bell & Ross took their signature BR-03 square case to create a unique black titanium-cased and skeletonized piece. The case is adorned with colored varnished stones which is also taken inside the skeletonized movement and on the rubber strap, giving the watch psychedelic vibes. A really cool piece.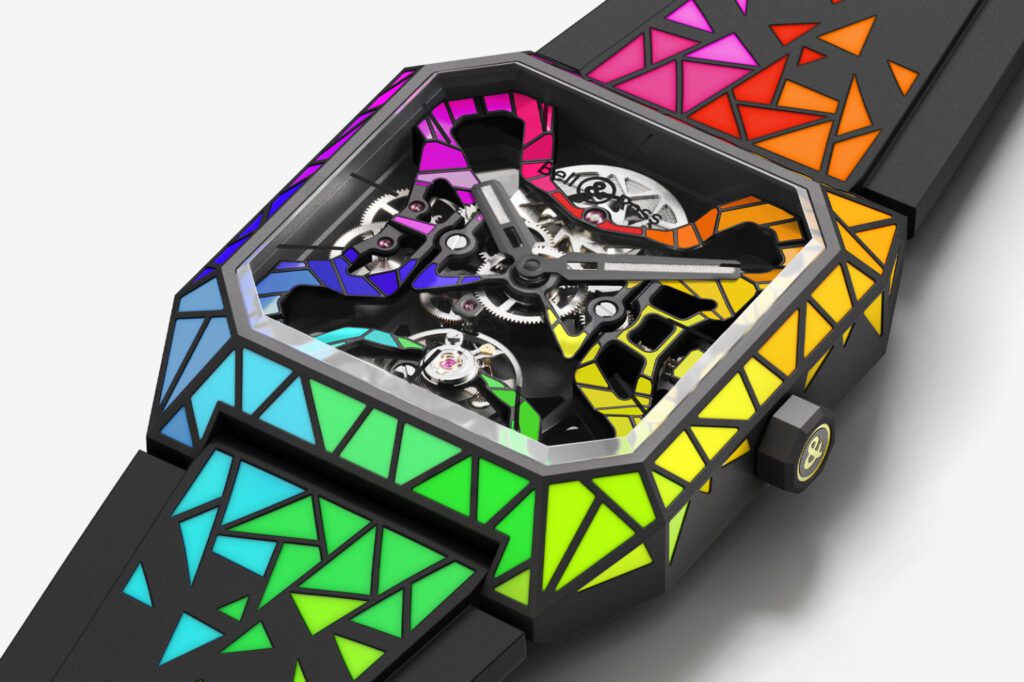 2) Jaquet-Droz The Rolling Stones Automation- est. CHF 250-300,000
Not exactly what you would expect from this usually understated brand, the Rolling Stones Automation is a cool fun piece, evoking all the wonder of children at play. Very expressive and colorful, though it takes some time to really understand what's going on. The offset hour and minutes display resemble a vinyl LP, surrounded by a second disc that shows the full Rolling Stones instrument set. The iconic tongue is not forgotten. This might very well be my personal favorite this year..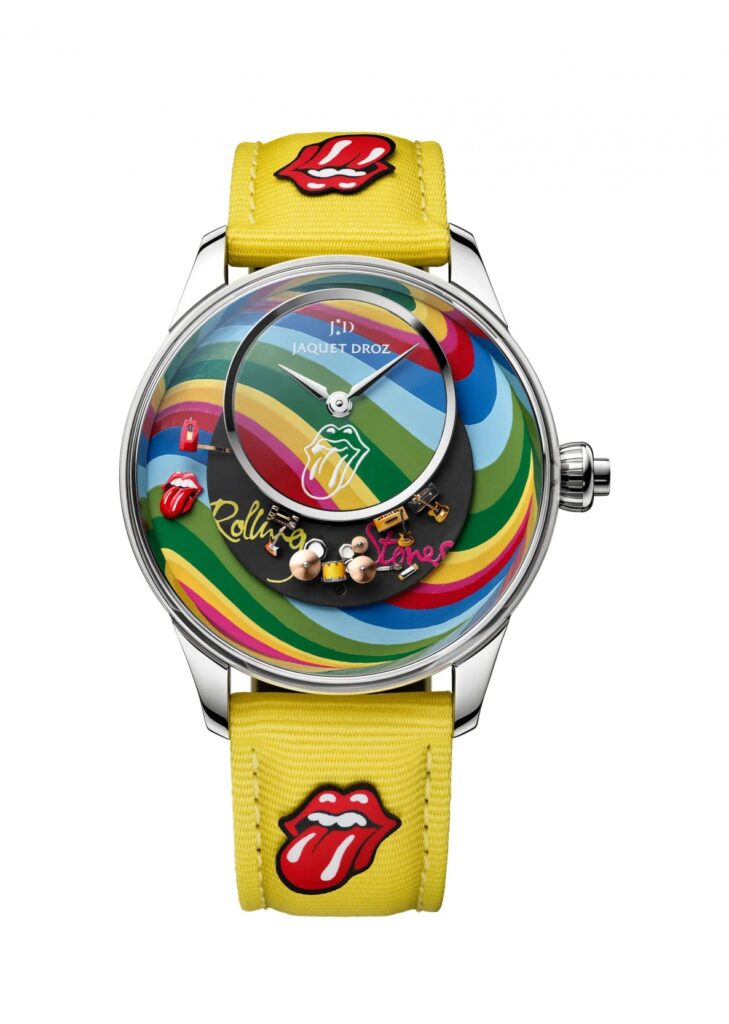 3) Gronefeld 1941 Principia Mandala- est. CHF 55-65,000
Gronefeld is offering a colorful version of their 1941 series. The dial of the watch showcases a vibrant and intricate mandala design, inspired by the logo of the 10th anniversary of Only Watch. For the first time in the brands' history the brothers have added a hinged hunter caseback, and inside you'll see images of both brothers and their father Sjef, the inspiration to the 1941 series in the first place. Personal, artistic and of course the exceptional levels on watchmaking that we know from the Dutch watchmakers.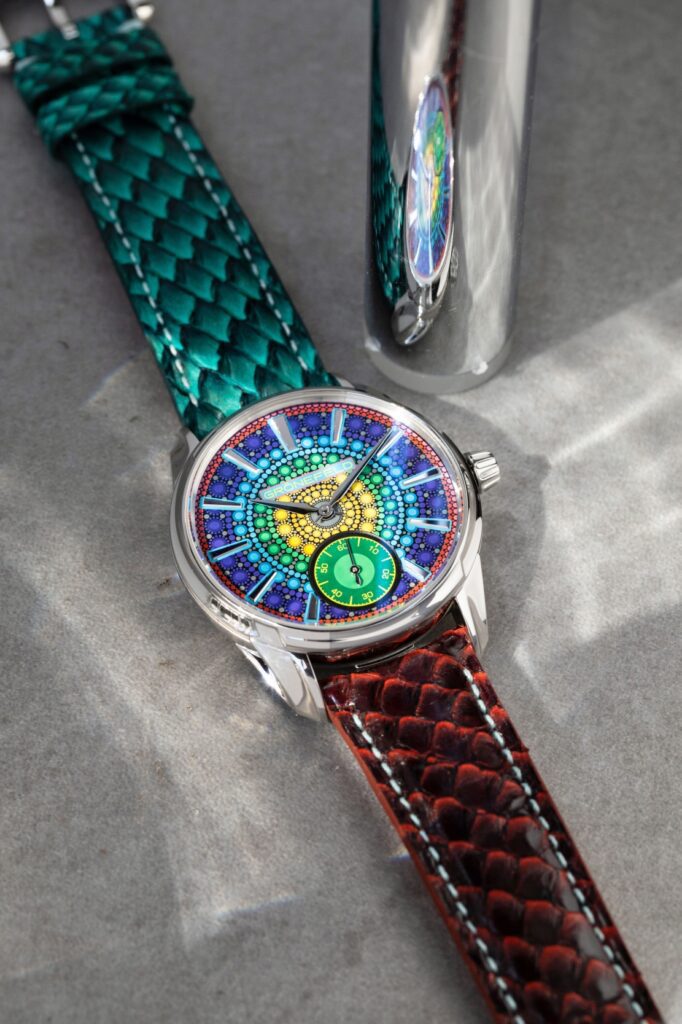 4) H. Moser x MB&F Streamliner Pandamonium- est. CHF 300-400,000
Running a bit of a risk here, as the Moser and MB&F collaborative contribution has not been shared yet, I'll have to rely on an artist impression. However, knowing Max Busser and Ed Meylan we can be certain that their brainchild will bring a lot of noise, creativity and color. A one-off movement is developed, and it seems that a Panda DJ in a center dome is vibing colors over the dial. Yes, we're still talking about a timepiece here. Can't wait to see the result.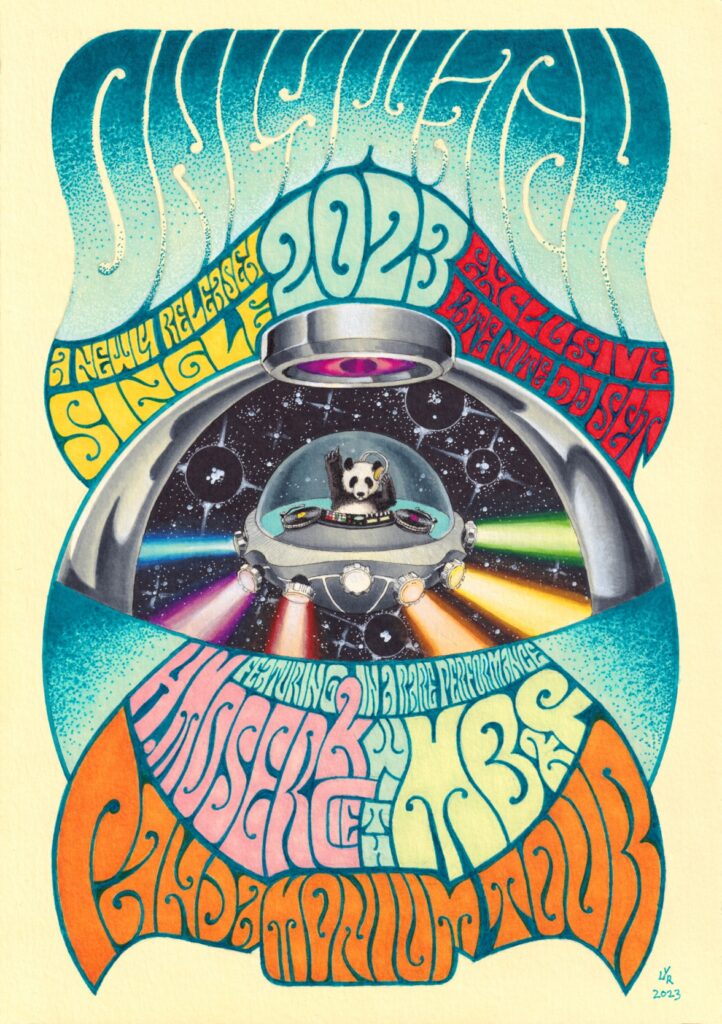 5) Jacob & Co Astronomia Revolution 4th Dimension- est. CHF 700-750,000
Not a brand for the faint-hearted in the first place, Jacob & Co's contribution for this year makes a bit of extra noise. From a watchmaking perspective it's worth mentioning that we see the first 4-axis tourbillon timepiece here. Cased in the well-known sculptural 47mm case made of rose gold and transparent sapphire, the movements back plate is a rare mosaic of topaz, sapphire and citrine. Well done, a true piece of art.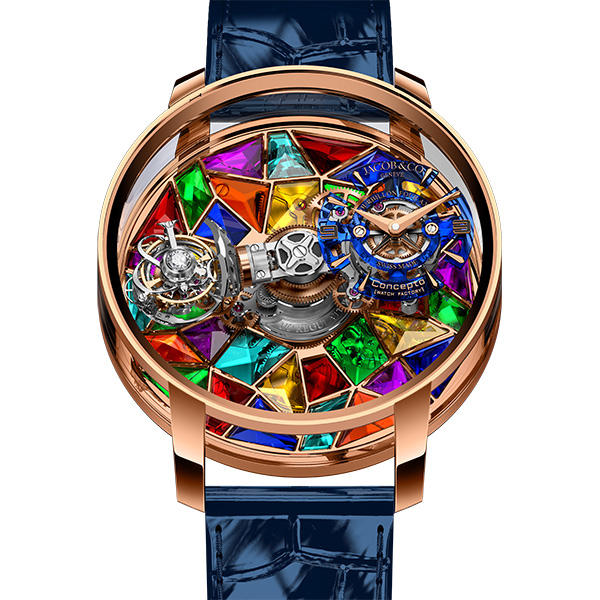 5 colorful pieces out of a total selection of 62. I had to make a selection, but each and every watch is worth your attention. Please have a look at the Only Watch website, check your bank balance and prepare a bid for November 5..