In the world of Jacob & Co there is no room for the faint-hearted. What they put you on the wrist is superlative in extravagant design, vision and watchmaking excellence and never goes unnoted. Maybe sometimes misunderstood from an average taste point of view but that's a positive thing in my opinion, and inevitable when you are pushing the boundaries.
During Dubai Watch Week I spent considerable time on the Jacob & Co booth to examine and admire their products and three watches specifically caught my interest. The Twin Turbo Furious, Opera Godfather Minute Repeater and Bugatti Chiron are very different in size and shape but all very "Jacob & Co"..
Jacob & Co Bugatti Chiron Green Sapphire Crystal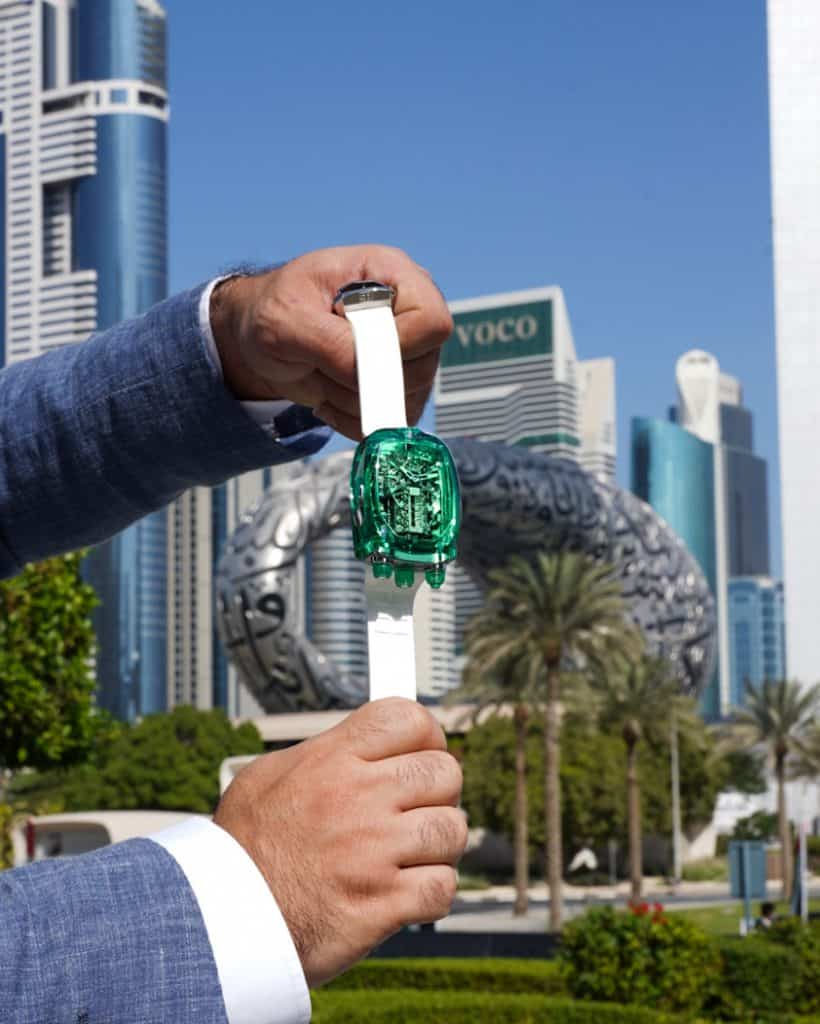 Jacob & Co Bugatti Chiron Green Sapphire
Let's start with the true novelty in Dubai. The Bugatti Chiron model line is the result of a collaboration between Jacob & Co and the illustrious car manufacturer that started in 2019. Where the "regular" Bugatti Chiron Tourbillon is already a tour de force in mechanical watchmaking, with its 578 components, a 30 degree inclined tourbillon and working animation of the cars' 16-cylinder engine, the Green Sapphire takes it to a next level. A full sapphire case allows you full visible access to the magic inside. I have not seen a timepiece before that creates such a beautiful marriage between a car and a watch engine. Even with a price tag of 1.5 Million US Dollars it should be doable to find 8 Chiron owners that would like to match this piece with their car.
Jacob & Co Twin Turbo Furious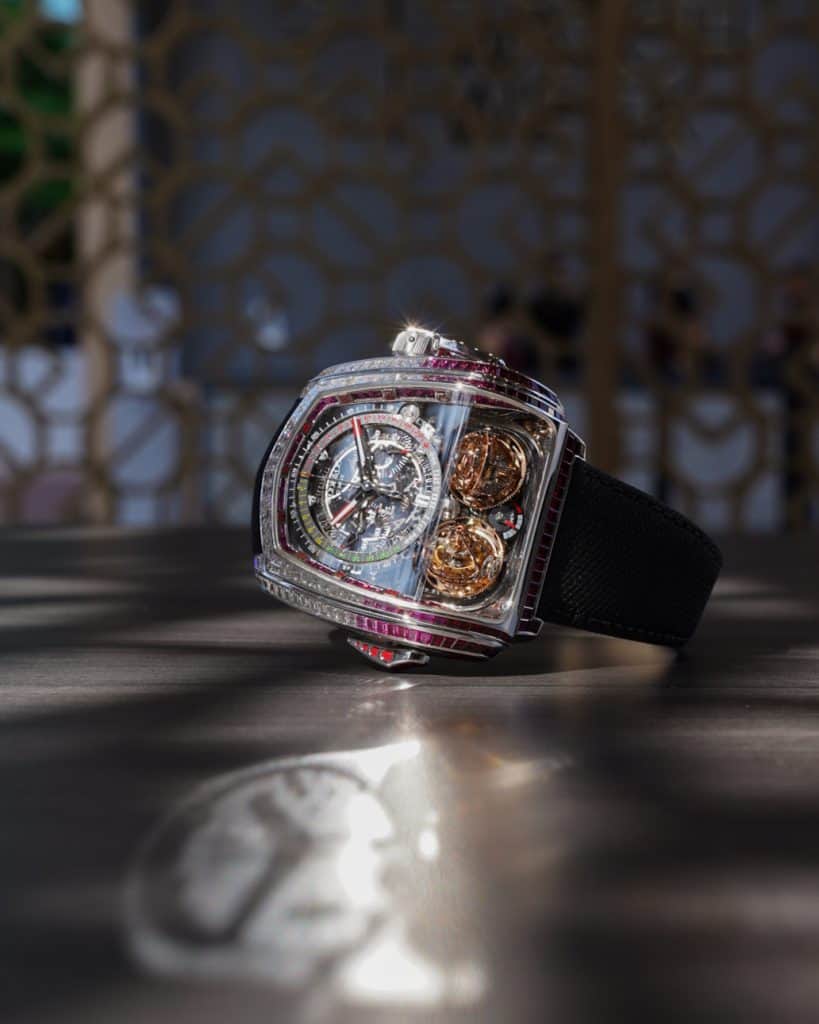 The second watch is another example of hypercar inspiration in a watch. The Twin triple-axis tourbillon is prominently visible on the lower side of the dial and I probably do not have to explain the complexity of the working. If you witness the tourbillons rotating at different speeds you instantly recognize it. Should you not be tempted enough yet. The Twin Turbo Furious also throws in a decimal minute repeater, chiming the minutes, ten-minutes and hours. Mesmerizing…
Jacob & Co Opera Godfather Minute Repeater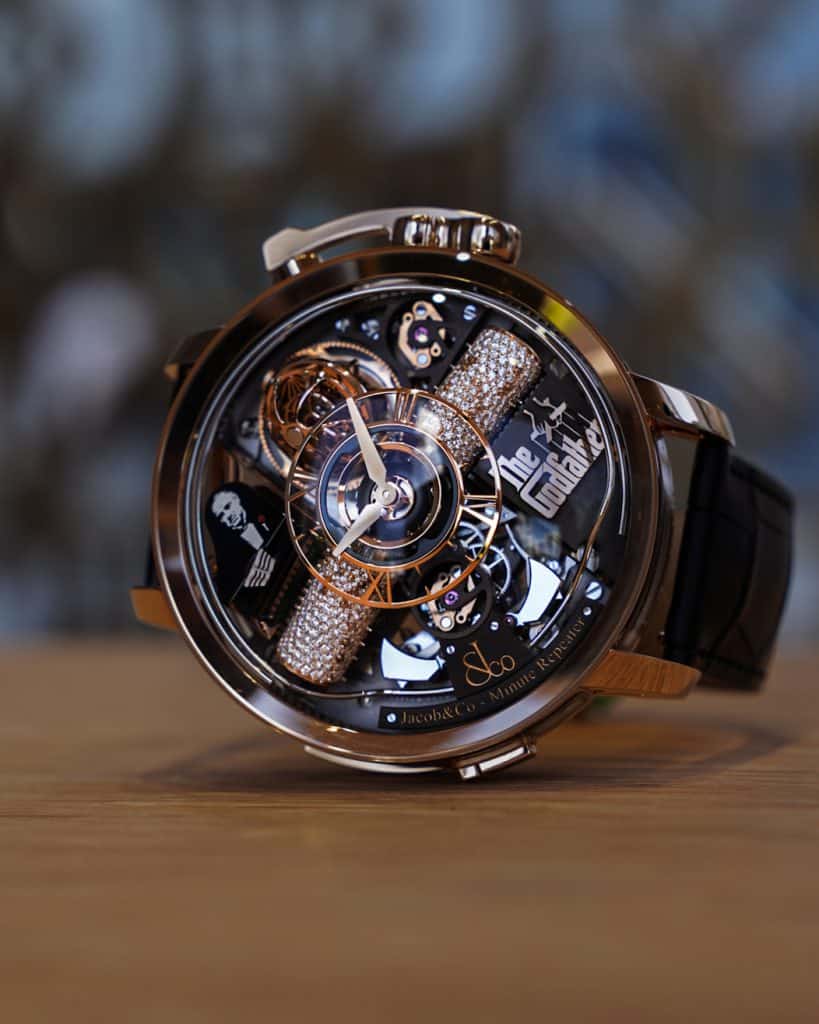 Your inner Don Corleone might be tempted to try out the Opera Godfather Minute Repeater. The JCFM04 movement, with its triple axis flying tourbillon, connects with a music box, and a single press on the 10 o'clock button initiates the chiming mechanism that sets over 600 components in motion. As a result the world famous Godfather movie theme starts playing. How about that?
Three unique timepieces, totally different and at the same time very Jacob & Co. Even the faint-hearted will have to admit that the boundaries that the brand is pushing in design, concept and technology is impressive. The watch community needs a brand like this..