Few watches can claim the iconic status the Jaeger-LeCoultre Reverso has. Born in 1931 and originally designed for sporting purposes, its appeal spread far beyond the polo fields almost immediately after the launch.
Today the Reverso is an example of timeless design, developed at the height of the Art Deco movement and governed by the rules of the Golden Ratio. The perfect proportions and the clear lines have become the hallmark and continues to define the Reverso's design to this day. JLC perfectly understands that an icon has to be treated carefully and the new 2023 versions of the Reverso are proof of that: a balancing act between innovating and preserving. The Tribute Small Seconds and Tribute Chronograph are excellent examples.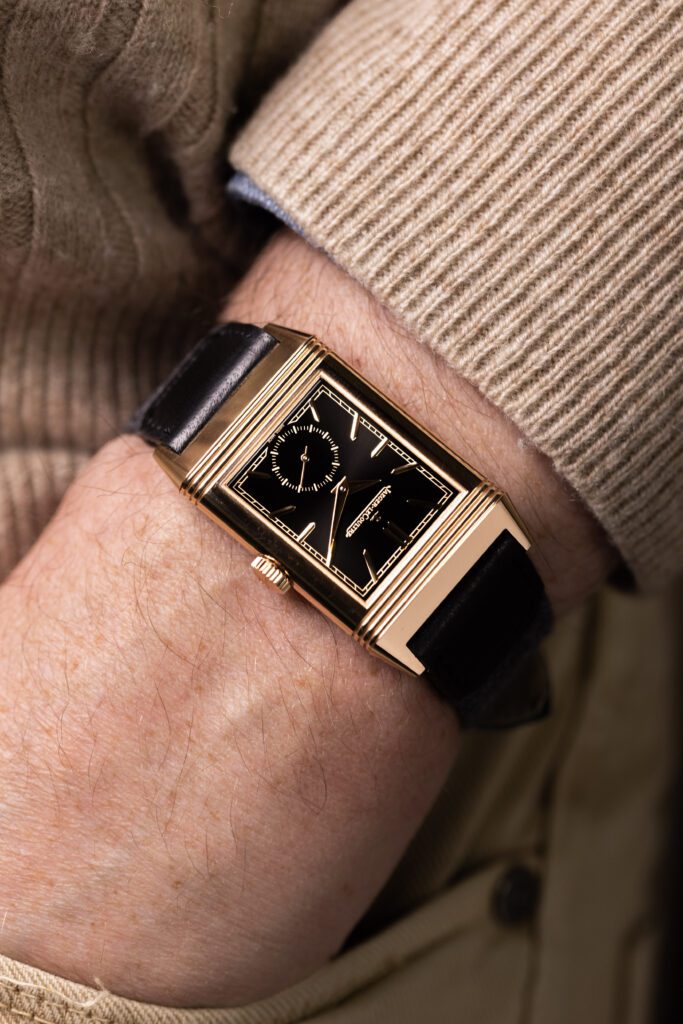 Let's start with the Tribute Small Seconds, which comes in three gold variations and one steel. The gold versions have a new, slightly reduced case height of 7,56 mm, which is 1 mm slimmer than the "regular" thickness of 8,5 mm, which still counts for the steel version. All versions have the 45.6×27.4 mm case size.
With respect to all versions, the pink gold with black dial is an absolute stunner. In all its perfection and simplicity this is the kind of watch that breaks with all rules. Whether you wear a tuxeido or a t-shirt, your attire will adapt to the watch instead of the other way around.
All versions come with two straps made by Fagliano, a calf-leather and half calf-leather mixed with canvas. The latter gives just the right contemporary looks and really is my favorite.
The new Reverso Tribute Chronograph revisits the sporty origins of the model. The way JLC has put the quintessential sporting complication into the Reverso is genius. The front dial is not compromised and bears all the hallmarks of the Tribute model and expect from the chrono pushers. On the back of the rectangular case you'll find caliber 860, an entirely new chronograph movement with retrograde minutes and a second time display. It's the successor of the caliber 829, being the first rectangular shaped chronograph back in 1996.
The Reverso Tribute Chronograph comes in two versions, a steel and a ros gold one. The steel version, with a beautiful sunray-brushed blue dial, is definitely my favorite and combined with the fabulous Fagliano strap this watch as almost a perfect everyday watch.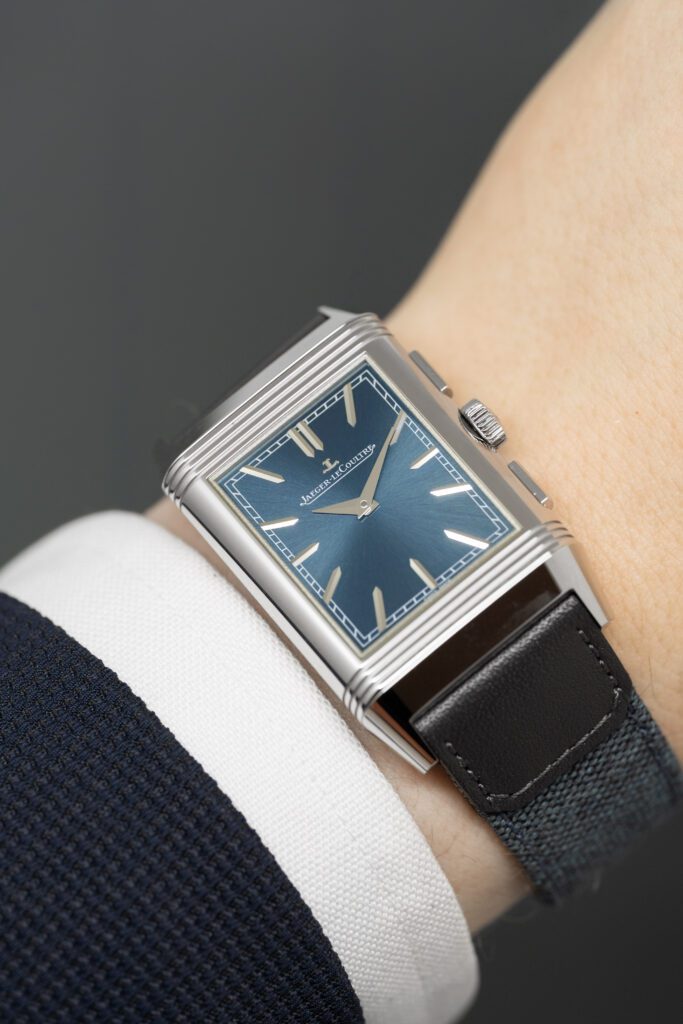 The balancing act has been executed in perfection, and it's amazing how Jaeger-LeCoultre is able to modernize the Reverso without jeopardizing anything. The golden ratio is timeless and the Reverso Tribute Small Seconds and Tribute Chronograph prove it, being a fresh and up-to-date proposition for the years to come.