When Elon Musk is looking for an appropriate watch on one of his future trips, he might be checking Konstantin Chaykin's latest. The Mars Conqueror Mk 3 is the latest brainchild of the most creative of all watchmakers. The relevancy of knowing Martian time should not be underestimated. Ever since I owned a IWC Da Vinci Perpetual Calendar, provided with a small tube with additional year-displays for the 22nd and 23rd century ("Don't forget to make a service appointment with your AD in December 2199") I see the demonstration of relativity of time as one of the big treats of horology.
Ingenuity and creativity
Konstantin Chaykin understands this as no other. Whether it's the Cinema Watch, demonstrating a small movie of a galloping horse, the one-handed Genius Temporis or the best-selling Joker. Konstantin Chaykin's watches show that telling time is just a by-product of his ingenuity and creativity.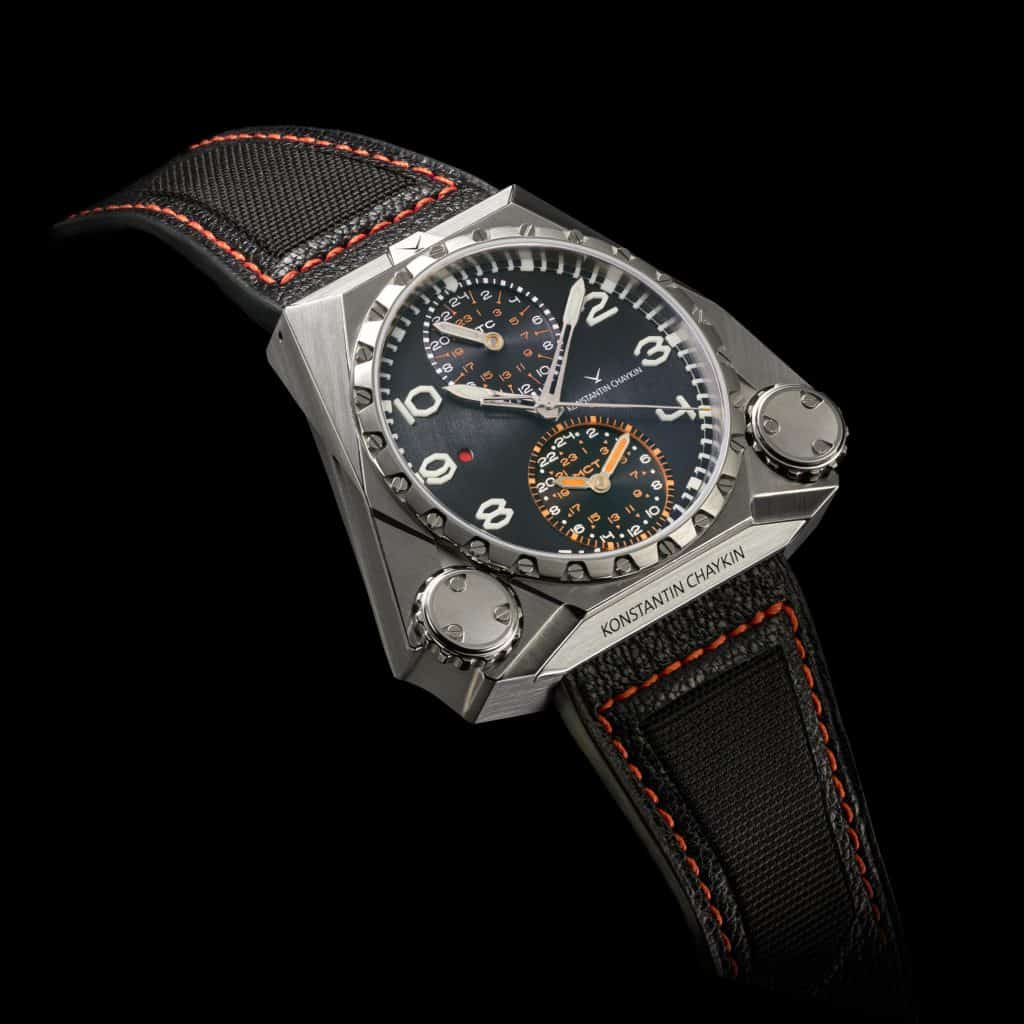 Martian time on the Mars Conqueror MK 4 Fighter
The Konstantin Chaykin Mars Conqueror Mk 3 Fighter does what you'd expect. It tells Earth time and Martian time, which makes perfect sense. According to Chaykin "The conquest of Mars and its terraforming is a necessary step in the development of mankind, as farf as can be seen at the moment". The future Mars settler is provided with a titanium cased, trapezoidal, triangle design watch, with two vertical crowns integrated in the low corners of the case. 55x48mm and 15mm height makes a chunk of watch. The dark grey dial with big roman numerals and UTC and MTC displayed at 12 and 6, reminds of a traditional pilots watch. However lost in a extraterrestrial case. 
Elon!
Elon, are you listening? Taking the Konstantin Chaykin Mars Conqueror on your maiden trip is a no-brainer. Somehow I hope that at least a few of the remaining 7 pieces will stay on mother earth, so I will be able to pick one up when budget allows. Speaking of which: €19,710 will secure you this masterpiece of time relativity..