Traditionally the May month is a busy one in watch auctioning. This weekend the big auction houses gather in or near Geneva to offer a great variety of high-end watches, to be sold to the highest bidders. We previously paid attention to what might be the number 1 event, the dedicated F.P. Journe sale by Christie's on May 12. The Art of F.P. Journe will definitely break some records. Phillips Watches will run a two-day auction on May 13 and 14, traditionally held at the premises of the La Reserve hotel. Amongst the line-up one specific piece grabs the attention because of its uniqueness, complexity and storytelling.
This "Naissance d'une Montre 2" is the brainchild of Greubel Forsey, Urwerk and the watchmakers Dominique Buser and Cyrano Devanthey. While Greubel Forsey and Urwerk delivered their support and expertise the two watchmakers, also known for their common brand Oscillon, created this beautiful piece that is a strict one-off. The movement has been inverted to appear on the dial side, featuring a constant force regulating system and large balance wheel. Turning the watch around, two mainspring barrels are visible, connected via a continuous mainspring that is wound across both barrels, effectively forming a constant-force mechanism.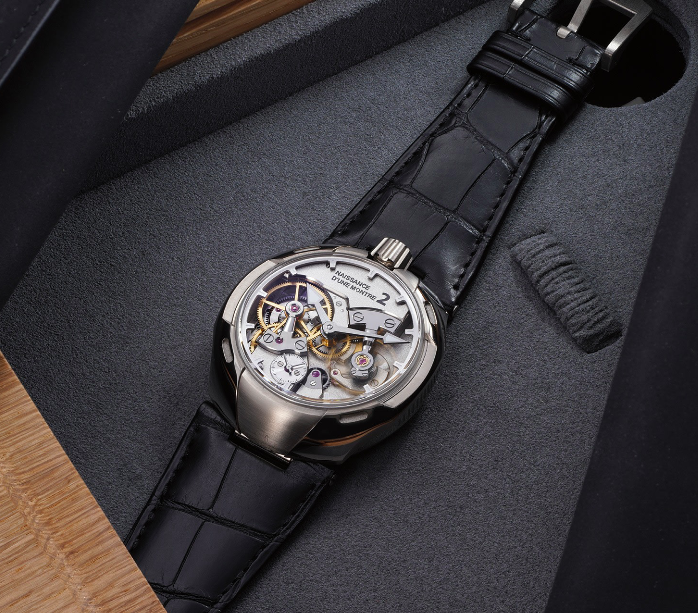 The Naissance d'une Montre "2" implicates that there's a history here. And that's correct. in 2005 the project was born under supervision of Robert Greubel, Stephen Forsey, Philippe Dufour, Vianney Halter and Kari Voutilainen. With the Time Aeon Foundation they wanted to create a platform to support, preserve and transmit traditional watchmaking techniques to new generations of watchmakers.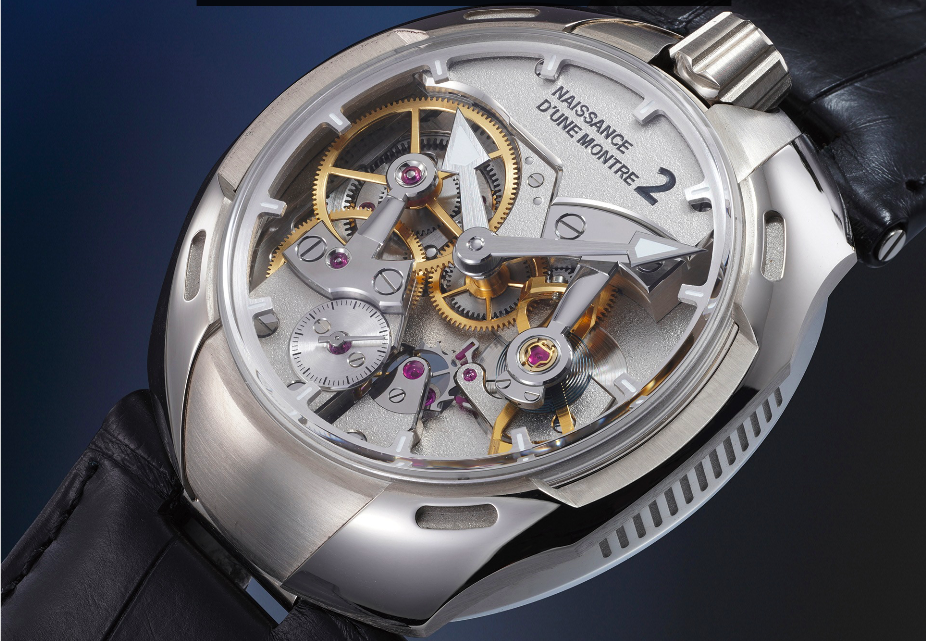 To finance the Foundation a first watch was created and unveiled in 2015: the Naissance d'une Montre. Created by French watchmaker Michael Boulanger a series of 11 pieces were created and sold. The current set-up, having established independent watchmakers in a patron role supporting the creation done by a younger generation, is part of the philosophy.
The Naissance d'une Montre 2 is a one-off, and will be auctioned by Phillips this weekend in Geneva. The estimate of CHF 200,000-400,000 seems reasonable for this unique piece, and the collective brainpower involved.