We share our thoughts about the Roger Dubuis Excalibur Diabolus in Machina, a bold design with a minute repeater.
Most acclaimed watchmaker
Roger Dubuis is without a doubt one of the most acclaimed watchmakers in the world of haute horlogerie. The brand is also one who has shown the biggest change in his watchmaking career. 
The watch brand started with classical timepieces in moderate sizes that easily compete with the big ones in watchmaking. Roger Dubuis made a change when they introduced a more outstanding design.  
What is a minute repeater?
This change positioned the brand even further as a high-end watchmaker, through their combination of modern designs and materials, combined with exclusive haute horlogerie complications, such as single tourbillons, flying double tourbillons and so on. 
In 2020, the brand is introducing another masterpiece, with a truly bold design. That design fits into the design DNA of the brand and combines it with another exclusive complication – a minute repeater. For those of you who don't exactly know what this is, let me explain it shortly. 
A minute repeater is a complication that tells time by activating a mechanism that engages a series of acoustic sounds. The sounds strike in different tones to indicate the hours, quarter hours and minutes.  
This allows the wearer to tell the time without looking at the watch and having to read the time. 
No electric watches, no light
Now you might say that this is a bit over the top. But the minute repeater complication derives from a time when watches were significant. You didn't have electric watches and lights everywhere and sometimes needed to know time in total darkness. Lume wasn't really known at that time either.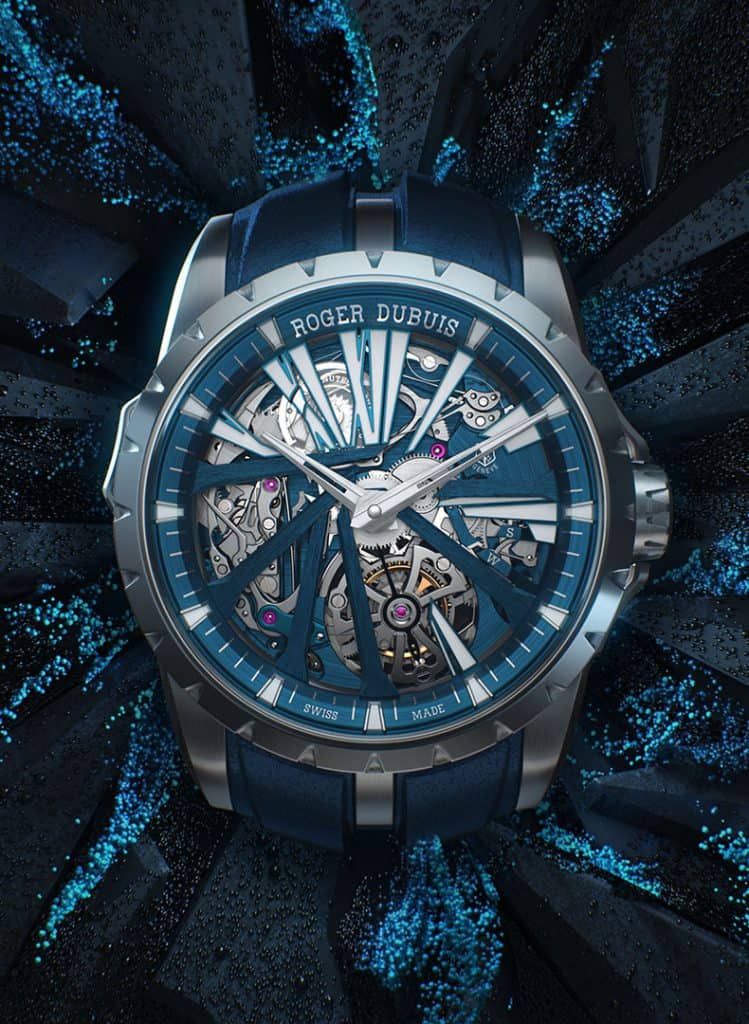 Roger Dubuis wouldn't be Roger Dubuis if the brand didn't have another trick on their sleeve
With the Roger Dubuis Excalibur Diabolus in Machina, Roger Dubuis presents a unique timepiece that merges extraordinary haute horlogerie and extraordinary design codes into one masterpiece. Roger Dubuis further highlighted the outstanding quality of the watch by bearing the Poincon de Genève.
As you can see with the case and crown, the watch is a Roger Dubuis right when you take a first glance, but upon closer inspection you realise that the brand decided to disrupt their own design code to further exemplify the uniqueness of the piece.
Virtual chaos
And while you can easily read the time thanks to the Roger Dubuis Excalibur Diabolus in Machina's bold and contrasting hands, the rest of the dial portrays virtual chaos. None of the indexes are aligned or on a similar level, but differ in size, shape and material, as some feature luminous material and easily readable (such as 12 o'clock), while others are only visible at a second glance (such as three o'clock).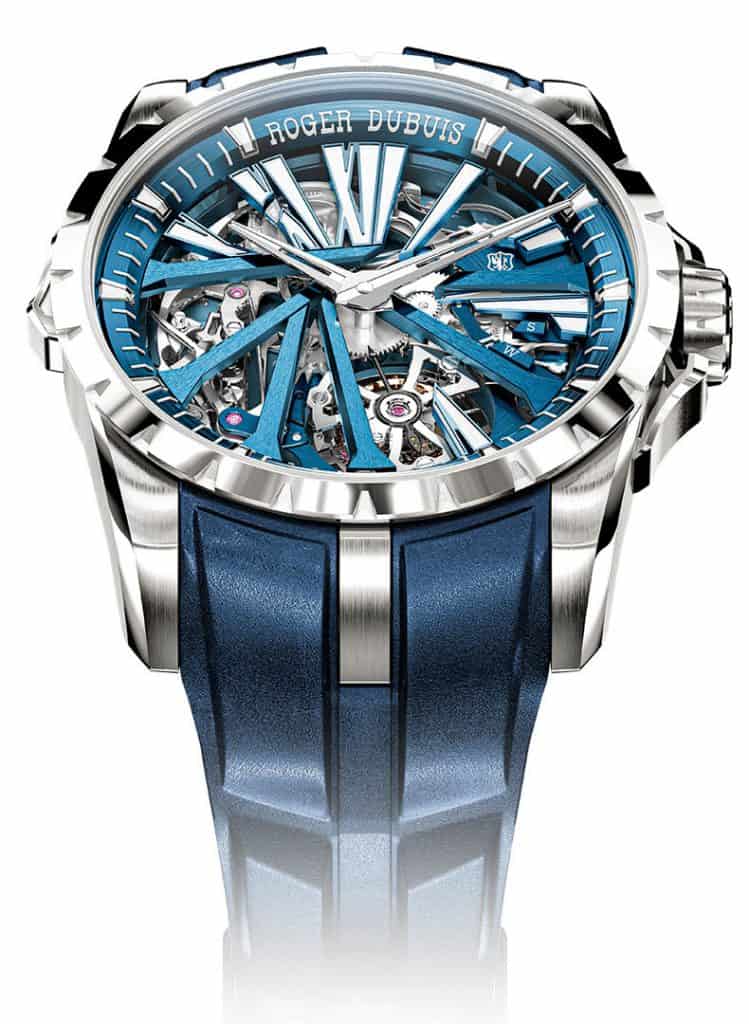 Another trick on their sleeve
Though, since this piece is a minute repeater you can also comfortably listen to the chimes when actuating the minute repeating mechanism. Once you press the push piece, a low pitch indicates the hours, a high pitch the minutes and two tones the quarter hours.
This is pretty much what most minute repeaters do, but Roger Dubuis wouldn't be Roger Dubuis if the brand didn't have another trick up their sleeve. In addition to the acoustic indication, the watchmaker added a subtle disc at 11 o'clock that indicates the current chiming in words.
Another really useful feature is the mode indicator at three o'clock, which indicates whether the watch is in time setting or manual winding mode, ensuring the minute repeater is not activated during time setting and therefore preventing damage to the movement.
The Roger Dubuis Excalibur Diabolus features a flying tourbillon
Furthermore Roger Dubuis implemented an all or nothing feature into the minute repeater push piece. They made this feature to ensure that the mechanism only activates when you fully press the pusher. This is done to prevent only a partial indication of time. 
In addition to the minute repeater, which is an extremely difficult complication to master on its own, Roger Dubuis added their famous flying tourbillon. You can see that as a signature complication on their watches.  
In order to highlight the uniqueness of this watch, the brand tuned the minute repeater to the tritone of the "Diabolus in Musica" chord. This chord has its roots in medieval religious music and you can also find in Camille Saint-Saën's symphonic poem, Danse Macabre.
The Roger Dubuis Excalibur Twofold
Roger Dubuis did not only present the Diabolus for 2020. They also introduced the Excalibur Twofold as a pre Watches & Wonders novelty, which is nothing short of amazing either. This piece features three world premieres in just one watch: 
– White composite material that is new in haute horlogerie
– Luminescent angles on the bridges of the caliber thanks to a special application of super luminova
– A luminescent white rubber strap that continues the luminescent accents of the movement 
In addition to these premieres the watch implements a hand wound movement with a power reserve of 50 hours and a double flying tourbillon – like I said, Roger Dubuis is nothing short of extraordinary.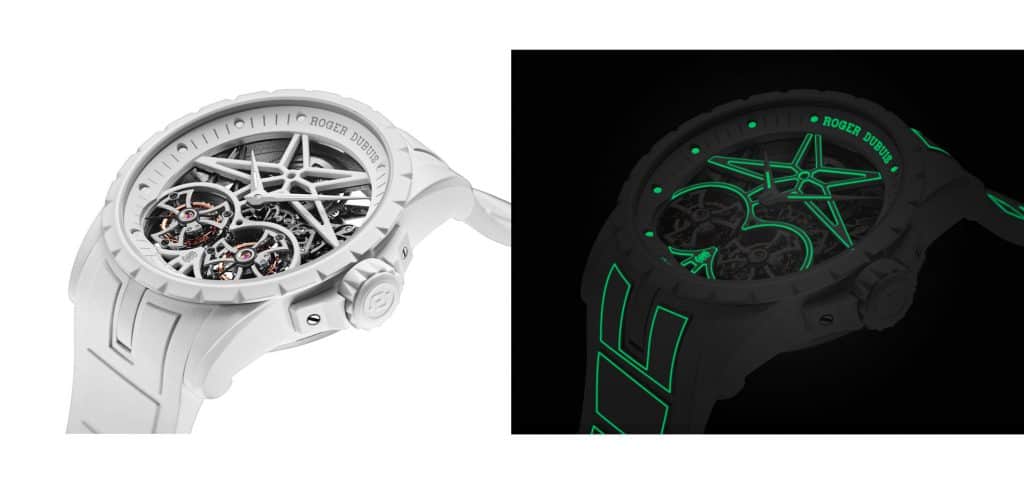 Concluding thoughts
While it was hard for me before to identify a clear favourite from the brands current line-up, due to their mechanical expertise, incredible design and utmost exclusivity, I realised that the Roger Dubuis Excalibur Diabolus in Machina is my favourite release of the brand so far. 
This masterpiece combines my favourite complication (minute repeater) with a bold and truly unique design that disrupts not only the code of the brand itself, but also proves to be among the most outstanding minute repeater watches available on the market.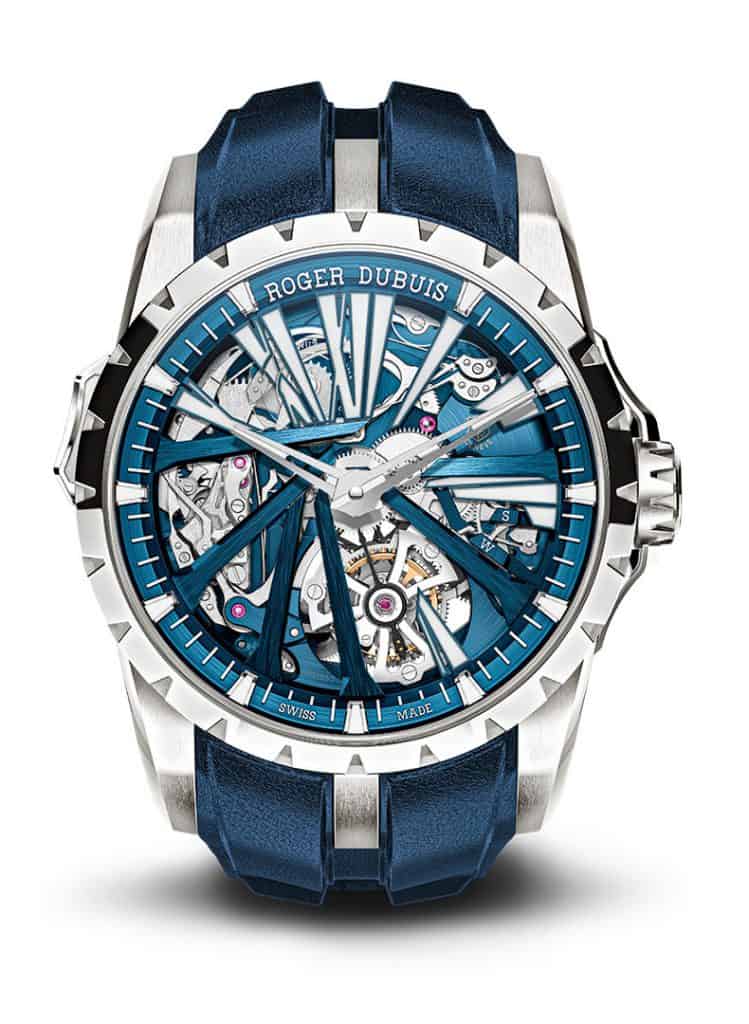 About Roger Dubuis
Swiss watch Manufacture Roger Dubuis is governed by an audacious mindset that drives innovation while cultivating profound respect for traditions.
Since its founding in 1995, the Maison has consistently pushed technical boundaries and shown an unswerving commitment to boldly go where no other watchmakers have gone before.