Combining the most heroic of complications, the chronograph, with the most important watch brand ever gives you the Rolex Cosmograph Daytona. We dive into the Rolex Daytona history.
Launched in 1963
Rolex launched Daytona in 1963 and the watch was immediately linked to the race track. This was a watch for race drivers and the Daytona name refers to the race track in Florida, where Rolex was official timekeeper. The affiliation of the brand with car racing has remained very strong over the decades, and until this day Rolex is the official Formula One timekeeper, amongst others.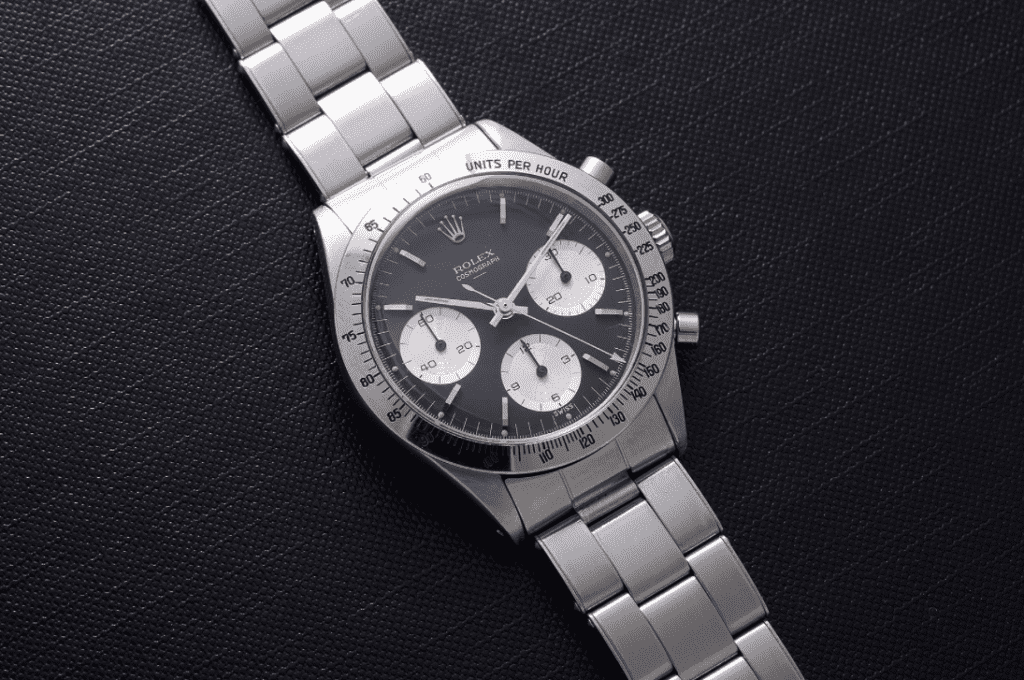 The Rolex Daytona history in 3 periods: the first era
Back to the Rolex Daytona History. It can roughly be divided in 3 periods. The first one, with the 4-digit reference numbers runs from 1963 until 1988. the references 6239 to 6265 all had manually wound and Valjoux-based movements, making it exceptionally reliable chronographs in the classical sense of the word and the looks.
The second era
The second era started with the introduction of the Daytona 16520 in 1988, and this was a big step forward, both in case size and design (it basically became the Daytona we all know today) and in movement. The automatic movement was a modified Zenith El Primero, one of the most heralded chronographs ever. The Daytona become more and more popular and the nineties showed the first signs of an unpopular but nowadays dominant Daytona feature: the waiting lists.
The third era of the Rolex Daytona History
From 2000 onwards the six-digit reference numbers mark the third era, when Rolex introduced the reference 116520 with an all-new in-house movement. The path of evolution was followed and is followed until today, where the Daytona is constantly improved within the boundaries of the iconic looks.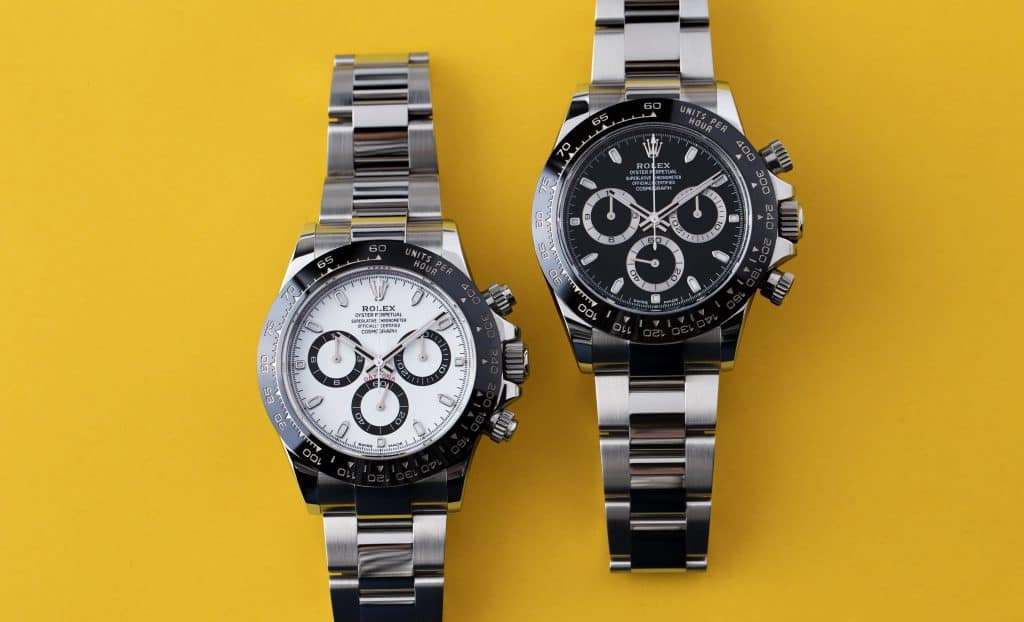 Why should you have a Daytona?
The Rolex Daytona is the archetypal Chronograph. It has gained its reputation as the archetype Chronograph for a reason. The looks are perfect and the constant evolution has made every single part of the watch perfect as well. Everyone appreciates the Rolex Daytona: it is simply on top of the world. Ask the most seasoned collector what his ultimate one-watch collector will look like and a Daytona will probably come to mind very soon.
Exceeding demand
To obtain a Daytona today is a hassle. Official retailers will probably have to disappoint you, as demand is structurally exceeding supply for a long time already. The secondary market can be a minefield, so "buying the seller" is an important element when you consider a Daytona. Checking the stock of our partner Watchbox might be a good idea. They have a constantly changing stock of great Daytonas at good market prices. We have selected two examples for you below.