AI has taken us by storm and will soon make us all jobless and obsolete. At least, that's what I hear all "AI-gurus" proclaiming. Well, if we take things into perspective we know that every technology cycle starts with a hype, and we heard similar predictions with the inception of the PC, Internet, Blockchain and Metaverse. However, we're still playing quite a significant role as human beings, right?
That brings me to a question much more relevant in our bubble, Dear Friends. Does AI, and more specifically ChatGPT, know anything about watches? I'm pretty sure it will sum up top 10 lists of divers watches or the history of a Daytona, but that's level 1 type of knowledge a newbie would brag on to his friends.
I'm interested in more thorough, authoritative and opinionated knowledge on the Important Dilemmas of life for seasoned watch geeks like us. Such as: What Genta-designed watch is better: the Patek Philippe Nautilus or the Audemars Piguet Royal Oak? We really would need a conclusion here, right?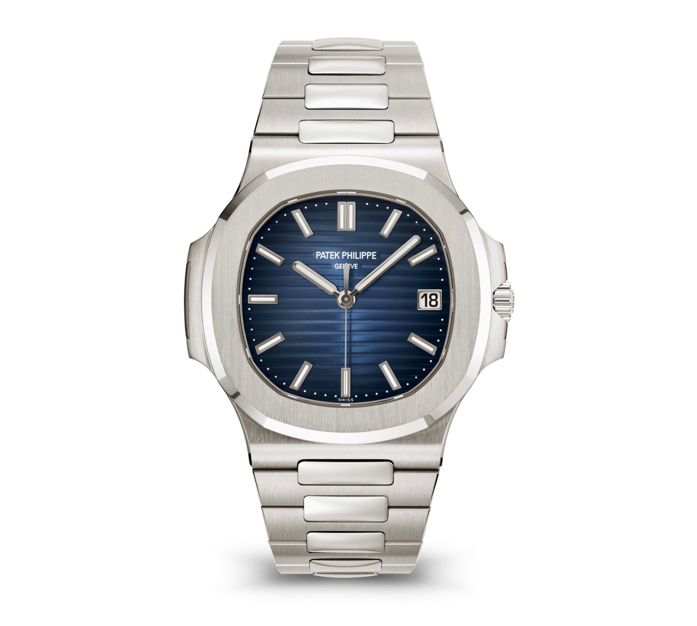 So I opened the discussion asking ChatGPT: What is the best Genia-designed watch: The Patek Philippe Nautilus or the Audemars Piguet Royal Oak? Please explain on what grounds the choice was made.
Firstly, my AI-friend made the well-known disclaimer "I am an AI-model, I don't have personal opinions and preferences", followed by a thorough and factual analysis of the pro's and con's of the watches. First, the Nautilus: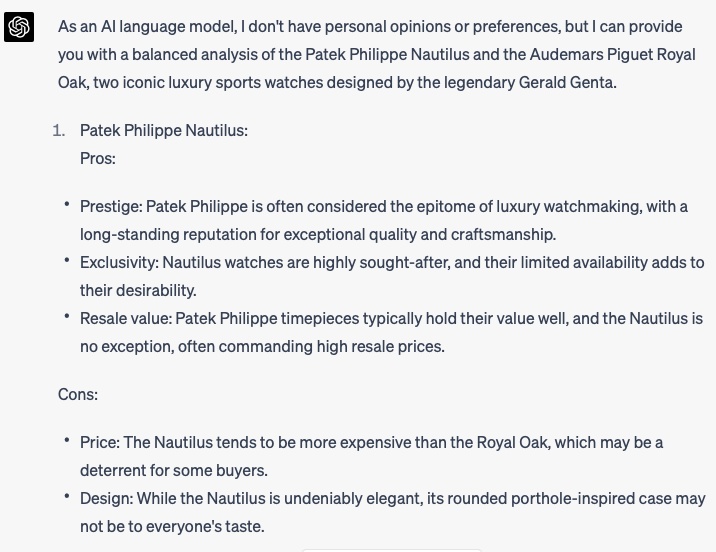 Well, let's keep this in mind and look into the Royal Oak: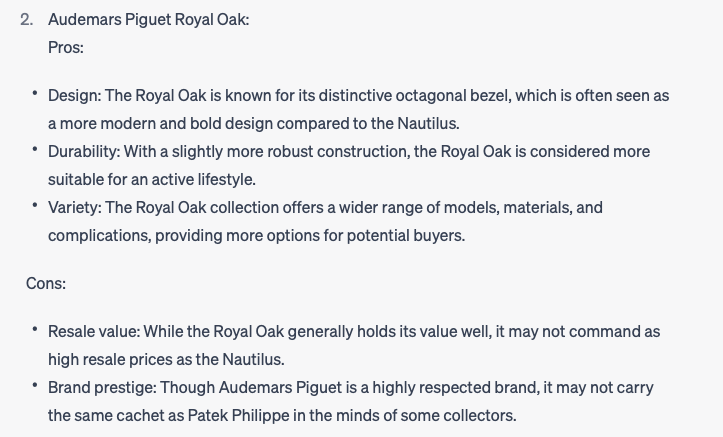 In the Pro-list for the Royal Oak ChatGPT only mentions intrinsic, watch-related points in favour: the design, the durability and variety of models have not much to do with external market factors, but purely with the watch. As for the Cons, two external factors are mentioned: the resale value and brand prestige. AP brand prestige as a con? I think many of us will beg to differ here..
ChatGPT brings in the final conclusion, confirming the previous pro-and con analysis:

It's out there and difficult to ignore: You choose a Nautilus if you care for prestige, exclusivity and resale value. In other words, you're not wearing the watch for your own enjoyment but for your appeal to others and your bank account. The Royal Oak is your choice if you want a bold design, durability and a wider range of options. In other words, if you care about the actual watch. So far for the AI Watch guru, who doesn't have personal opinions or preferences…
Confrontational, right? Please don't shoot me as the messenger and the above is not necessarily my personal opinion. It's up to us watch specialists right not to decide whether ChatGPT is already an esteemed and knowledgable discussion partner or still the newbie. At least it seems more opinionated than expected…