We don't need to argue the Grail potential of the Rolex Daytona. Legendary, Iconic: fill in any superlative you can find and the Daytona ticks the box. Rolex created rich variety of Daytona pieces.
Status and market value
A pre-owned 116520 in steel gives you the Daytona experience for a fraction of what a 6265 Paul Newman will set you back. Rarity and desirability define status and market value. The Steel/Gold versions of the Rolex Daytona are among the least popular Rolex watches. But this means consequently that these are the most affordable of all Daytonas. A quick check on Chrono24 shows that a (El Primero-based) reference 16523 can be had for $10 to $15,000. There is currently no cheaper way to become a Daytona owner, if you can live with two-tone.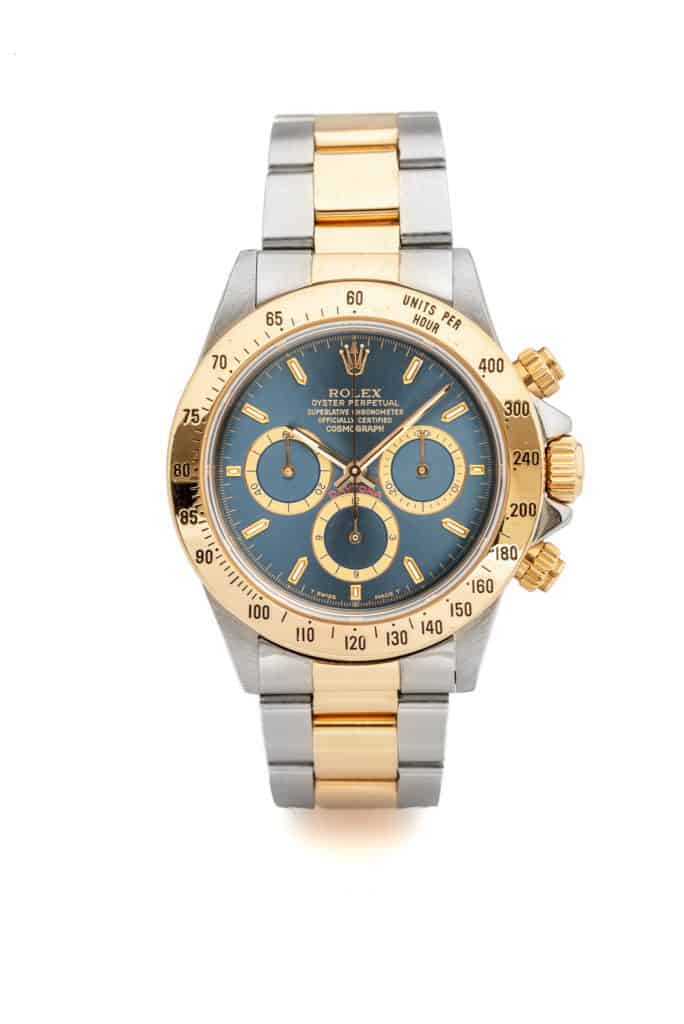 This grail Rolex Daytona with blue dial
Next, this brings me to the Rolex Daytona shown here. A steel-gold ref. 16523 that will be auctioned at Antiquorum in Geneva on June 28. Early 1990's, full set in very good condition and a estimated price of $180,000 to $280,000. Excuse me? For a steel-gold 16523? What's the catch? Well… Have a close look at the blue dial.
Unfortunately, the blue dial version never made it into production, and apparently a few pieces were created for some VIP clients with the right connections. Rarer as hens' teeth, and good for a stratospheric rise in the pecking order of Daytonas. This one is a collectors darling. How much of a collectors darling the blue 16523 will be is something we will know on June 28. 
BTW: Steel/Gold combined with a blue dial is available on the Daytona 116523BLAO as well. This watch is almost identical to the above watch. Yet, it comes with Arabic numerals. For 10% of the price. Good luck explaining Rolex collecting logic to your non-watch friends..