I've been frequenting watch fairs for 10 years now, and whether it's Baselworld, SIHH or Watches and Wonders I always feel a bit excited for the opening hour, when all brands open the gates and the novelties can be seen and touched. And while the majority of the press attention in the first hours usually goes to Rolex I traditionally take a different path. Rolex is never top of mind at that moment and besides, within minutes my colleagues and the social media channels bombard me with the novelties anyway. And those novelties usually convince me to maintain my strategy as the oh's and ah's on a slightly different crown or a slightly new greenish bezel variant did not struck me at all. I wouldn't dare to say Rolex novelties are usually boring, maybe my demand to be creatively surprised is somewhat dominant.
No disrespect here at all. I deeply admire Rolex and a fully understand that a multi-billion market leader with a unique position as they have will think twice before engaging in short term trends, hypes and more with a serious risk of failure. Evolution instead of Revolution. They don't have to. The power of improving their work year after year, decade after decade into perfection is paying off and made Rolex what it is.
It's just me that I happen to like the unusual, creative take on watches. I like the odd things, the surprise effect and the underdog. Three elements that I find in many brands but not specifically Rolex.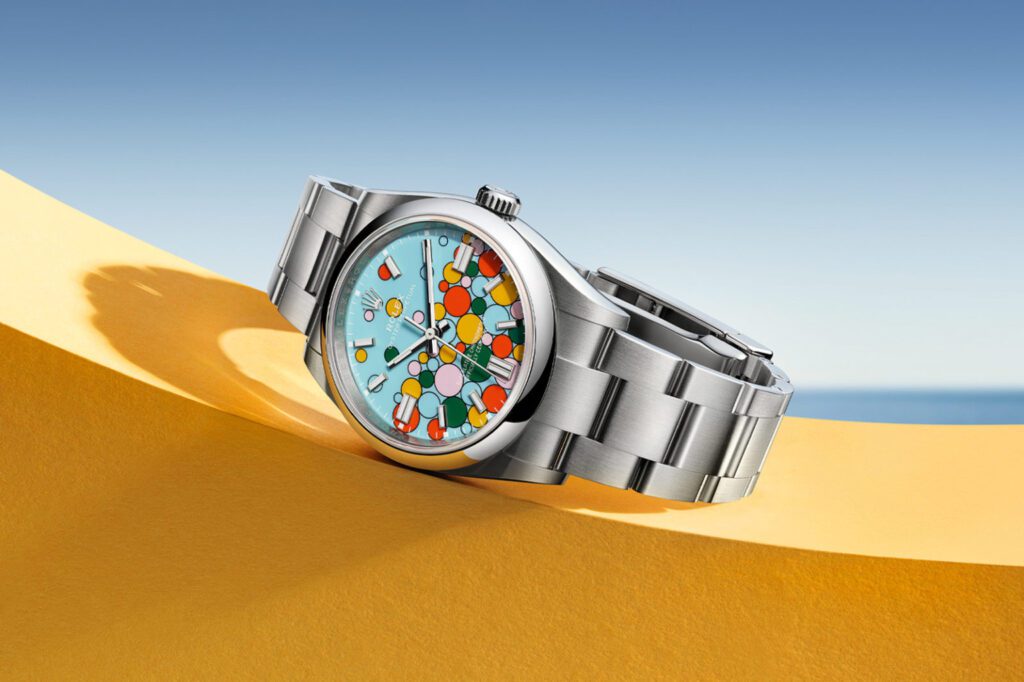 Until this years' Watches and Wonders. I regretted my usual ignorance almost immediately seeing the Oyster Perpetual Celebration dial. There was some laughter, disbelief and even outright anger. "This is not Rolex!", What a polarizing thing! And I thought: YES! The lightness, the fun factor of the coloured bubbles gave me "want one" vibes, and probably the mid-sized 36 mm (there's also a 31 and 41) would be my choice.
Observing the Celebrations I found myself challenging my own prejudices. Is Rolex really that boring? The Rainbow Daytona, the green-dial John Mayer, the 5 coloured Oyster Perpetuals from 2020? These relatively recent launches seem to prove otherwise. Rolex is bringing its fair share of colourfulness, but simply under their own terms and in their own pace. We wouldn't expect otherwise from the brand with the crown.
It goes without saying that the market has picked up quickly. Although not limited for now, the Celebrations are very collectable and the offerings on Chrono24 exceed the approx. €6,000 retail by factors 4 on average..