When thinking about tough watches, many inexperienced watch fans think about stainless steel tool watches designed for diving and worn by military personnel. The more experienced however think about a completely different genre – the G-Shock.
Now you might say it might be a bold statement to call G-Shock its own genre of watches, but quite frankly I believe they are. I don't know another brand that could compete in the high tech, ultra robust and extremely precise watchmaking game where G-Shock is holding the crown. Without any doubt even the most discerned collectors who solely collect haute horology watches will give you an affirmative nod when it comes to G-Shocks.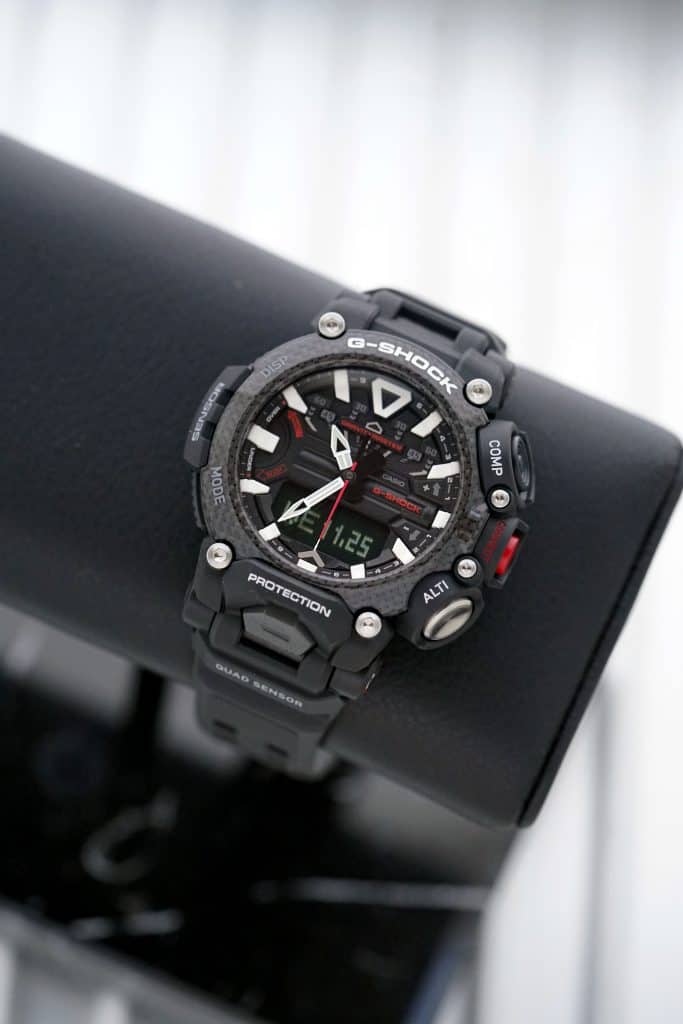 G-Shock Gravitymaster – unrivalled toughness
In 2021 the brand is introducing a new version of their pilots watch, which is labeled Gravitymaster. While we have seen quite a few versions of the G-Shock Gravitymaster GR-B200-1AER in recent years, the latest models have been focussed on being ultra-light and packing useful features. Such as an altimeter function. The extremely low weights of these watches have been achieved using carbon and carbon compounds for the case material. This material offers an unrivalled toughness while maintaining a very low weight. The use of carbon for the case and bezel results in a weight of 80g including the strap.
This low weight makes the watch extremely comfortable to wear, despite its rather large size of 63mm x 54mm x 18,3mm. Furthermore, the integrated lugs allow the strap to fit nicely around the wrist and reduce the bulky appearance of the watch. Having smaller wrists myself I certainly appreciate G-Shocks design choice in that regard. I do enjoy their watches a lot, but could not wear them without these clever design tricks.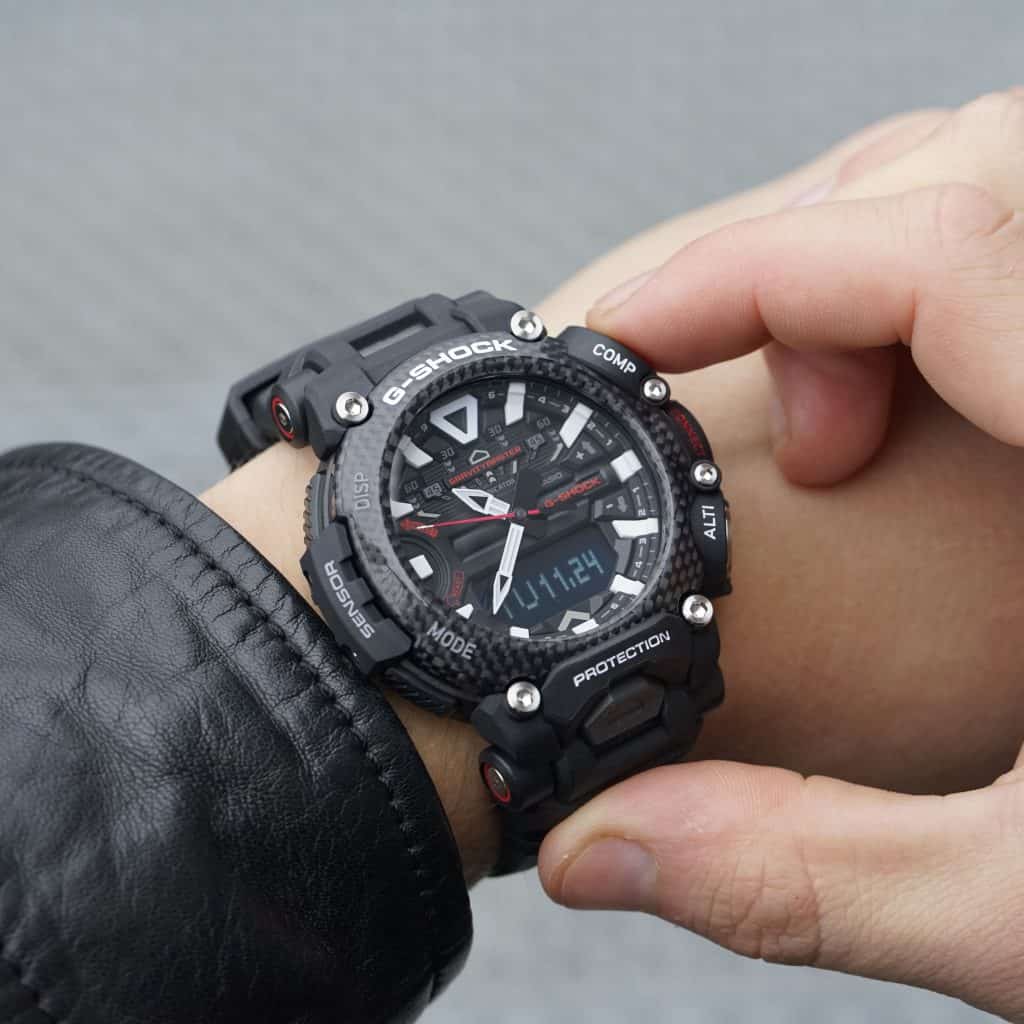 Bluetooth
Another benefit of the new G-Shock Gravitymaster GR-B200-1AER is its ability to pair with your smartphone via bluetooth. It allows you to comfortably set timers, alarms, additional timezones, time and date, and track the steps you walked per day. As most G-shocks don't have a crown similar to a mechanical watch, I highly appreciate the ability to use my phone for setting these features. This t can also be done solely on the watch by pressing a few buttons. Speaking of the buttons, these are designed larger enough to be usable with gloves. Which is a further improvement over other watches, where you need to take off your gloves to properly use them.
The other two highlight features of the Gravitymaster are its altimeter and compass function. These features are both very beneficial when flying or mountaineering, where I use them most of the time. Visible in the picture below is my personal Rangeman. This watch is dedicated more towards the mountaineer and my preferred choice as a mountain watch. Such as the Gravitymaster, my Rangeman has an altimeter and compass function. I use this for orientation purposes when there is no GPS or I am stuck in a white out.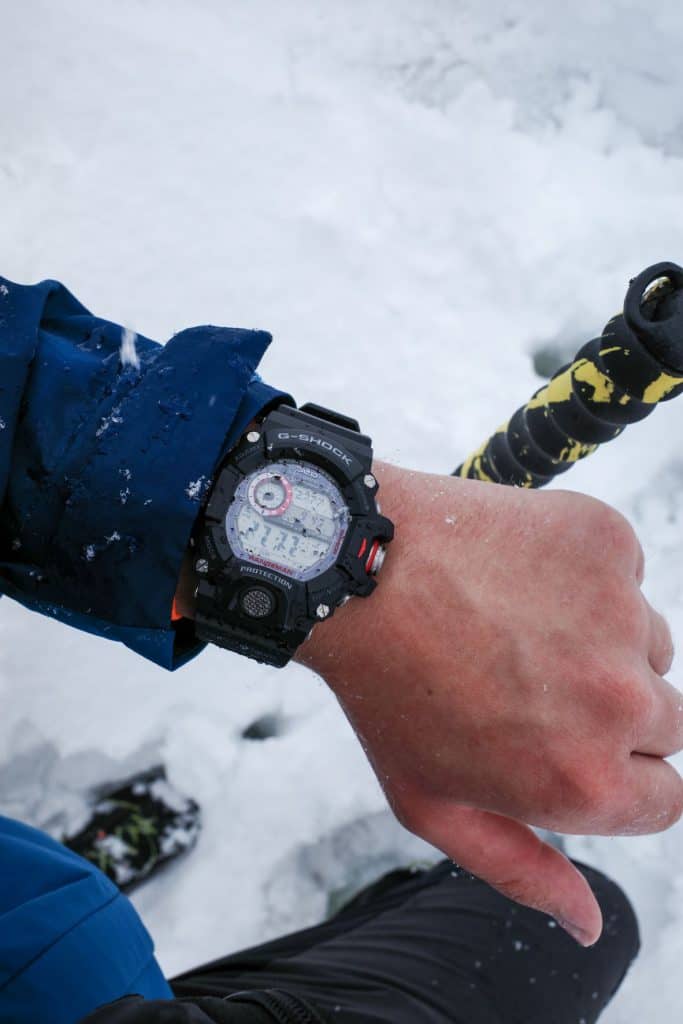 Price
As you would expect, the G-Shock Gravitymaster is 200m water resistant, shock resistant and is equipped with LED-light. To me, the reliability of these watches, and the functionality and comfortable wear, makes them perfect for any adventure. At an affordable price from 299 EUR, the GR-B200-1AER offers all the features you expect from a G-Shock. Including the added altimeter and compass function, which are vital for navigation purposes.