For a chef, their knife is their ally at all times – there is no dish without a knife – and, among the different materials used to shape these knives, Damascus steel is the most iconic. The material's unique pattern is now reflected in the Hublot Big Bang Unico Gourmet in a limited edition of 200 pieces.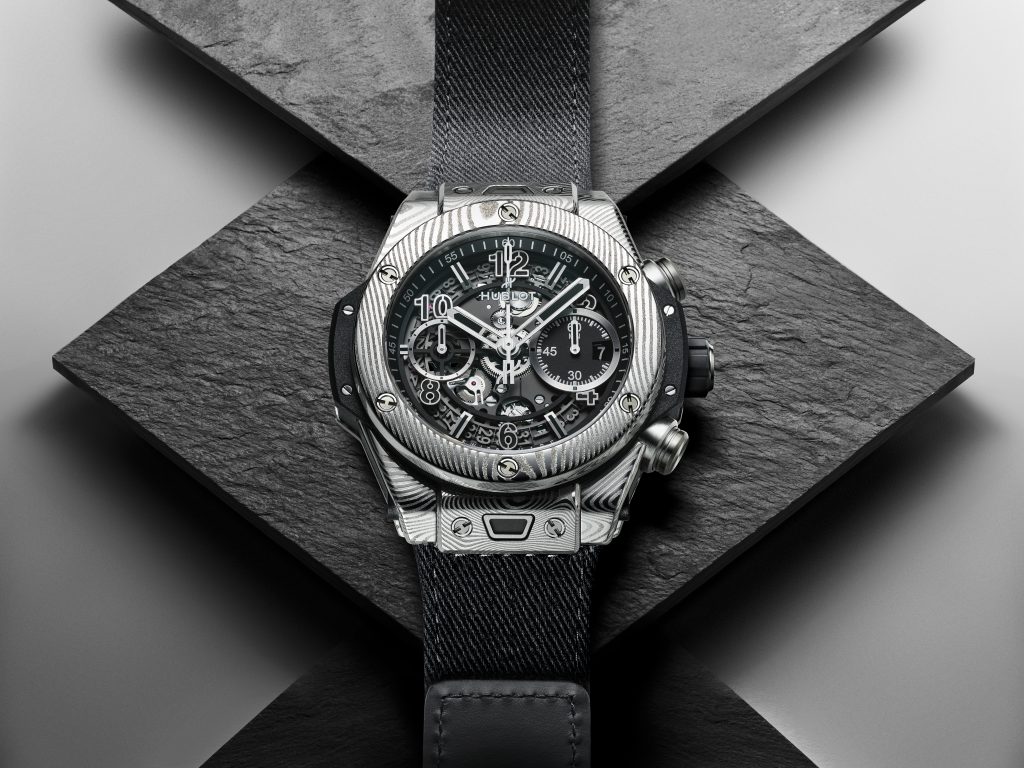 Fusion in the kitches
One evening, the Hublot brigade and four Michelin-starred chefs. The challenge: to bring two of them together in the kitchen and let the fusion happen. The result? A unique experience and a unique menu that leave an indelible mark. In a menu developed in tandem, Anne-Sophie & Yannick fused two ingredients essential to their cuisine and to the Hublot Big Bang Unico Gourmet: respect for raw materials and a taste for innovation.
Two chefs
The two chefs combined Anne-Sophie Pic's instinctive and intuitive cuisine with Yannick Alléno's experimental and modernist technique. A meeting of minds and taste that brought to life an experience and a menu that were first, unique and different.
One hundred guests had the chance to experience a moment suspended in time alongside the chefs and their brigade. At the table for once, Eneko Atxa and Paul Pairet took part in the extraordinary experience on the other side of the looking glass.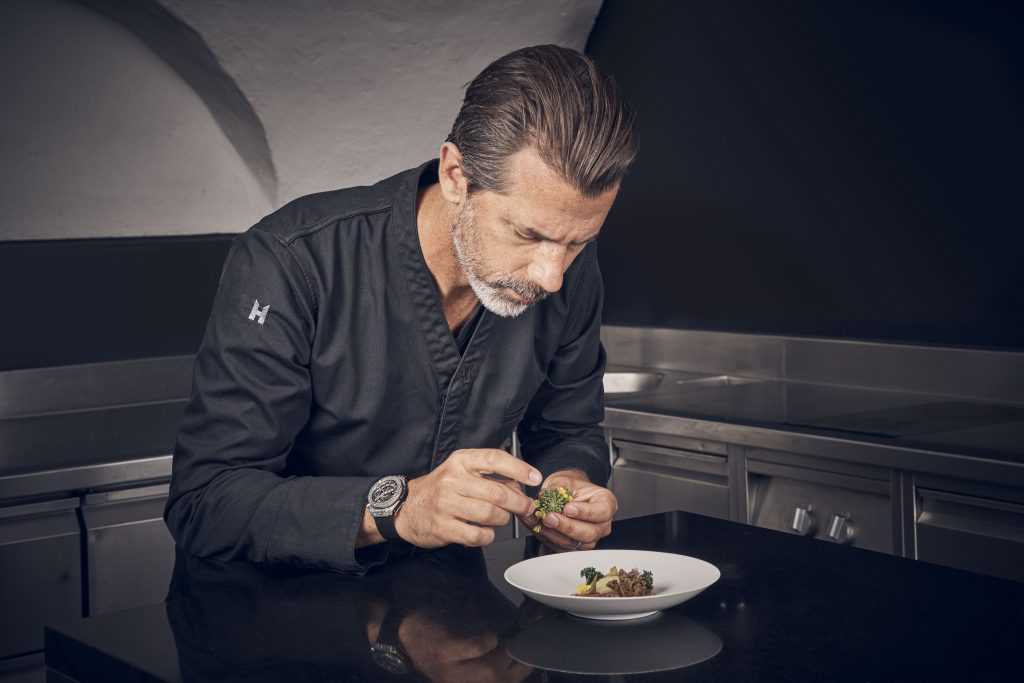 Big Bang Unico Gourmet – Limited Edition of 200 pieces
To celebrate its Gastronomy family, Hublot imagined transposing the chef's steel of predilection to that of its watches. Damascus steel affixes its original imprint on the case and the bezel of the Big Bang Unico Gourmet. Thanks to its practical Velcro strap, the UNICO HUB1280 manufacture chronograph will just have enough time to measure the speed with which it takes for the watch to go from the chef's wrists to the chef's stainless-steel worktops.
At Hublot, we love high gastronomy, we love people who convey their savoir faire and their signature onto their dishes, those who know how to fuse ingredients to make them unique while staying authentic This dinner is so much more than a Michelin-starred dinner, more than symbolic, it is a pivotal moment in the history of Hublot gastronomy that sees two of the greatest chefs in the world come together to create one menu. A moment which we mark with the unique imprint of Damascus steel, this legendary steel that is also the greatest ally of chefs, from their kitchen knives to, from today, their wrists.

Ricardo Guadalupe, CEO Hublot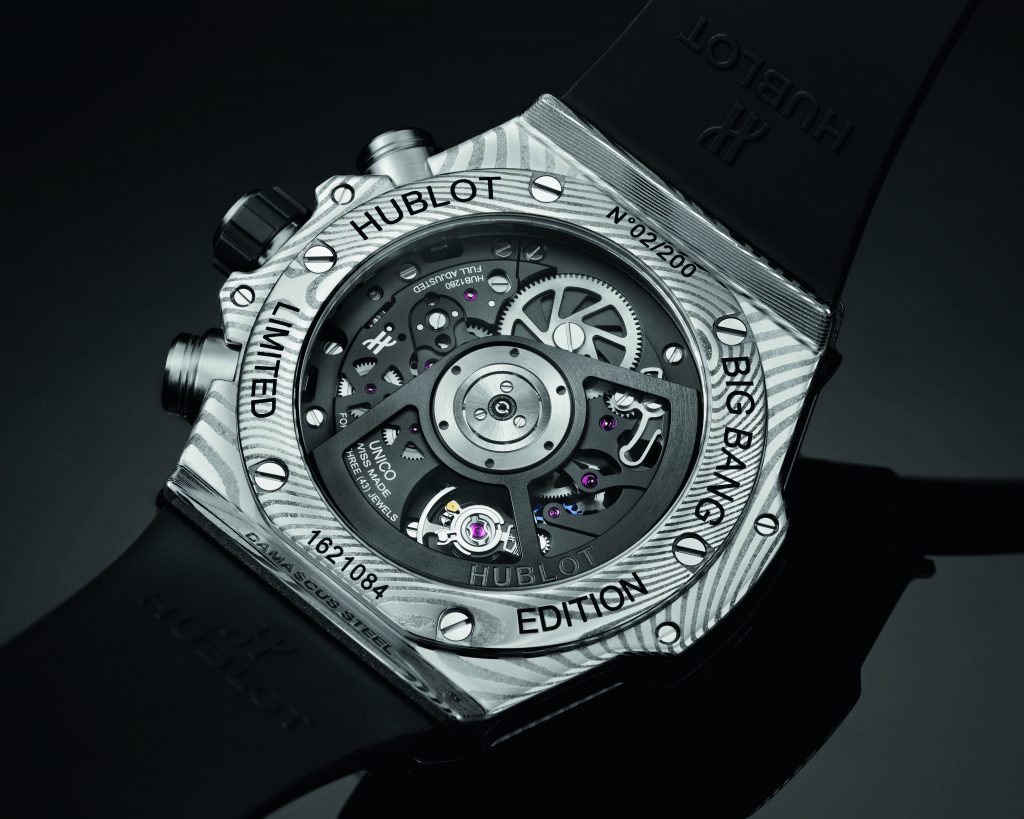 A Legendary Steel on the Wrist
This storied steel, historically known as Wootz and originating in the Damascus region in 300 BC, was known to forge the most resistant and cutting swords. Today, Damascus steel refers to a technique of hammering and folding steel to make it more resistant. Which beautifully fits the Hublot Big Bang Unico Gourmet.
Kitchen Knive's Steel on the Hublot Big Bang Unico Gourmet
This steel is often used to forge the kitchen knives prized by Michelin-starred chefs. Hublot uses it to make the Big Bang, in a limited edition of 200 pieces – the Big Bang Unico Gourmet. Also known as Damasteel®, it iss made by the Swedish company Damasteel, which has mastered the fashioning of this material since 1876. This unique steel has greater resistance and a unique weave of patterned steel on its surface. Damasteel® is not a traditional metal, it is a metal composite created from two types of steel.
Never identical
The first, 304L that Hublot uses on the Hublot Big Bang Unico Gourmet, is dark and made primarily of carbon; the other, 316L, is lighter – the two are forged, folded and folded again like a flaky puff pastry, then pressed. A matrix rendering that sees the two materials welded into each other, producing a patterned weave that is unique every time. These moiré patterns, like a fingerprint, are never identical.
Hublot Big Bang Unico Gourmet with Damasteel®
To adapt perfectly to the Hublot Big Bang Unico Gourmet's watch's dimensions, Hublot chose a unique design, a pattern that fuses age- old savoir faire with the innovation developed by Damasteel®. Surface corrosion of the composite allows the stratification of the two steels to appear, revealing the pattern through a contrast of the materials. In addition to its highly recognisable aesthetics, Damascus steel is also renowned for being more durable than traditional steel.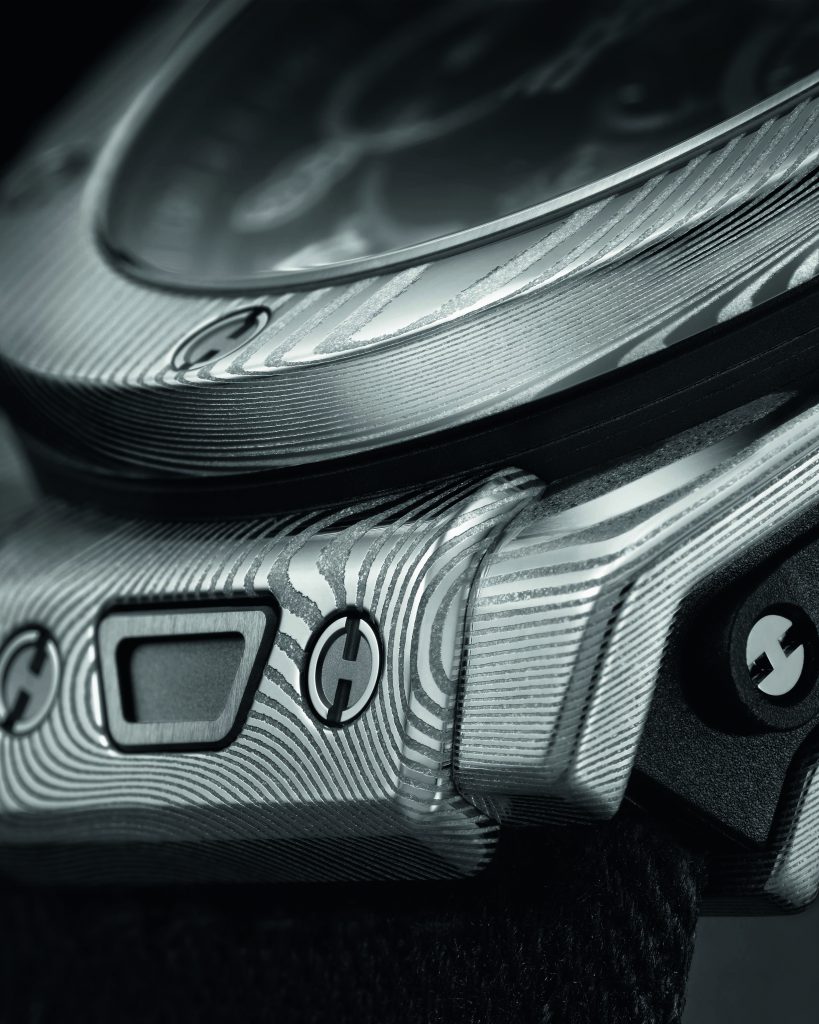 Specifications
REFERENCE
441.DS.1170.NR.GAS22
DIAL
Matt black
CASE
Polished Damascus Steel
Diameter: 42 mm Thickness: 14.5 mm Water Resistance: 10 atm
MOVEMENT
HUB1280 Unico Manufacture, Self- winding Chronograph
Frequency: 4 (28'800 A/h) Power reserve (hours): 72 Number of components: 354 Jewels: 43
CASEBACK
Polished Damascus Steel
STRAP AND CLASP
Titanium deployant buckle and microblasted ceramic buckle
First bracelet: Black Velcro fabric fastener
Second bracelet: Black lined rubber
BEZEL
Polished Damascus Steel
PRICE
22,900.00 CHF
25,200.00 EUR
24,100.00 USD
20,800.00 GBP