If you are an avid diver or if your dad enjoyed a life sub sea level, chances are that you (or your dad) came across an orange dial divers watch from Swiss watch brand Doxa. The orange dial Doxa Sub 300 from 1967 is what the Jaeger-LeCoultre Reverso was for polo players. Also what the Breitling Navitimer was for pilots in the 1950-60's. Last but not least, what the Rolex Daytona was for Paul Newman: a purpose-designed, professional-grade watch. 
A diver in six colours
However the 2020 edition of the legendary diver, the Doxa Sub 300, also offers street credibility. Even if it is water resistant to 300 meters. Especially in this six-colours-launch.
Pioneering the ocean beds with a unidirectional bezel engraved with the US Navy's no-decompression dive table, the Doxa Sub 300 enjoys quite the attention with divers of all kind. It's for leisure as well as professionals, and justifies its own long chapters in any horological literature.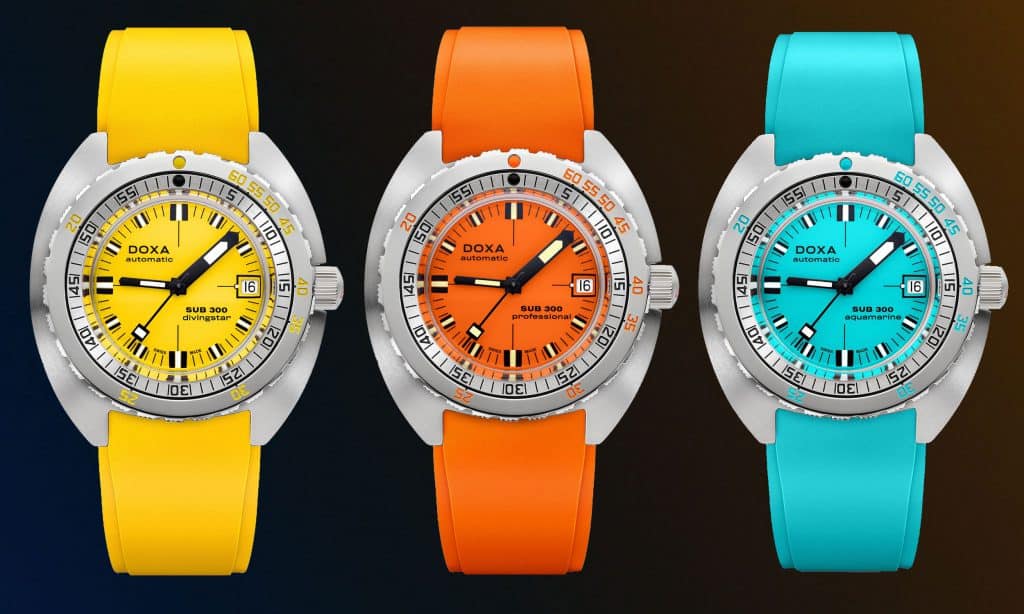 Reinterpretation of the Doxa Sub 300 from 2017
These new six editions very much look like a non-limited version of the 50th Anniversary Doxa Sub 300 from 2017. These were presented during Basel World in 2016. Those timepieces were offered in black, silver and orange and limited to 300 pieces. I can already feel a certain angered heat rising from the homes of the limited edition 50th Anniversary owners. But anyway…
Embracing the past, Doxa decided to slimmer the case height and went from 14 mm to 13.4 mm. Add an extra mm for the domed crystal, but still those six mm's makes quite the difference when wearing the watch. Less heft on the wrist, more candy to the eye.
This reinterpretation of the Doxa SUB 300T comes in a choice of six colours. Already known from the Doxa archives (yellow and turquoise can be found in the Sub 200 range): Searambler (silver dial), Caribbean (blue dial), Diving Star (yellow dial), Aquamarine (turquoise dial), Shark Hunter (black dial) and Professional (orange dial).
Work horse
The automatic 3-hander movement on the Doxa Sub 300 is a chronometer certified workhorse. The ETA 2824-2 secures a very decent daily accuracy of +4/-6 seconds and 38 hours of power reserve.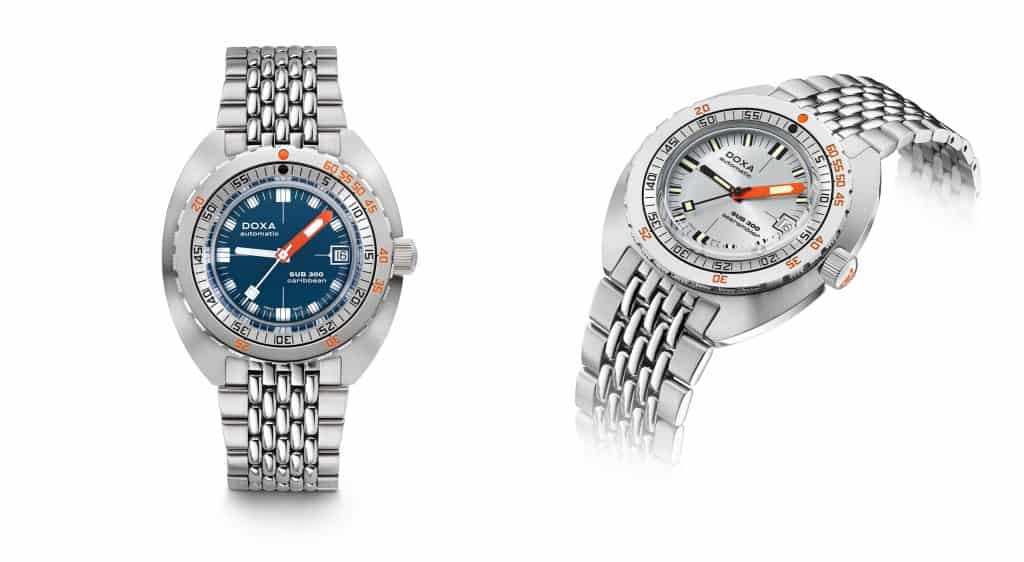 So… if you are the owner of the LE50th COSC certified edition already, does this colourful launch priced at € 1850 (on rubber and another € 40 for the vintage inspired "Beads of Rice" steel bracelet with wetsuit extension) make you upset? If you did not get the edition from 2017, rush to the Doxa website and find the colour you want. On a personal note, I went for the Caribbean on bracelet.