Every innovation in horology always starts with an idea. Someone thinks of either an improvement on a current technology or starts with something ground-breaking new. The stories of how brands like Urwerk, MB&F and Greubel Forsey came to life usually involve a lot of kitchen table talks and sketching, and what follows is heroic and food for many anecdotes to come.
Double Tourbillon, caged in a 30º angle
Let's focus on Greubel Forsey today, the brand we all know for their quest to bring one of the most important complications, the tourbillon, into the 21st century. Stephen Forsey and Robert Greubel worked together at Renaud Papy in the 1990's, and in 2004 they launched Greubel Forsey with the presentation of the Double Tourbillon caged in a 30 degree angle.
Meccano
The rest, as they usually say, is history. Prior to that event a lot of sketching and prototyping needed to be done, and already in 2002 Stephen Forsey found a simple and brilliant way to explain and visualise his thoughts: He used an old box of Meccano, the construction toy sets very well known to boys who are now in their fifties, to make a visualisation of the Double Tourbillon 30 degree concept.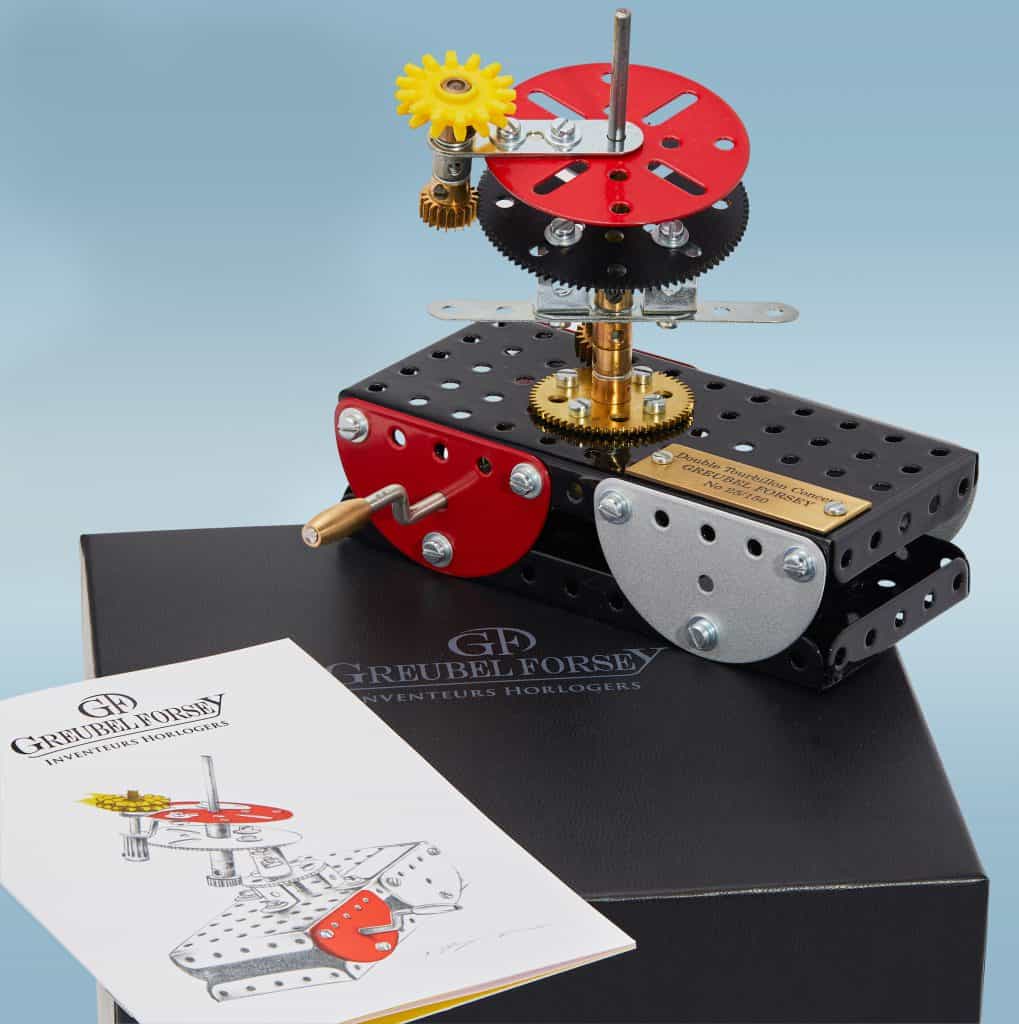 10th Anniversary of Greubel Forsey
Fast forward to 2014. At the 10th anniversary of Greubel Forsey the brand created 150 meccano-prototypes as a gift to valued collectors and relations. For that purpose, people at GF sourced Meccano parts on eBay and wherever they could, to make complete boxes. Knowing this it is safe to assume that no box will have been the same..
Nr. 25
One of those 150 boxes, nr. 25 to be precise, can be yours on June 14. Phillips Auctions is selling it at their only Charity auction "Timepieces for HSNY", and the consignor is Greubel Forsey. Current bid is already $3,500, and you might argue that that is a lot of money for a box of Meccano. That is one way to look at it. I look at it differently: For a Greubel Forsey prototype, probably crucial in the brands foundation, and consigned directly by its founders, it's a bargain even if it triples from the current price. Which it will probably do…