Whether you are a seasoned collector of watches or have recently become a watch aficionado, it goes without saying that you will need a good storage solution for your watches whether they are automatic, manual wound or quartz watches. For this purpose, a watch roll is the perfect choice. On this page you will learn all about the functionality of watch rolls and how to choose the right one for you. You will also find our reviews of what we consider to be the 7 best watch rolls on the market. Read on to learn all you need to know.
Why You Should Use a Watch Roll
No matter the size of your watch collection, your watches deserve proper care. A watch- or travel roll is designed to protect your watches while keeping them organized and ready to wear. Many of us develop the bad habit of simply shoving our automatic watches into a sock drawer next to our tie clips and other accessories. If you want to take good care of your watch, however, we advise you to unlearn this habit. Your watch is far better off protected in a watch roll than left to slide around at the bottom of a drawer.
A watch roll also gives you the advantage of eliminating clutter. And instead of leaving your watches around and potentially misplacing them you always know where to find them. As a bonus, a watch roll is an aesthetically pleasing item that you don't have to put away. Place it on your dresser and enjoy displaying your watches in style. And perhaps most importantly – it is a highly practical way to keep your watches safe when travelling. You don't have to worry about how to pack your watches to protect them. Just grab it, and you're ready to go. This way you are also able to bring several watch options with you; a dressier watch for dinner or meetings, one for daily wear and one for active pursuits. This way your watch roll ensures that no matter where you are, you never have to compromise your style.
Reviews
Once you have decided that a watch roll is a good storage solution for your watches, the next step is choosing the model that best suits your requirements. To help you navigate the market we have compiled a list of what we consider to be the 7 best watch rolls currently available on the market. Our list includes a variety of designs and price points, allowing you to choose the storage best suited to your personal tastes, requirements and budget.
The 7 Best Watch Rolls on the Market
Oval Leather Travel Case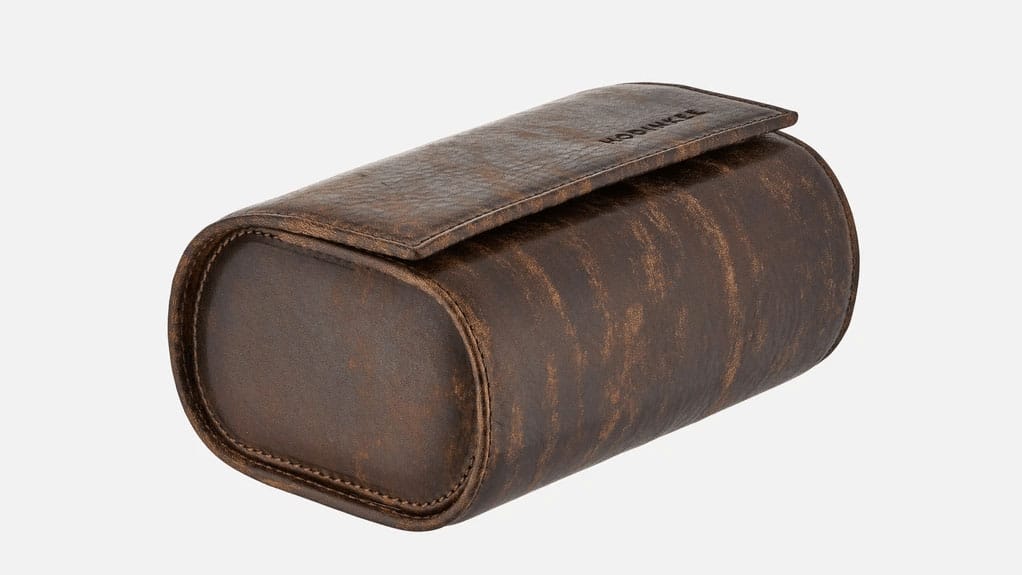 If you are looking for a leather watch roll for your travels, HODINKEE's Oval Leather Travel Case is a great choice. It is made from stained dark brown leather with a suede-lined interior and an external snap closure. The combination of the stained leather and the sophisticated design makes for a gorgeous travel roll that will suit everything from casual daily wear to modern business suits. This durable storage offers maximum protection for two of your favourite timepieces. A great option for short trips where you want a couple of different watches for daily wear or dinner. At $360 the Oval Leather Travel Case is not the most economical option on this list, but it is reasonably priced for this quality.
The Travel Leather Watch Roll
The Travel Watch Roll Black by DailyWatch is handmade from fine, genuine leather and will hold three of your favourite watches. The roll is sleek and handy, making it the perfect storage solution for travel. The terracotta suede velvet interior stands in beautiful contrast to the black leather exterior. The buckle closure lends a touch of vintage to this elegant, modern design. The internal roll is removable, making it easy for you to access and replace your watches. A practical and aesthetically pleasing travel roll that will make organizing your timepieces a joyful occasion whether you're traveling or not. At the extremely favourable price of $131 DailyWatch's Travel Roll is by far one of the most affordable options on the market, especially considering its three-watch capacity. The quality is on par with that of much more expensive products. We highly recommend this model for those of you who want to take your growing watch collection with you on your next trip.
Click above in the menu, to discover our collection.
Amaryll Leather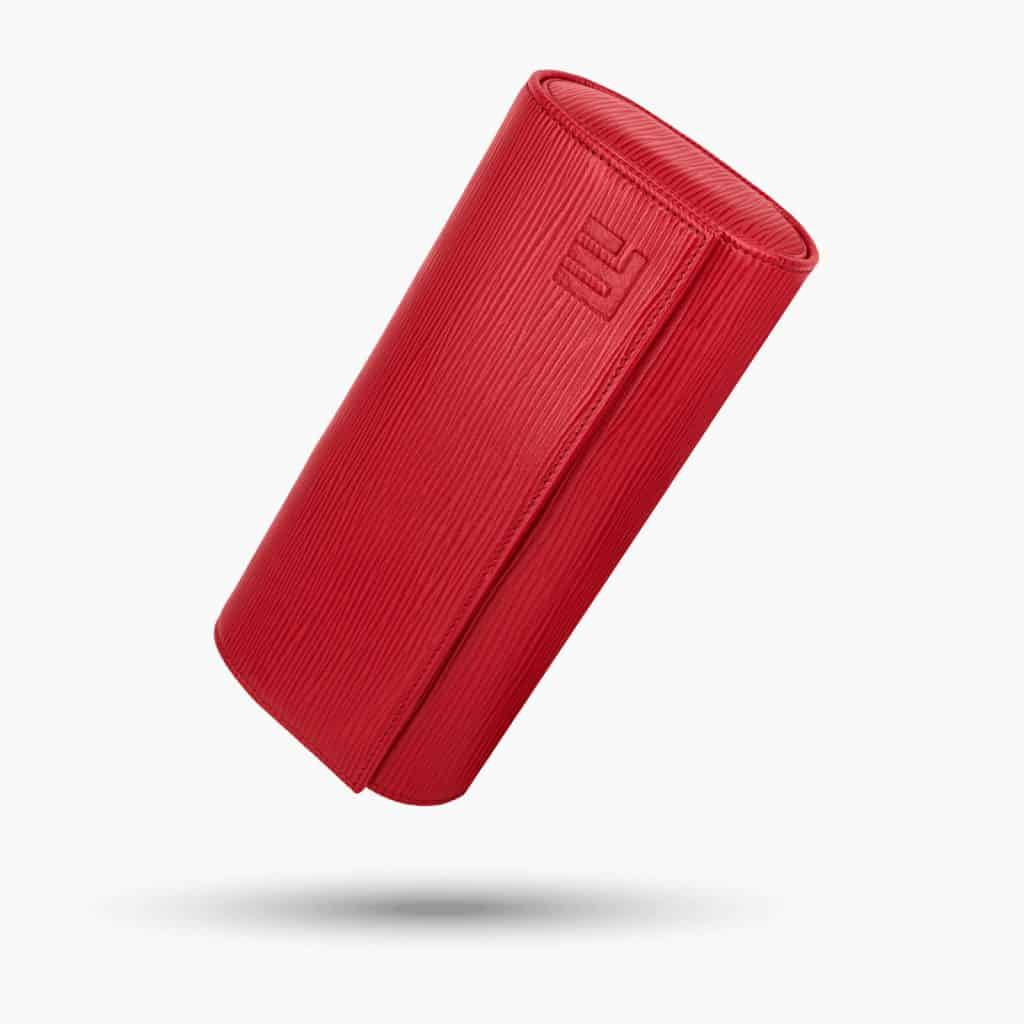 Are you looking to upgrade your watch storage game with a pop of color? May we introduce IFL Watches' Amaryll Watch Roll. This watch roll is available in a variety of bright colours that will brighten even the darkest of times. The Amaryll Watch Roll is handmade in Tuscany, Italy. The elegant Alcantra interior houses three watch cushions. Each individual watch cushion is removable. The cushions can be attached to one another with snap closures, creating a stable center. This watch roll is made from EPI leather, a soft and luxurious type of leather with horizontal grains that create exquisite tonal differences in the leather. EPI leather is both beautiful, durable and scratch resistant: an ideal material for watch rolls. With a price tag of $540 the Amaryll Watch Roll places itself at the higher end of the price spectrum. However, its high quality and bright, but sophisticated appearance are worth every penny.
The Travel Roll Large – Best Watch Travel Case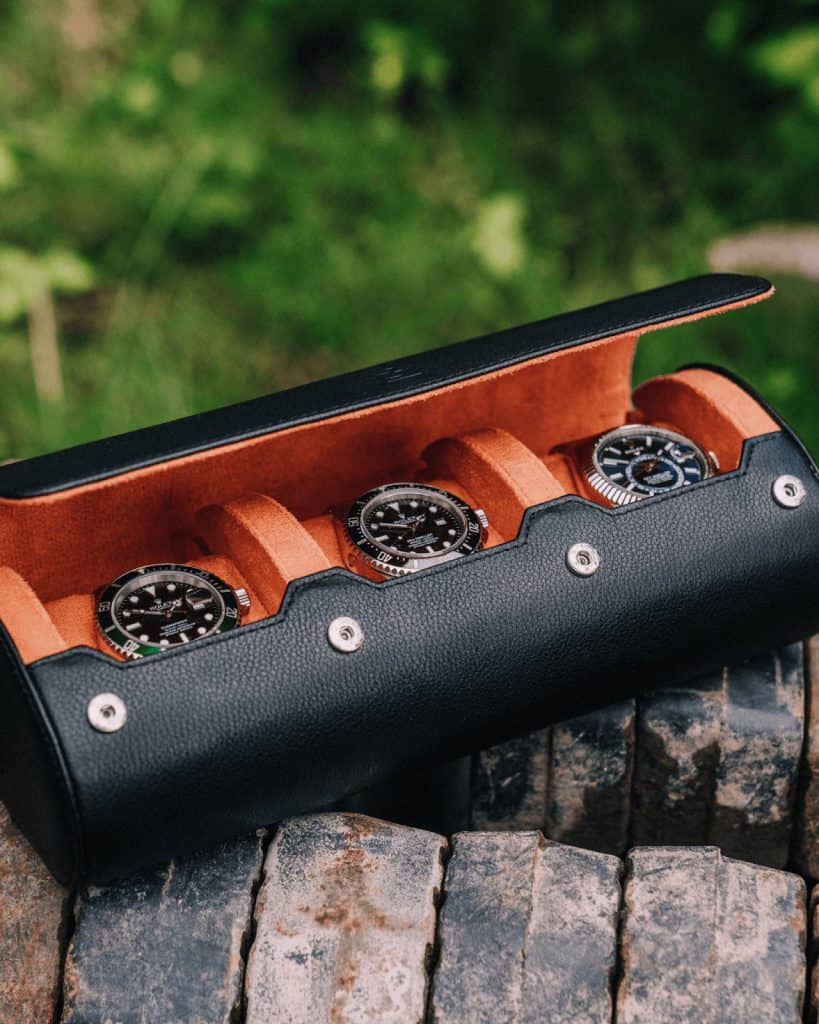 For your travel needs, Daily Watch brings you the Travel Roll Large. This sturdy, high quality travel roll is handmade from black, genuine leather contrasted by a beautiful suede velvet interior in warm terracotta. This watch roll is also available in brown litchi, navy blue litchi and dark green litchi. Regardless of your color preferences, the high quality of the watch roll remains the same. The four snap closures make it easy for you to open and close your watch roll. Inside this roll you will find three watch cushions that are individually removable, sliding smoothly into place in each section of the roll. This leather watch roll is a popular choice amongst many, receiving much praise from those who have chosen it. As one satisfied buyer states, the quality is perfect and the price is the most reasonable one compared to the market We can only agree: at $193, the Travel Roll Large offers some of the best value for money available.
Pochette Watch Pouch – Leather Watch Roll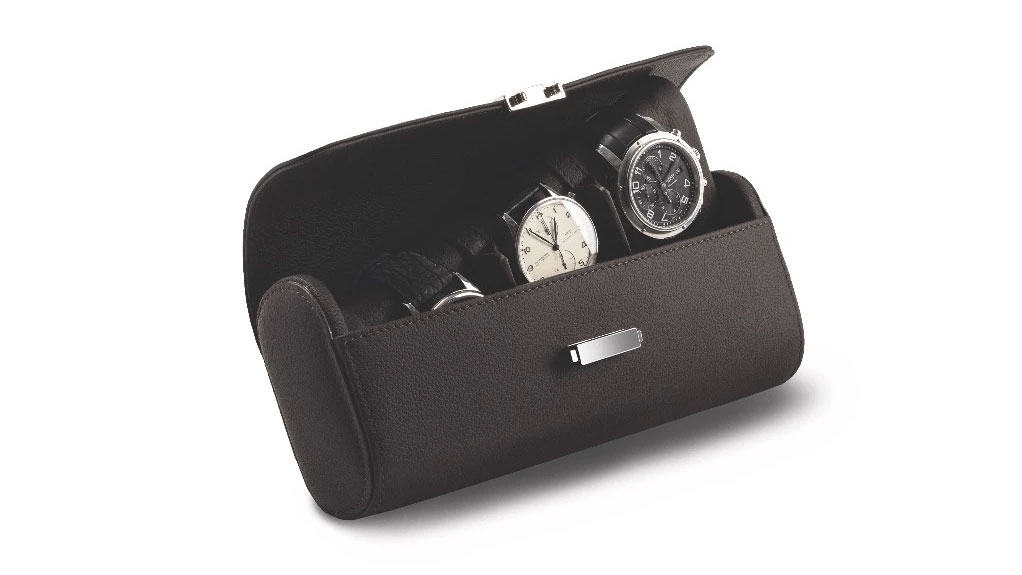 For those of you who need a little extra space and do not want to compromise on quality or design, Scatola del Tempo's Pochette Watch Pouch is a great choice. This leather watch roll stores up to four watches, so you don?t have to compromise when choosing which watches to bring along on your trip. This watch roll is made from the finest quality Panama leather. It is available in three different colors: black, chestnut and chocolate brown. The closing mechanism snaps neatly into place, keeping your watches secure within. This watch roll is also ideal storage for other accessories such as necklaces or bracelets. The Pochette Watch Pouch is priced at $475. It is not the most affordable option on the market, but it compensates for this with its high quality and extra capacity.
Leather Watch Roll for Two Watches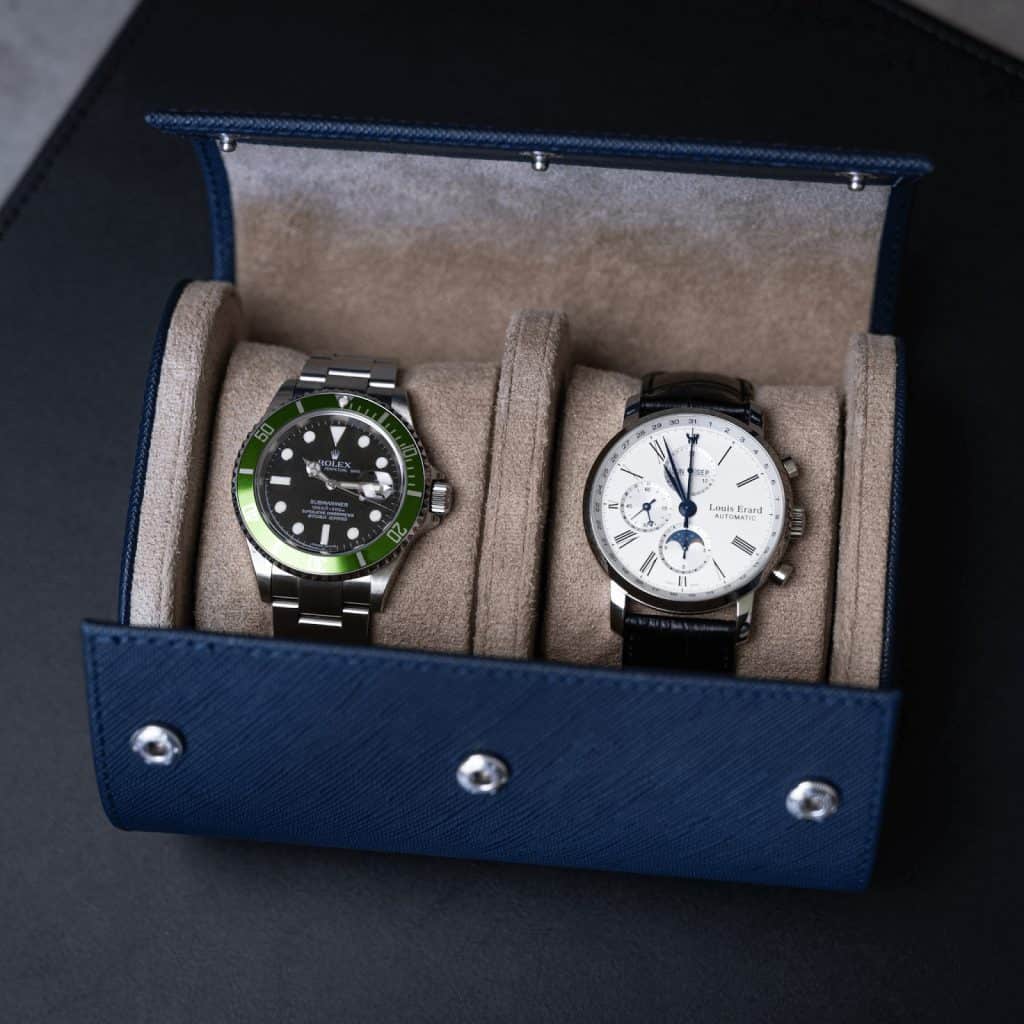 If you are just getting started on your watch collection or you need a watch roll for business trips or short getaways, the Watch Roll for Two Watches from DailyWatch is an excellent choice. This compact watch roll is made of high quality leather. The sophisticated navy blue exterior is contrasted by the soft beige suede velvet interior. A beautiful and elegant color combination that truly elevates this watch roll. The removable watch cushions and snap closure of this watch roll make the insertion and removal of your watches quick and easy. The Watch Roll for Two Watches is priced at $170 – an affordable price for one of the best watch travel cases on the market.
Luxembourg Four Saffiano Leather Watch Roll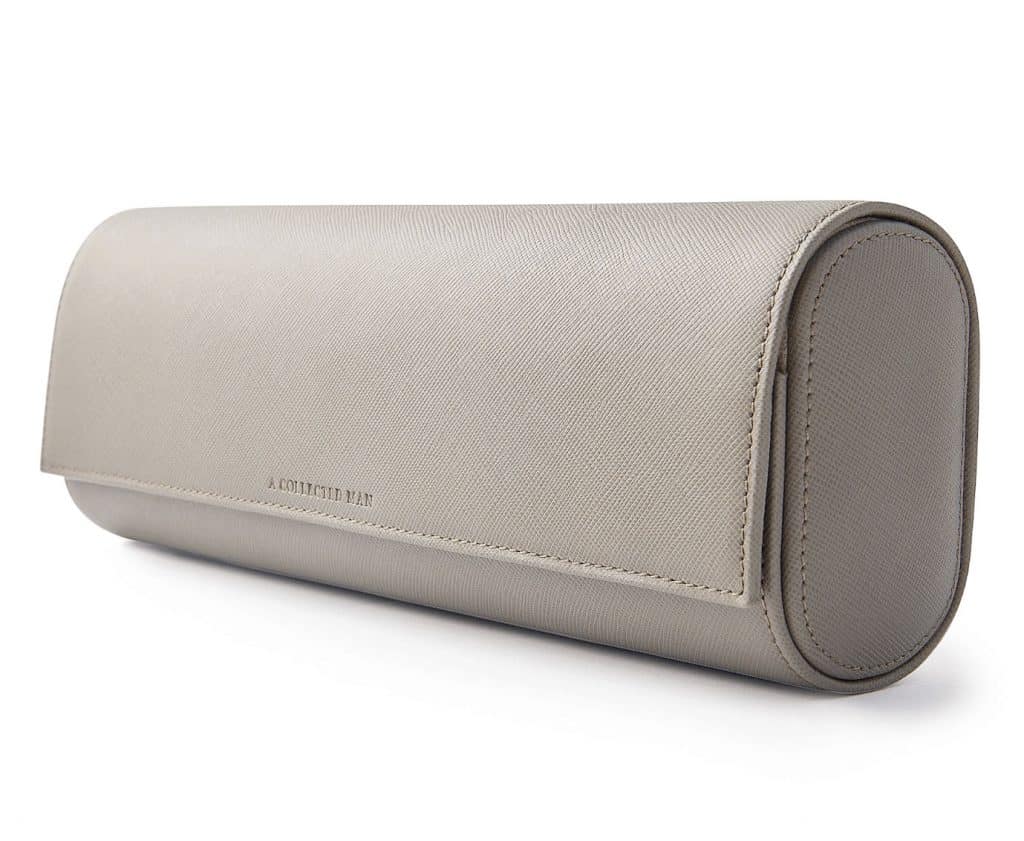 If you are looking for a sleek, modern travel roll, the Luxembourg Four Saffiano Roll from A Collected Man could be the right one for you. This roll is made from cross-grained Saffiano leather, giving it a beautiful texture. The light taupe color gives the Luxembourg Four a smooth elegance that is complemented beautifully by the light beige Alcantra lining. It holds up to four watches, making it the perfect choice for longer trips. The oval watch roll is hand-crafted in Tuscany, Italy, using traditional methods and locally sourced materials. The $599 price tag may seem a little intimidating, but the luxury your watches will be living in is well worth the cost.
Check out all of our other watch accessories for storage in our DailyWatch Shop menu on top of the page.