Whether you are an enthusiastic collector of automatic watches or you own one automatic watch of sentimental value, a watch winder will make sure that your timepiece is always ready to wear. On this page you will learn how they work and why they could be a great solution for you. Below you will also find our reviews of what we consider the 6 best watch winders on the market. Read on to learn all you need to know.
How do Automatic Watch Winders Work?
Automatic watches are powered by kinetic energy. They wind themselves using a moving rotor inside the watch. The weight swings or rotates while the watch is worn on the wrist, and this turns the winding mechanism inside the watch. Needless to say, when an automatic watch is not worn it receives no energy and will ultimately run down depending on the power reserve. This is where the watch winder enters the picture. This is a device that keeps your automatic watches running when you are not wearing them. The watch winder holds one or several watches and moves in circular patterns to emulate human movement. This way, the watch winder operates the self-winding mechanism within the automatic watch.
Why Do you Need a Watch Winder?
There are several reasons an automatic watch winder may be a good solution for you. If you don't wear your automatic watch every day but want to keep it ready for wear, a winder is perfect for you. If you collect automatic watches, it goes without saying that you own more watches than you can wear at a time. A watch winder will keep your watch collection ready to wear at a moment's notice. This is a great way to ensure that your collection does not end up gathering dust because you have to reset your watches when you want to wear them. Although most automatic watches can be manually wound by wearing them on the wrist, this is not always convenient. For example, an automatic winder may save you a lot of inconvenience if your watch has complications such as the perpetual calendar, moon phase or simple date function. Resetting a watch with such a complex feature like a perpetual calendar after it has run down is an elaborate task. An automatic winder prevents your watch from running down and therefore saves you the hassle of having to reset it.
Watch Winder Reviews
Once you have decided that a watch winder is a good solution for you, the next step is choosing the device that best suits your requirements. To help you navigate the market we have compiled a list of what we consider to be the 6 best winders available. On our list you will find a variety of designs, capacities and price points. This way you are guaranteed to find the one that best matches your tastes, needs and budget.
The 6 Best Watch Winders on the Market
Perpetua III Duo Watch with Touch Screen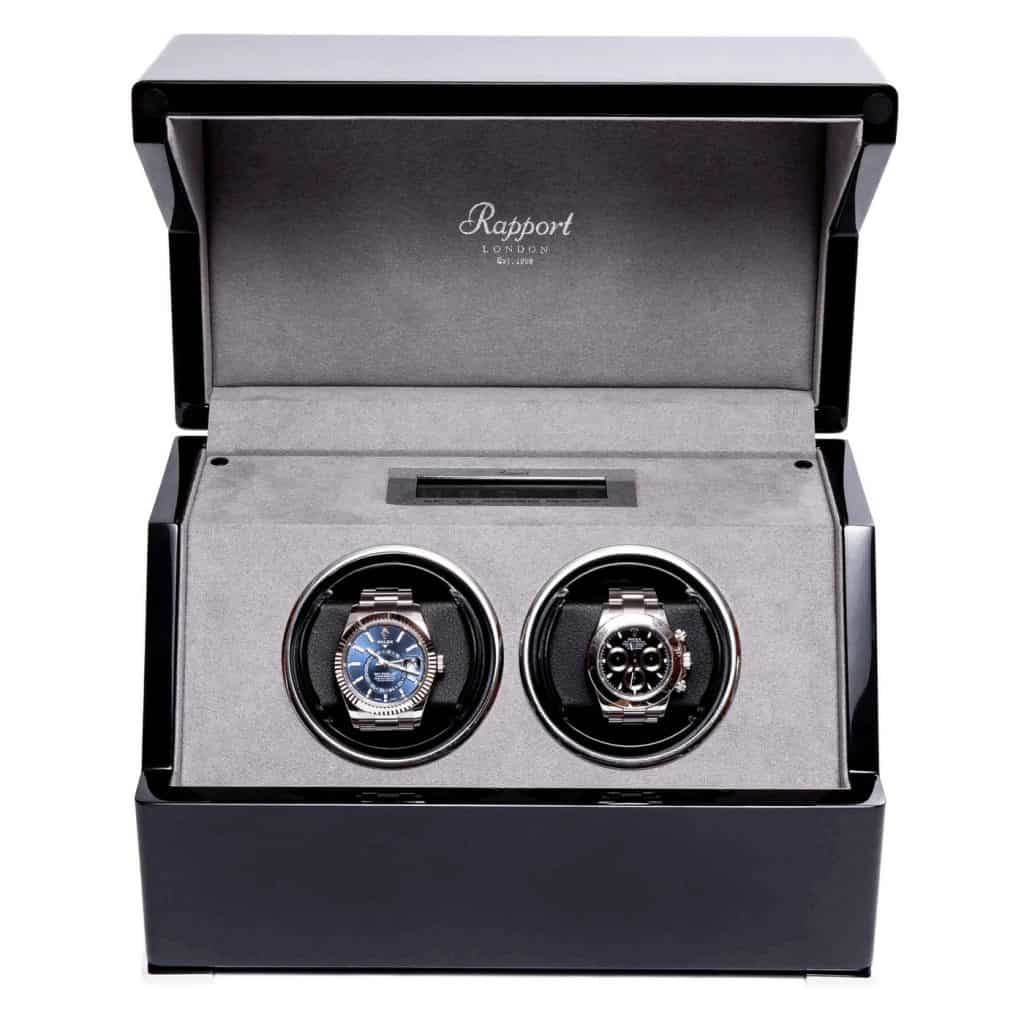 Photo: HODINKEE Shop. Rapport London's watch winders are loved for their beautiful craftsmanship, and the Perpetua III Duo Watch Winder is no exception. The device is made of solid wood with a hand-applied lacquer finish. The interior is covered in soft velvet, and the two leather watch cushions are adjustable to fit most sizes and styles of watch straps and bracelets. The Perpetua III will hold two of your favorite watches. It is powered by the included adapter, and its wind direction and speed are controlled by a touch screen LCD display on the inside of the box – a modern and convenient feature. At $895 the Perpetua III is decently priced for its quality. The sophisticated design also makes this winder a beautiful display piece, adding to the value of the piece.
SwissKubik Startbox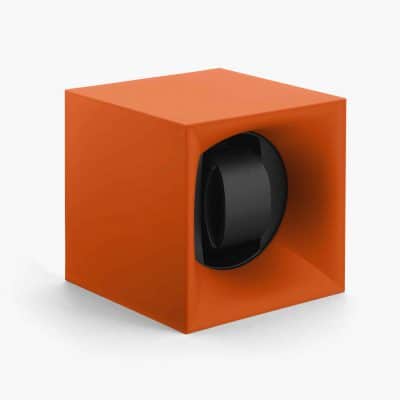 SwissKubik Startbox
If you are building your watch collection and are looking for a high quality winder, the SwissKubik Startbox is an excellent choice. This winder holds your automatic watch and keep it working accurately. The SwissKubik Startbox is designed with multiple rotation sequences to prevent your watches from being over-wound. The motor is quiet and reliable. The sleek design of the SwissKubik, which is available in multiple colours and sizes, allows it to fit seamlessly into your home. The device is handmade in Switzerland. It operates autonomously for three years on two regular C-batteries. and from high gloss wood with a patented aluminum extrusion design. Currently available from €425, the SwissKubik Startbox is extremely reasonably priced.
Rotor One Sport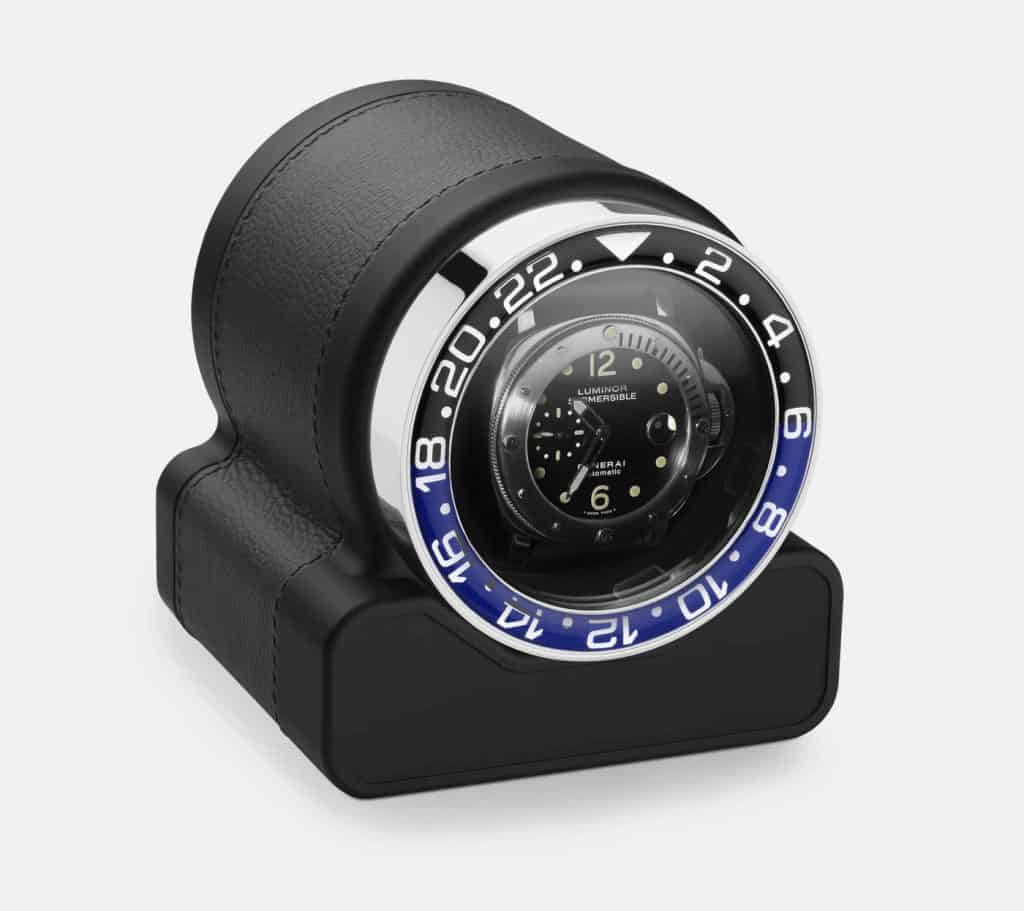 Photo: MONOCHROME WATCHES Shop If you do not plan to begin collecting more than one watch, the Rotor One Sport is a great choice for you. With this winder Scatola del Tempo's iconic design has been given a slight facelift while maintaining every bit of its vintage Italian appeal. The recognizable bezel of the Rotor One Sport comes in black, blue, red, black/blue "Batman" and blue/red "Pepsi". This gives you the freedom to match your winder to your decor. The Rotor One Sport functions solely on batteries. This allows you to place it wherever you desire. The SwissKubik non-magnetic micro-motor operates quietly, and the winder automatically returns to the 12 o'clock position when stopped. Scatola del Tempo's iconic winder is not popular without reason. Though not the most economical single watch winder, its $594 price tag is quite reasonable for a winder of this quality.
A4 Watch Winder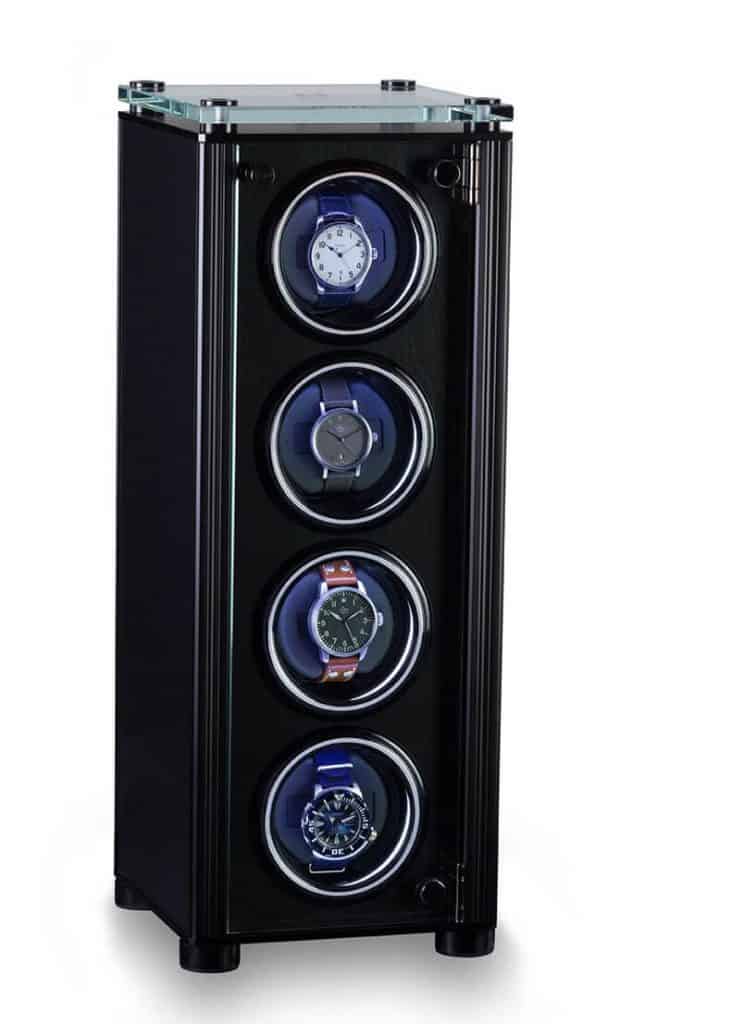 If, like us, you have the watch bug and simply can't stop collecting automatic watches, the A4 Watch Winder is the perfect choice for you. This device holds up to four of your watches on high quality, PU leather-covered memory foam cushions that offer the perfect grip for your watches. The beautiful, modern design of the A4 Watch Winder makes a fine addition to your home. It comes with accessories including a microfiber cloth and a pair of white gloves, allowing you to easily handle and maintain the glossy surface of the device. The A4 is made from a high gloss wood panel and a patented aluminum extrusion design. It has a glass cover and a beautiful glass plate on top. The four winding units of the A4 Winder function independently in rotation and direction setting. The motor is quiet and reliable, and the COB lights are adjustable. Currently available at $1.250 the A4 is great value for money in quality and capacity alike.
Orbit Winder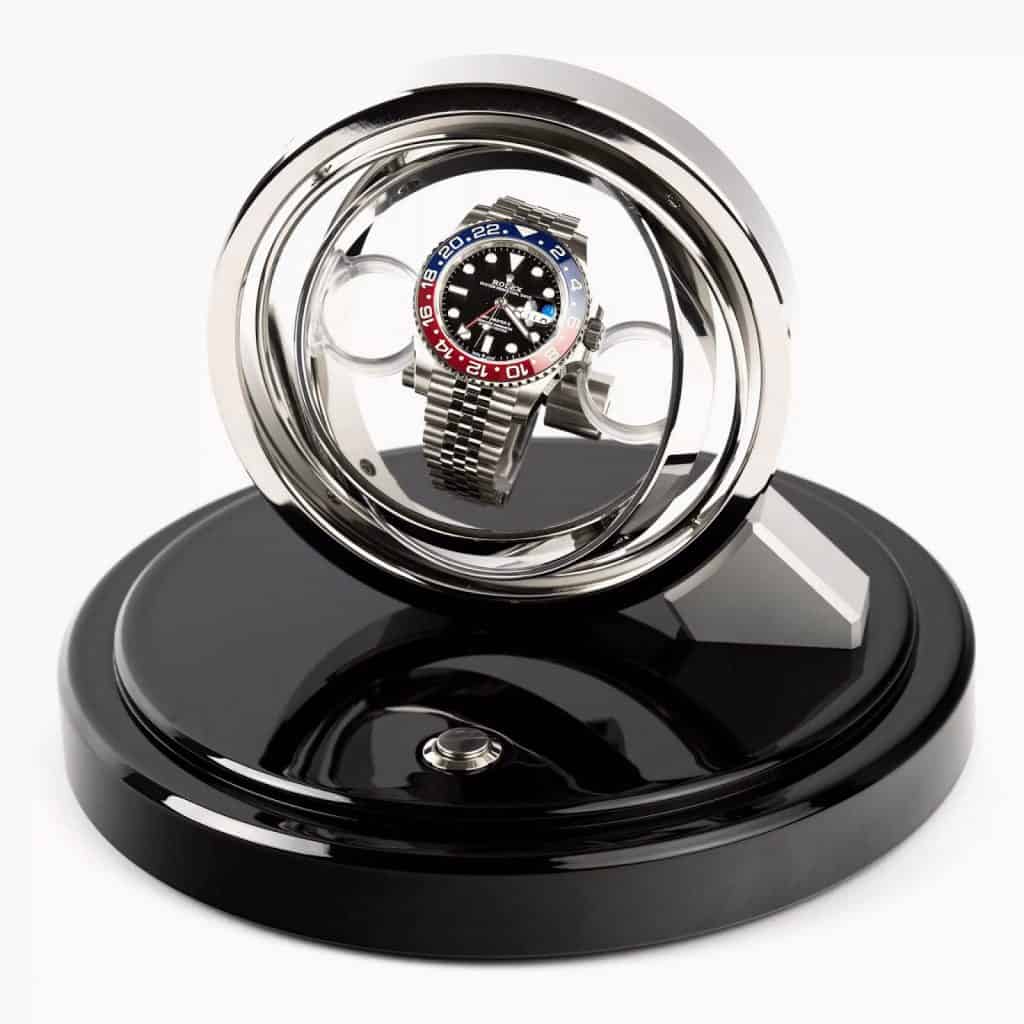 This one is for those of you who want something truly unique. The Orbit Winder is more than a watch winder: it is a work of art. The Orbit Winder combines the motion of a tourbillon with the functionality of a winder. It is mesmerizing to watch and thus doubles as a unique display piece that will elevate the atmosphere of any room. This exquisite automatic winder is available in piano black and walnut. Its two modes are controlled via one simple button on the base of the winder. The Orbit Winder is also equipped with a speed selector which gives you full control over its operational speed. The gyroscopic rings are made from polished stainless steel, creating a beautiful spectacle of light when the winder is in motion. A true luxury piece that is sure to spark conversation and admiration. The elegant design of the Orbit Winder comes at the substantial price of $1.790. It goes without saying that this winder is not the most economical choice – but it certainly is a showstopping one.
A1 Watch Winder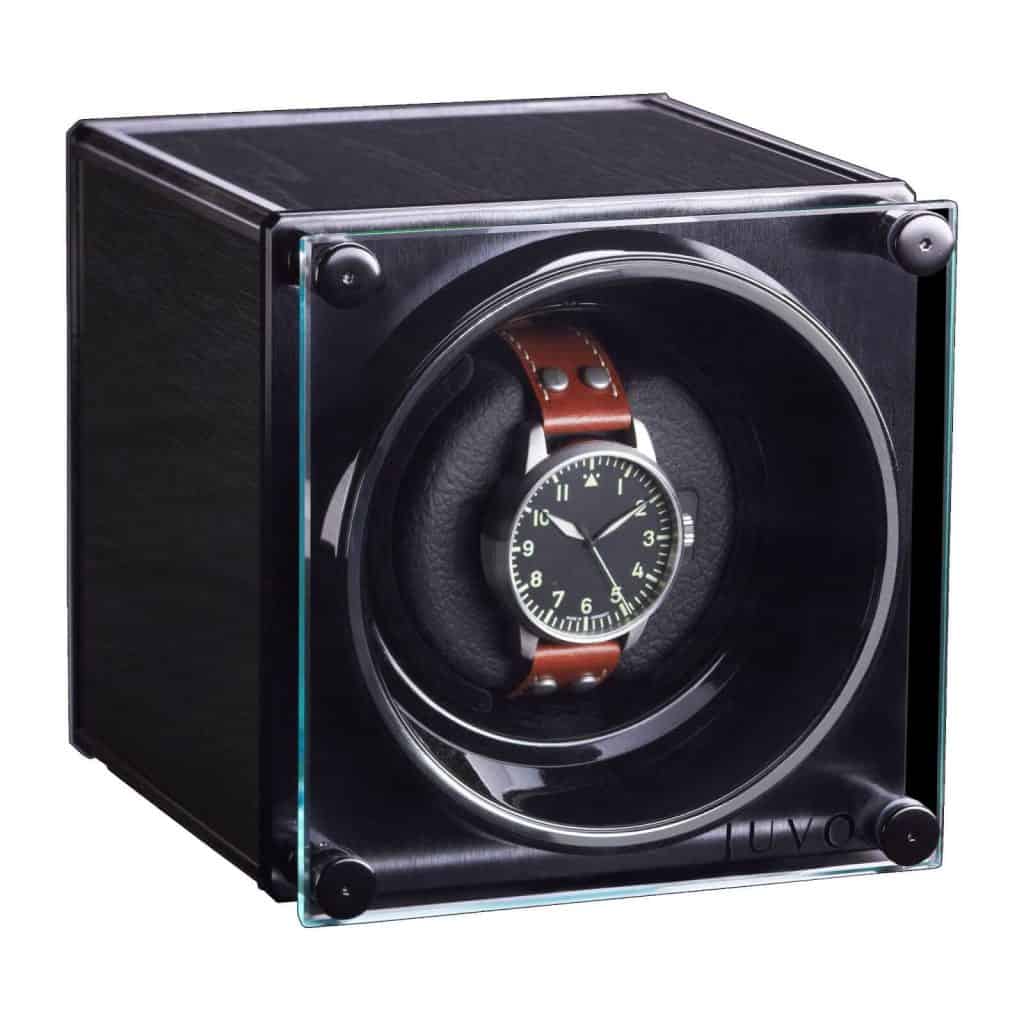 If you are looking for a high quality single watch winder with a favourable price tag, the A1 Watch Winder from DailyWatch is in our opinion by far the best watch winder on the market. The A1 is powered by a plug-in AC adapter or 4 AA batteries, making it a versatile device that can easily be placed wherever you desire. The winder is made from a durable aluminum block with a high gloss wood panel finish. The glass cover shields your watch from dust and lets you see your watch as it winds. The motor of the A1 is reliable and quiet, allowing you to place it wherever you want without having to worry about noise. You can even keep it on your bedside table. With free shipping and a price of $356 the A1 Watch Winder is easily the most budget friendly option. This does not mean, however, that the quality of the product is compromised. With its sleek, modern design and its multiple rotation sequences, the A1 gives you high quality, worthy of your favourite watch.
Interested in other accessories for your watch? On our webshop we have a huge selection of watch rolls, watch cases, watch boxes and watch stands in different quality materials, sizes and colorways.