Tudor North Flag Review
It was only recently that Tudor discontinued the North-Flag. This watch was originally introduced in 2015 and had marked a significant step for the brand. Back in 2010, Tudor started its run for success with the introduction of the heritage chronograph. This watch completely changed the brand for the better, as the brands previous offerings were not that successful, to put it kindly. 
Tudor's first in-house movement
With the introduction of the Tudor North-Flag, Tudor released a stunning steel sports watch with an integrated bracelet. On top of that Tudor also introduced their first in-house movement. At the time of its release, I was already into collecting watches and had already added some beautiful watches into my collection.
However, up until the North-Flag was released I had not considered adding a Tudor, even though I possessed some watches of its sister company. When my AD gave me a call to tell me that the North-Flag had arrived at their store, I went there immediately. I took a look and some photos, not knowing I would leave the store with a new watch on my wrist.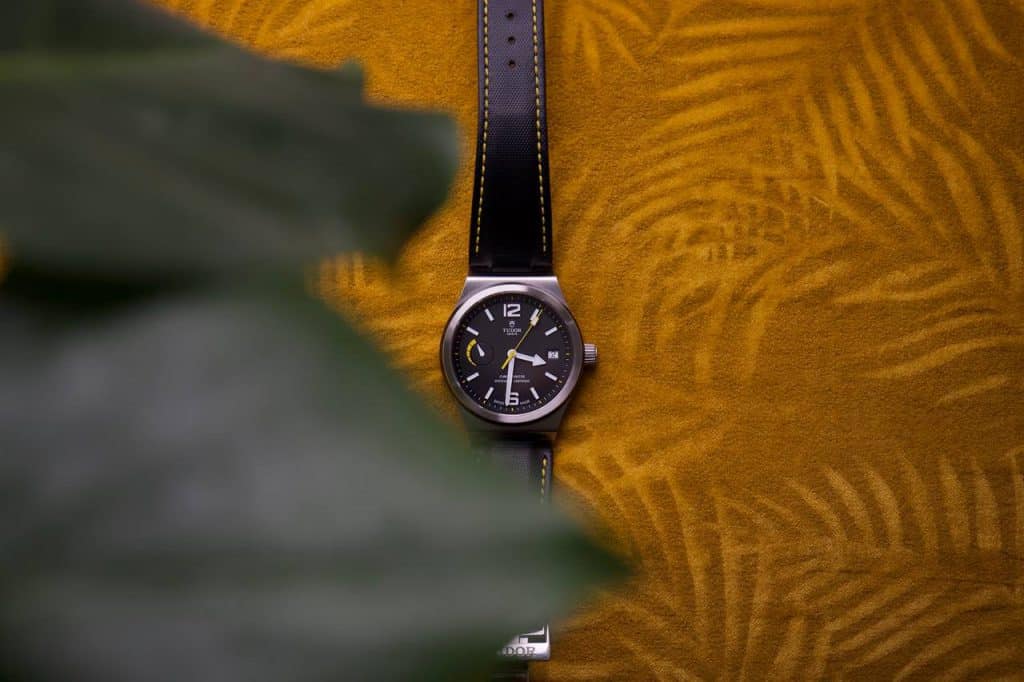 Why is this Tudor North-Flag so special?
But before I dive deeper, let me explain to you what makes this watch so special. There's more to it than just having an in-house movement. When Tudor designed the North-Flag, they obviously drew inspiration from their past. Tudor had steel sports watches with integrated bracelets in their lineup before as well. Originally labelled Ranger, Tudor opted for the name North-Flag, as this watch had also been designed with the thought of commemorating the 1952 British North Greenland expedition led by Commander James Simpson.
30 Tudor Oyster Prince watches
During this expedition the team members were equipped with 30 Tudor Oyster Prince watches that were worn over the course of the two year expedition. During this expedition the watches and men of the expedition crew faced a variety of challenges, with extreme colds being just one of them. For Hans Wilsdorf, founder of Rolex and Tudor, the success of this expedition marked also the successful proof of Tudor watches reliability, even under extreme conditions.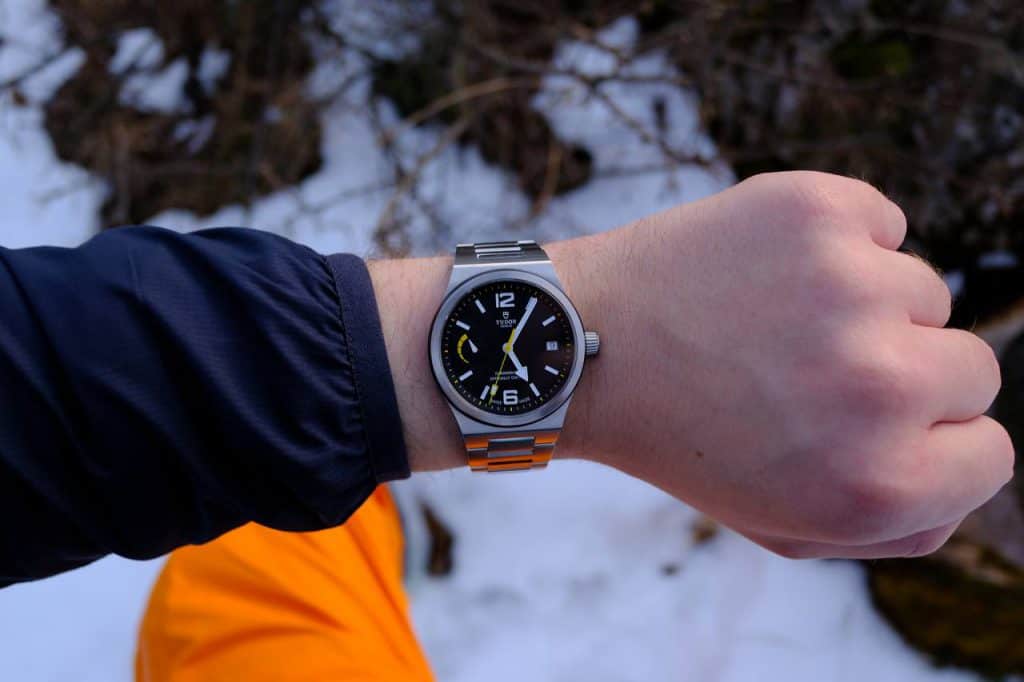 The Tudor North-Flag is reliable in hostile conditions
With the introduction of the North-Flag, Tudor did not equip any expeditions with that watch. Still, the explorers character and reliability in hostile conditions was in the back of design teams heads. Available on either a leather strap or stainless steel integrated bracelet, the 100m water resistant steel case measures 40mm across and 13mm in height. This makes it very comfortable to wear and the fully brushed case and bracelet support the rugged look of the piece.
70 Hours power reserve
Tudor equipped the watch with a sapphire caseback so that utilitarian finish of the movement can be observed. With 70 hours of power reserve, the watch won't stop tracking time should you be stuck in a tent for a few days due to a bad snowstorm. And should it ever get close to running out of power, a power reserve indicator at nine o'clock will let you know when you need to start moving again. 
In terms of design, Tudor really made sure to create a watch that somehow feels known when you admire it. Yet, it has a few incredible design tricks up its sleeve. Following the shape of the integrated bracelet, the crown, hands and the bezel (which is made of stainless steel and black ceramics) all have a slight conical shape. This shape allows the watch to look sleeker, yet still highly sporty.
Vibrant yellow details
On the bracelet, the watch is rather monochromatic, but the yellow power reserve indication and central seconds hand really pop out from that otherwise clean look. When Tudor originally released the watch, I wasn't too sure about the colour, but as soon as I saw it in person, I fell for it and its vibrant yellow details.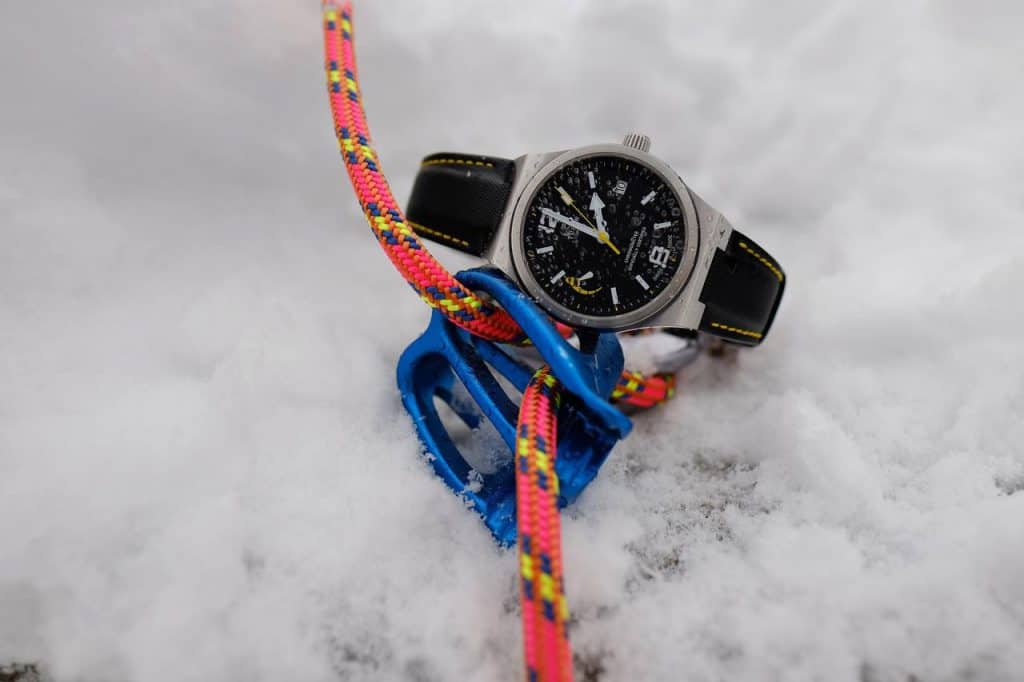 I took the watch on climbing and hiking trips
Another reason for me to add this watch to my collection, was the expedition character behind it. It inspired me to take this piece on quite a few climbing and hiking trips. And no matter where I took it, the North-Flag performed flawlessly.
Another reason that sold me on this watch, was the importance it has to the brand. It was their first watch with an in-house movement and sapphire caseback, which only the latest Black Bay Ceramic has. While nobody buys a Tudor to get a see through caseback, it is a wonderful feature on the watches.
Move fast
Up to this day I still love the North-Flag and believe that it is among Tudors best modern timepieces. Every time I put it on my wrist I get excited to be wearing it again. However, the discontinuation of it is a little bumming. Luckily, there are still quite a few available with retailers. I suggest you better move fast and add one of these amazing pieces to your collection!